Its Earth day! However, I'm not a very "green" person. I do still accept plastic bags when I go grocery shopping, mostly because I need them for my rubbish 😛 But I've been trying to be a little more environmentally friendly by carrying my own bag when I shop. I started with the Envirosax.
The Envirosax is too big and floppy
However, I got a bit put off using the Envirosax because it was floppy and only came in 1 size.
So, even if I were to buy a carton of eggs, I'd have to whip out my large bag to carry the eggs, and the bag would flop around. This also meant it did not stay on my shoulders very well. It works when you carry a lot of items but not if you only carry a few. Also, because it flops around it has a tendency to "wrap" itself around your body which can be disconcerting when you are carrying things like apples and eggs in one bag.
If you don't fold up the bag properly, you'll find that it cannot button properly which can be a hassle. So after a while, I just gave up on the Envirosax bag and stuck it in a corner.
The next adventure was using RUME bags. RUME is pronounced roo-mee or as I like to call it "roomy". In fact, I thought it was named Rume because it was roomy but it turns out that its called Rume because its supposed to say "ReUseME" gettit? 😛

Rume Bags are structured

I found that I prefered the Rume bags because they are structured. They aren't stiff – they still roll up into little tubes not much larger than a pair of sunglasses, that secure with velcro (another plus point) but their seams are sewn up so the bag sits like a bag. Using velcro straps means that you can squeeze the size thinner to secure the bag if you have very little space and if you don't fold it up properly you can still secure it.
A structured bag means that it is easier to pack when you are in a hurry at the cashier counter, and it makes for easier handling too. Things inside don't roll around and it sits around nicely.
Rume Bags come in 3 sizes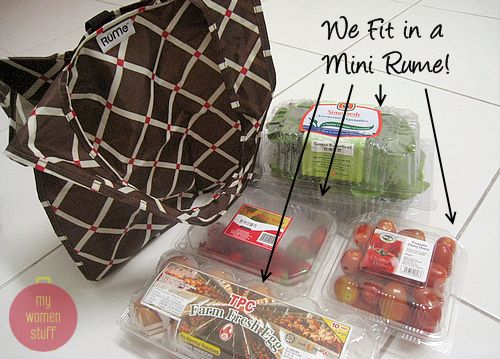 I love the fact that Rume bags come in 3 sizes to suit different needs at different times! So, I can carry the small one to carry small purchases like bread or eggs or even my lunch, and use the Medium sized one for general grocery shopping. In fact most of my groceries fit into a Mini Rume as I've recently found.They handle frozen or wet stuff well because they are water resistent and can withstand heavy loads.
There is one large one called the Macro which can fit a LOT. I still have not quite figured out when I may need it. 😛
RuMe Bags are perfect for holidays as they don't take up space
I took the Small (Mini) and Medium (Regular) Rume bags with me on my most recent holiday and it was awesome. They fold up into tiny little packages that you can slip into the sides of your bag and they don't even take up any space at all. I kept them in my handbag and I used them to hold my shopping.
At the end of the day, I'd end up with 1 bag holding all or most of my shopping thereby reducing the possibility of having shopping bags go missing.This is always a concern when you have a lot of paper or plastic bags to contend with. If you put them all into one, you don't have this problem.
Rume Bags are light and stylish
Rume bags are very light and machine washable. So, there's no real excuse not to take them to the market where they'll get wet and dirty. 😉 I like the styles Rume bags come in – the colours are bright and not overly girly so guys can carry them without qualms too. I made my brother carry my bright plum Medium Rume – he was not fussed so I reckon its a good colour for guys hehe… I may want to get a couple in brighter shades soon.
The bags can be strapped together using the velcro straps so you don't have to dig around for your bags every time. Brilliant! I have one in my handbag or my pocket most times – you never know when they'd come in handy.
I'm very happy to find the Rume bags – they may be a little more expensive than other reusable bags, but I find them superior in terms of design and quality so yeah, I'd say get a Rume and you'd never look back! 😀
In Malaysia, Rume bags are available at Tiny Tapir. Elsewhere check out the RuMe site. The Mini bags are RM29, Medium is RM36 and the large Macro is RM45. For a start, I'd recommend getting a Mini and Medium. They are more than enough to cover your everyday needs.
Stay beautiful… and green!
Paris B