I first started using the Australian Cancer Council sunscreen quite a few years ago when I read that it was an effective and affordable sunscreen. In Australia no sunscreen is labelled over SPF30 because there is no conclusive evidence that anything over SPF30 is that much more effective in blocking the damaging rays from the sun.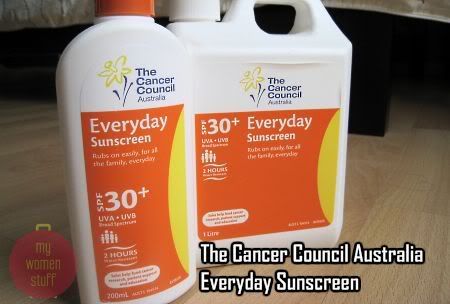 So I started using the Cancer Council sunscreen for my body quite a few years ago, and I have not looked back since. Fortunately for me, I've been able to get my stock from friends who go to Australia and don't mind lugging back a tube or tub for me so stock has been kept replenished since my whole family uses it too! I don't know what I'd do if I ever ran out!
The sunscreen I use is the Cancer Council Everyday Sunscreen SPF30+ which comes in orange packaging. I am finishing up the 1l pump tub I commissioned before and already have a bottle stocked up!

Cancer Council Sunscreen is light and non greasy
What I like about the Everyday Sunscreen SPF30+ is that it is light and non greasy and non sticky yet moisturising. I apply it on my arms and neck area in the morning about 15 minutes before I hit the sun or go outside and once its absorbed, my skin does not have a white cast nor does it feel oily and sticky. There is also no smell. I stopped using a lot of other sunscreens available in the pharmacies e.g. Banana Boat, Coppertone etc because of the smell. This one has next to no smell so I'm happy.
I only use this sunscreen on my body. It can be used for the face as well, which my dad does but I don't because I already have my regular facial sunscreen which works for me. (Eucerin White Solution for those who are new and not yet bored of my praise for it LOL…)
Cancer Council Sunscreen is Broad Spectrum – protects against UVA and UVB rays
The sunscreen is stated to be broad spectrum which means it shields against both UVA and UVB both of which are just as damaging as the other. I don't know how good a job its doing shielding my skin from the sun rays but with years of use, I have not had any new sun spots appearing on my hands nor too many freckles on my arms and I don't burn that easily even if I'm in the sun. That for me, is a pretty decent measure of the effectiveness of the sunscreen.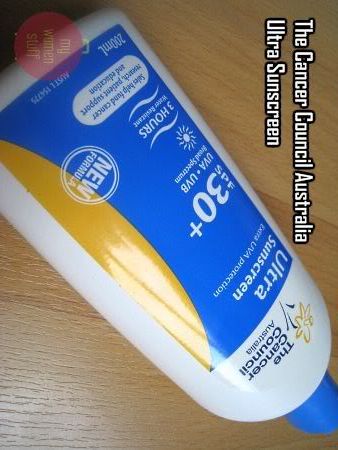 Most recently, I requested that Tine help me replenish stock which she very kindly did on her last trip back here. And this time, I decided to try the Cancer Council Ultra Sunscreen SPF30+ (blue packaging) which is also broad spectrum but which has Zinc Oxide as one of its active ingredients. I've read that Zinc Oxide is one of the best physical blockers against UVA and UVB but have not tried any sunscreen with zinc oxide. This is my chance to.
The 200ml bottles of Cancer Council sunscreen retail for AUD$13.95 (RM34) which isn't expensive at all. I usually get the 1 litre pump bottles when I can but I'm not fussy so long as I have my regular sunscreen stock. The other nice thing about buying the Cancer Council sunscreens is that the proceeds go towards cancer research which for me is a very good thing indeed!
Pros: Not greasy, Not sticky, No white cast on the skin, Moisturising, Affordable

Cons: Not available in Malaysia

Paris B's [rating:5/5]
Well… my bags are packed…
I'm ready to go!
Go where? Ah… we'll see… 😉 It involves me slapping on lots and lots of sunscreen thats for sure! The weather forecast seems to indicate that there will be a 95% chance of rain or thunderstorms – 95%! Isn't that like, almost certainly raining? Boo… 🙁
On the brighter side, even if it rains, I'll still have a nice place to hang out in so I guess there's a silver lining if any.
Stay beautiful,
Paris B