As most regular readers will know by now, I love my bags so when AliceWonders.com offered to sponsor the giveaway for Week 1 of my 2nd Anniversary Giveaways, I was thrilled. This giveaway is also in conjunction with International Women's Day which is in March.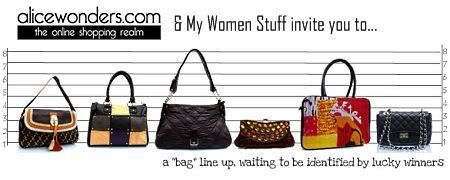 Week 1 kicks off with 2 very generous prizes from Alice Wonders.
The Prize
2 lucky readers stand to win 1 bag each from Alice Wonders. You will win the bag of your choice from their website.
How do you enter?
How to Enter
Go to AliceWonders.com and choose the bag you like then come back here and leave me a comment below telling me which bag you want and the link. Also complete this sentence any way you wish:
I want me a new bag because….
Easy right? If you win, you will receive the bag you have chosen so choose wisely!
Additional Entry
For an additional entry, if you have a blog, write about the bag you like with a link to the bag of your choice and another link back to THIS POST. Your blog title should be "I need a new bag!" and you need the 2 links in your post. When you are done, come back here and leave another comment with a link to your blog entry.
Deadline
This giveaway runs until 7 March 2009 12noon (+8 GMT). Comments will then be closed.
Exclusions
All winners of the Christmas and Valentines Day giveaways are excluded. Lets let others have a chance eh?
Simple Terms and Conditions
There will be 2 winners.
This Giveaway is open to readers from Malaysia and International. International winners will have to bear the cost of delivery. Delivery within Malaysia is borne by Alice Wonders.
Winners will be chosen by Alice Wonders.
Prizes will be sent by Alice Wonders.
For full set of terms and conditions, please click here or risk disqualification if you do not comply.
Have fun and good luck!
Stay beautiful,
Paris B