Reader Dian left me a comment saying:-
I was hoping you could do Laura Mercier holiday 2008 edition and Cherries Noir as well… the lip velvet sounds enticing!
I can't usually entertain all requests but it so happened I was in Isetan KLCC so I went to check out Laura Mercier's Christmas 2008 collection and the Cherries Noir and new Lip Velvet liquid lipstick. Actually I did not have much time to look at the Laura Mercier collection because I was in a bit of a hurry. However, for some reason, Laura Mercier does nothing for me and so, I found the Christmas collection a little blah. Some day, I might pay a little more attention to the brand and check it out properly.
As for Cherries Noir, I found the whole collection very dark. Deep plum for lips, dark plummy eyes and cheeks do nothing for me. Personally, I think that deep shades look lovely on girls with darker toned skin but on light skin, it lends a gothic look that I personally don't quite like, because in our tropical weather, it just looks too heavy. That said, I took a little trouble to check out the new Laura Mercier Lip Velvet which is the new liquid lipstick because I was wondering what Lip Velvet was.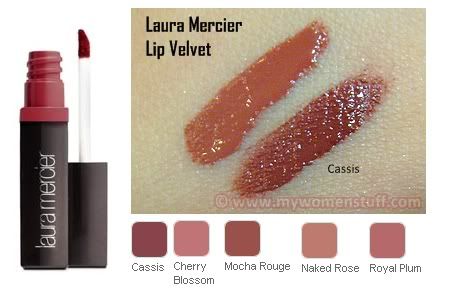 Laura Mercier's Lip Velvet is a creamy pigmented liquid lipstick that slicks on opaque. It looks like a lip gloss and comes with a doe foot sponge applicator and you can see from the swatches I made that it is super duper pigmented. One swipe produced that colour intensity which is pretty awesome.
The texture is very creamy and smooth but there were a couple of things I did not quite like about it. One is that it was semi-matte. There was some glossiness to it, but when it dried, it looked slightly matte. I don't like matte lipsticks because they emphasize lines and driness on your lips.
The other thing I did not quite like was that the colours tend to have strong brown undertones. Cassis in the online swatch is pretty close to what it looked like on my hand as you can see above. Cassis is usually a deep plum shade, but on my hand, it looked brownish. Ditto the rest. I cannot remember what was the other colour I swatched but it might be either Mocha Rouge or Naked Rose. It just looked blah and brown to me.
Its a pity really because the texture of the Laura Mercier Lip Velvet is really nice. For RM85 a stick, I'll pass. However, I think I might have just found the low end dupe of the Lip Velvets that cost a third of the price of Laura Mercier's. I kid you not. Wait for the review coming up next week! 😉