A year ago, Bobbi Brown whipped up lott of hype with the Stonewashed Nudes collection. Personally, I was not super impressed with the collection after viewing it online and even after I tested it in person. 7 brown toned shades of eye colour does not excite me.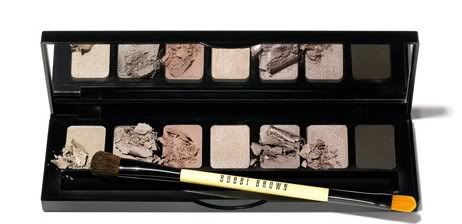 For 2008 Bobbi Brown is taking the neutral theme a step further with the Shimmering Nudes collection – 6 beige colours and 1 dark eyeliner.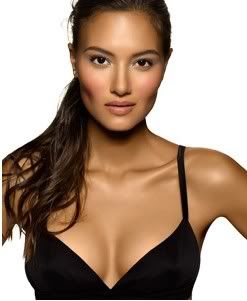 Left: Stonewashed Nudes Right: Shimmering Nudes
I prefer the look of the Stonewashed Nudes model – the Shimmering Nudes one rather distracts one from her face. As for the Shimmering Nudes eyeshadow palette, the colours are Nude Beach Metallic Eyeshadow (Silvery Pink Beige), Nude Mist Shimmer Wash (Silvery Grey Beige), Naked (Medium Neutral Pink), Nude Glow Metallic (Silvery Beige), Mica Shimmer Wash (Silvery Nude Taupe), Nude Spice Metallic (Silvery Heather), Espresso (Dark Chocolate Brown).
Like Stonewashed Nudes, Shimmering Nudes is a palette of neutrals with shimmer or metallic tones. Just from description and online colour swatches we are seeing a lot of beiges and light pinks. Unlike Stonewashed Nudes which was mainly taupes, Shimmering Nudes is a palette of light shimmery neutral beiges with no middle tone and one liner.
I reckon Shimmering Nudes would be a good eyeshadow palette for someone who doesn't mind having and using a lot of beiges. Still, 6 similar looking beiges in one palette is too much in my view. Especially if its going to cost RM190 per palette as it did last year. I already have different neutral toned shadows and I personally only need one or two, so I probably won't be getting this palette. Still, I will want to check it out and if I do I'll write about it.