I was looking around online when I stumbled upon Revlon's site. Now, Revlon is to me, one of the most unexciting brands around. Yes, I love their lip colours and I'm told that their loose powder and foundations are good, but you have to admit that as a brand, its quite unexciting.
Until now, that is.
Look what Revlon has, that we don't get here in Malaysia?
A Revlon Mineral makeup collection!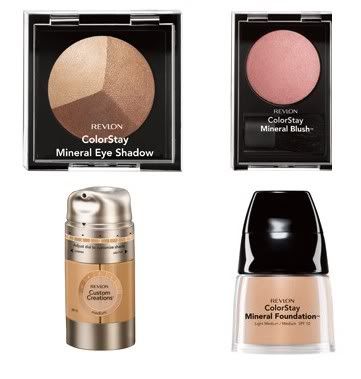 The Colorstay Mineral Collection has a mineral powder eyeshadow trio, a mineral powder blush and the Colorstay Mineral Foundation. The Mineral foundation looks like its a liquid but according to the Revlon website, its a powder foundation with a brush in the cap, like L'oreal. Interesting! The one that strikes my fancy the most is the blush (but of course!) I wonder when we'll see this one come in.
The bottle in the picture is a Revlon Custom Creations Foundation. It comes in various shades but there is a dial on the cover that you can twist to mix the foundation to the EXACT color of your skin. I think the colours blend as they are pumped out. A bit gimmicky but I can see it selling like hot cakes to people who want the PERFECT foundation.
Revlon too has a limited edition collection which they also had last year. That was the collection with the gold swirl on the berry blush and that midnight lipstick swirly thing. I was quite unimpressed with that collection. But not with this one!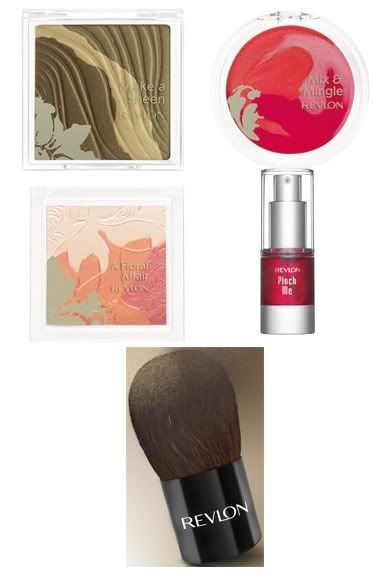 Just look at that blush! A Floral Affair by Revlon. It looks rather like the blush from Clinique with the flower on it. Very pretty! There are 4 colour combinations too. Can't wait till it gets here.
Then there's a Mix and Mingle lip palette with lovely swirly patterns on it. Very pretty too although lip palettes aren't really my thing. Beetrice wrote about it too previously so that makes 2 of us waiting to see it in person.
The Make a Sheen eyeshadow palette looks quite interesting too. I hope the colour is pigmented because the neutral earth tones look nice. Oh and that Pinch Me gel blush looks like a Benefit Benetint knock off? Interesting!
I also saw on another site that Revlon has a kabuki brush which isn't on the main Revlon site. I'm not sure why. I'm always on the lookout for a good kabuki brush that isn't too expensive so has anyone tried the Revlon Kabuki brush and have a comment to share?
I wonder when these collections will reach our Malaysian shores. Or if they ever will!
p/s This is NOT an April Fool's joke! 😉
Stay beautiful,