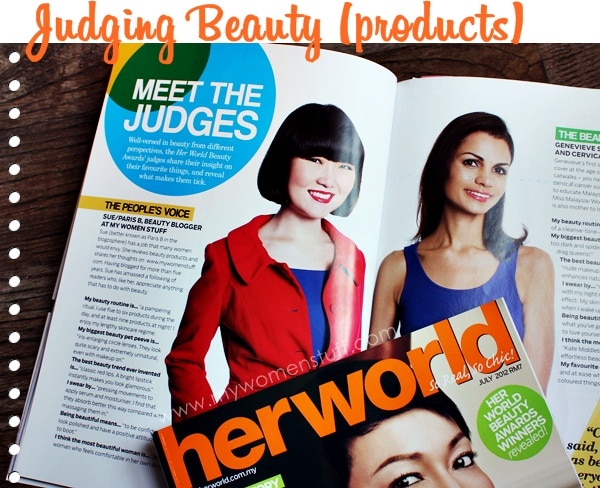 If you've come by my blog through the Her World magazine July 2012 issue (Malaysia edition), I bid you welcome
Yes, its one of those absolutely thrilling moments for me, personally because I'm all narcissistic that way
But for anyone who remembered my trumpeting about being one of the judges of the Her World Beauty Awards 2012, its OUT!
Its just 1 page so no need to get all excited lol… I've got a shot of the brief interview (they didn't publish my more irreverent answers which included "soap" as my pick for the best beauty product invented! I think its too far out
) So if you'd like to see what my biggest beauty pet peeve is, or my view on the best beauty trend invented, here it is with a small behind the scenes look
Here's some of the questions posed and my answers
I wasn't aware I was representing the voice of the people. I hope I got it right somehow
Oh and I love that they gave me red lipstick for the photoshoot
I do have one small correction to the introduction. Blogging about beauty and mywomenstuff.com isn't my job per se. I call it my "part time job" but it is not a job in the same way of a real job that pays the bills
If it was, I'd definitely update much more often (and inundate your mail box and rss readers hehe… ;)) But otherwise, they got the rest of it right – you all do appreciate anything to do with beauty right?
I didn't manage to have someone with me this time to take behind the scenes shots during the photoshoot which was  a lot of fun, so I'll just leave you with one small one.
I did have to go through most of the nominated products, some in sample sizes, some in full sizes and had some friends be my guinea pigs. It was a daunting task as I only had something like 3 weeks to make my picks. Happily though, I did see that many of my favourites won in their respective categories, and these are products I'd already been using and loving
A list of the Her World Beauty Awards 2012 winners are here.
Amongst the winners (and my personal picks) were:-
I'm incredibly thankful to everyone at Her World who allowed me to represent the people – beats being a boring Member of Parliament and having to look at filling potholes and unclogging drains, for sure!
It was fun, I had a great experience and I thank you for reading my rambling
xoxo
Paris B