I don't know about you, but I had not heard of Hada Labo prior to its launch here in Malaysia. There said it 🙂 Have you heard of this line of Japanese drugstore skincare before this?
Apparently, the Hada Labo Super Hyaluronic Acid Lotion is a major hit in Japan, selling one every 4 seconds since its launch there – I'll let you know if its a visible  brand there 😉 Well, curious cats, we'll soon be able to spot Hada Labo at Guardian Pharmacies starting November 2009! They will probably get more visible over time, but they'll start out in Guardian for now.
Hada Labo is an affordable Japanese skincare brand under the Rohto-Mentholatum umbrella. Packaging is minimalist Japanese style with LOTS of Japanese words on it. Don't know about you, but I like it! 😀 Under all that Japanese Kanji and Katakana is an organized clutter that appeals to me.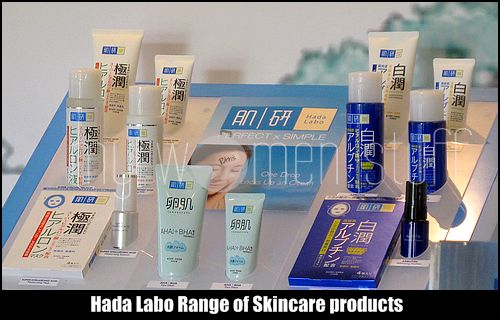 The brand has 3 main lines for 3 distinct skincare concerns:-
Hada Labo Aha/BHA (green packaging) – inspired by a smooth egg! There are 2 cleansers under this range
Hada Labo Arbutin Whitening(dark blue packaging) – self-explanatory whitening skincare line with extract of bearberry plant.
Hada Labo Super Hyaluronic Acid Moisturizing (white packaging) – to hydrate and nourish skin for smooth radiant crystal clear skin.
The star product is of course the Hada Labo Super Hyaluronic Acid Lotion with Super Hyaluronic Acid for which their tagline is "1 drop to lock up an ocean" and for which a cute technique of application is advised as will be demonstrated below.
Continue Reading