I like my Japanese makeup, but there is one brand that never captures my imagination – Kose. Somehow, nothing in the line ever interests me. Their colors look bland and boring. We have 4 makeup lines under Kose at our local beauty counters – Beaute de Kose, Luminous, Cosme Decorte (different counter) and Visee . I don't know if Visee is carried anymore, but if it is, its a very tiny range and nothing like what I see on the Japanese website.
In fact, it looks like the Malaysian Kose site has never been updated since 2004! Just compare it with Singapore's site and you'll see why Kose doesn't excite me here in Malaysia. So, it was sight unseen that I got the Visee Jewel Crush Eyes eyeshadow palette.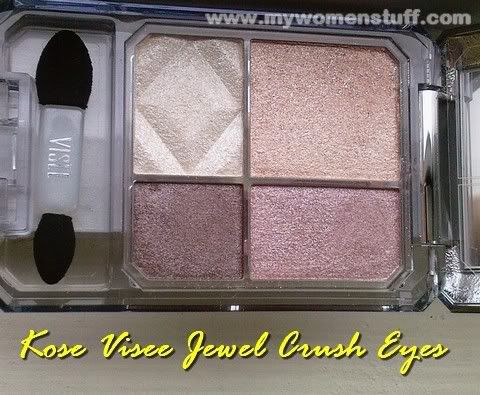 The palette I got is E-5 which online, looked like it would be a neutralish sort of colour. In person, its got noticable pink tones which I was not quite sure if I'd like. Pink on the eyes just doesn't do it for me.