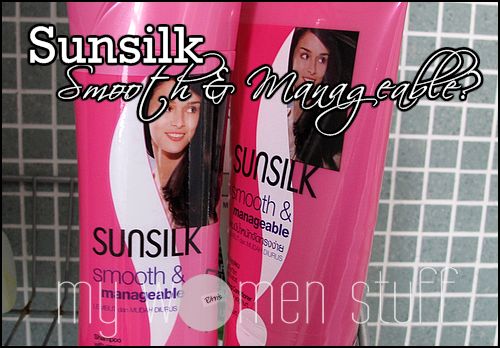 Sunsilk Smooth & Manageable shampoo and conditioner promises to tame unruly hair so you have hair that falls like strands of silk… if the ads are to be believed. From experience, nothing makes hair as smooth and manageable as rebonding but that also leaves me with limp hair which I detest.
So, I've been using the Sunsilk Smooth & Manageable for so long without reviewing it that my conditioner is finished. Sigh… Everytime I get round to reviewing a hair product, its finished 😛 See Dove conditioner – case in point!
Right off the bat, I'm going to say that this shampoo and conditioner did NOT make my hair any more smooth and manageable than it already is. I can run a wide toothed comb easily through my hair after washing and when I wake up which is normal by my standards.
However I did like the Smooth and Manageable Shampoo. It does not smell super fragranced like the leave in conditioner and you don't need much to lather up and get nice clean hair. It also softens my hair somewhat which feels nice.
The conditioner on the other hand, did not fall into my list of likes. I did not feel that it made my hair any smoother nor softer. If anything, my hair feels a little more coarse. Weird? Yes.
Continue Reading