Do you save or splurge on a lipgloss?
If you are a regular here on My Women Stuff, you'll know that Paris B is no fan of lip gloss. I find it too goopy, sticky and too lacking in color. But that's not to say that I don't have any! One of the styles of lipglosses I like come in the clicky pens. You know those pens where you turn the bottom and swipe on the colour with a brush? The bottom makes a click-click sound hence the reason I call them clicky pens 😛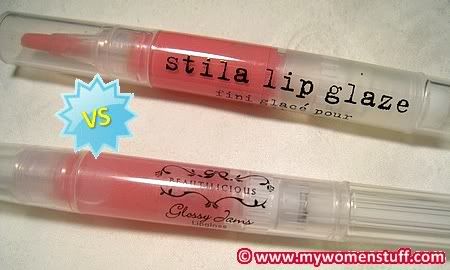 I happen to have clicky pen lip glosses from 2 brands and interestingly, one is higher end – Stila Lip Glaze and the other is low end – Beautilicious Glossy Jams. I thought it would be interesting to see how each fared against the other.
Packaging
Both lip glosses come in similar looking clicky pens. Both have transparent bodies so you can see the colour of the gloss easily and both have a brush applicator. I like brush applicators. I find it gives me better control. Both have a similar problem of too much gloss coming out of the brush if you turn the base too much.
PB's Verdict: Neither wins. They are both similar.
Price
Stila : RM85 for 2.4ml = RM35.42 / ml
Beautilicious: RM25.90 for 3ml = RM8.63/ml
PB's Verdict: Beautilicious wins in the price department