I recently received 2 NYX Cosmetics Black Label lipsticks. Black Label. Doesn't that conjure up images of luxury and a feeling it must be expensive? Well, that's the image the NYX Black Label lipsticks are going for – the Elite line from NYX. Still, elite or not, its only US$7 which is a nice price! 🙂
I got Opium and Tribute to Marilyn sight unseen. From online reviews, I'd read that the NYX Black Label lipsticks are very pigmented, and that the colours on the website are quite close to what you will receive. Reviewers have said that Opium is a coral red shade while Tribute to Marilyn is a bright red.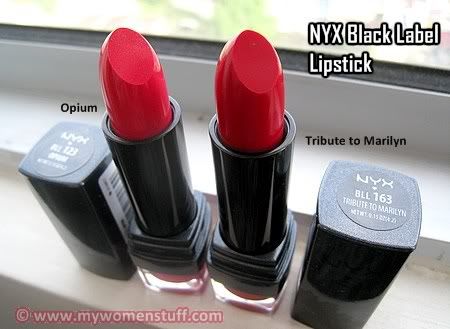 Looking at them in the tube side by side, they both just looked RED to me! Red and Redder was my view. Perfect for the holiday season and maybe even for the coming Chinese New Year! The case is square and the base is transparent with the colour in there so you don't have to open it up every time to check for colour. The cap has black patterns embossed on it, and overall, it looks pretty good. It does feel a little light and plasticky but hey, its US$7!