I'd been coming across this skincare trend (I say trend, because I don't foresee it lasting) called the 7-Skin Method. Apparently, it originates from Korea, and this method of applying toner (lotion) is supposed to infuse your skin with moisture and hydration and to make your skin feel supple, soft and oh-so-moisturised!
Naturally, I got curious.
While called the 7-skin method, it really only refers to the use of toner or lotion. Apparently, in Korean skincare, toner/lotion = skin. Search me. Don't shoot the messenger!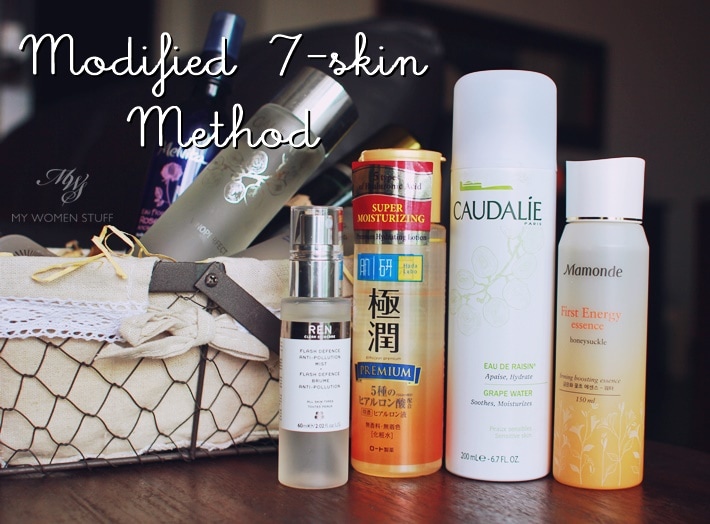 Now, the 7-Skin Method is performed thus:-
After cleansing, you take a toner/lotion, preferably a light, hydrating one, and pat onto your skin, with a piece of cotton pad, or with your hands.
Allow it to dry for about 2-3 minutes, and repeat.
Do this up to 7 times. Be patient.
Conclude with a light moisturiser.
I attempted this all of twice. Yes, my skin did feel lovely and hydrated with a lovely healthy glow to it, but seriously. Who has the time? 😛
I may be dedicated with my skincare routines, but not even I was crazy enough to spend 15 minutes just applying toner. Then, I saw that some people felt the same way I did, and cut their routine down to a 3-Skin Routine. Similar concept, except you only do 3 layers. That was still 10 minutes too long for me.
However, despite my grumbling and rolling my eyes, I noticed one day, that I was, in fact, already practising a modified version of the 7-Skin or 3-Skin Method! I was already doing this all along, and hadn't realised it! Might this be why I had been reaping the benefits of my skincare all along? 😀
So, let me tell you how to use my modified 7-Skin Method or 3-Skin Method and why it works, and that it is far quicker than this tedious 3-Skin or 7-Skin Method.