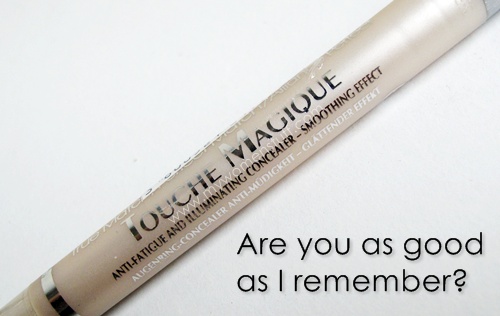 The L'Oreal Touche Magique concealer was a firm favourite of mine – it was one of the first concealer/highlighters I'd ever used and it was affordable and worked well. And then it disappeared off our shores. The link will take you to my original review in 2007.
Many years later, its back! With new packaging and a new name – L'Oreal True Match Touche Magique Anti Fatigue and Illuminating Concealer – Smoothing Effect. *pause for breath* Whew!
Naturally, once I spotted it in a local mag a few months ago, I had to pick it up to see if it withstood the test of time. In the interim of course, I'd found other similar concealers that did the job well so this had some living up to.
First off, packaging. Nothing has changed here. Its still a clicky pen with brush mechanism. The clicky mechanism however feels a bit stiff and the brush poked my skin. I did not like that 🙁 I tried softening the brush by brushing back and forth across a piece of tissue paper but it still remained pokey. Less so now after use, but still… pokey! 😛