I've had a few emails asking me about my eyeshadow application. Now, I'd be the first to admit that my eyeshadow application skills are about as basic as you get, so it was quite gratifying to get inquiries.
I thought I'd just post up how I usually apply my eyeshadow daily. In the image I call this an easy smokey eye look because this is a look I do nearly everyday. I've found that it helps elongate my eyes and makes them appear larger than they really are. Which is very useful because research shows that women with larger looking eyes appear more attractive *snort* 😀
For this purpose, I am using the new L'Oreal Open Eyes Pro eyeshadow palette. I find this very useful for those learning how to use eyeshadow because the gradational colours and shape of the palette help show you just where your eyeshadow should go.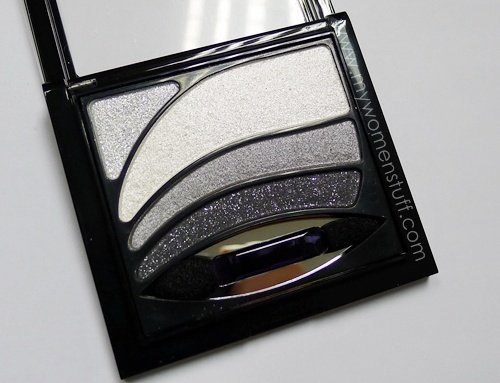 Although it looks very shimmery in the pan, I personally do not find it quite as shimmery to be over-done. The most shimmery colour is the white and the small bit of light gray which is almost glittery, so I don't use that much. The black and dark grey aren't overly glittery or shimmery on the skin.
So for anyone who has been asking, here's how I usually apply my eyeshadow. Don't expect anything dramatic like all the beautiful looks done by Connie or Nikki. I am almost embarrassed to have this up, except it will satisfy the curiosity of many and perhaps make it easier for me to have a post to link queries to 😛