The opening of Kiehl's 3rd store in Malaysia reminds me of another 2 products I've tried from the Kiehl's Ultimate White line – the Cleansing Cream and the Intensive Whitening Essence.
Kiehl's Ultimate White line smells yummy!
Before I get into the products, let me just say that the Kiehl's Ultimate While line smells absolutely delicious. The products have a subtle scent of plums and citrus that is refreshing and soothing. Nice when you apply it and lie in bed with that fruity smell wafting around. I like it!
Kiehl's Ultimate White Cleansing Cream (RM95)

The Cleansing Cream is to me a decent cleanser. Again, I don't believe anything can whiten lighten or brighten if you're going to wash it all off almost immediately so I won't put much score by the whitening or brightening properties. Perhaps if used together with other brightening products it might make some difference.
I always use a makeup remover first or cleansing oils so this is the 2nd part of my cleansing routine. On other days when I don't use makeup, the cleansing cream removes dirt and leaves my face feeling clean.
I only use very little as it lathers up very well. It can feel a little drying after cleansing though so its always essential for me to tone and moisturise after that. At RM95 for a 150ml tube that can last me … well pretty much forever… I think its a pretty decent item. Its not a "must have" if you ask me though. I reserve that title for the Ultimate White Exfoliator! LOL…
Kiehl's Ultimate White Intensive Whitening Essence (RM190)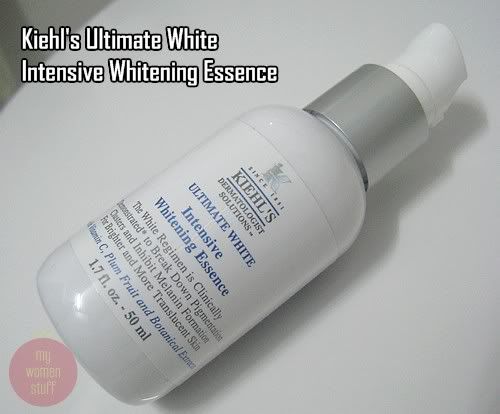 The Intensive Whitening Essence promises to brighten the skin and lighten existing dark spots. I can testify to some brightening. The essence pumps out a pearlescent white that also smells quite delicious. Perhaps its the pearlescent qualities of the essence, but my skin does look slightly brighter and more even almost immediately. I did not notice visible lightening of dark pigmentation over a month's regular use, but neither did I sprout any new ones and the lighter freckles seem to be under control.