Note: I've been informed there is a local online seller on lowyat and perhaps on blogs going by the name "celine" who has stolen my picture below and some text to sell her own product. I am not associated with that seller and no consent has been obtained from me to use my photo or text.
A few years ago, when I first started getting into bags, I came across a bag organizer called the Purseket. It promised to keep your bag or purse organized and I craved and lusted after it, but the prices in USD plus shipping put me off since I'm in Malaysia and all. So, I bided my time and I waited and in the process gave up on a few bag designs and sizes because of disorganization issues.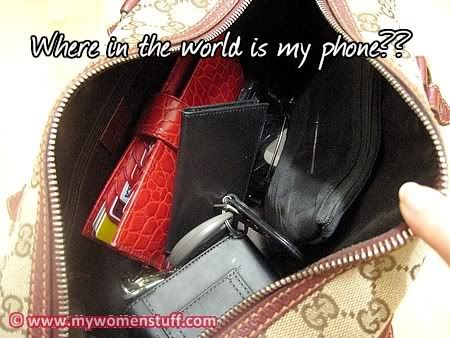 Here is an example of a bag with disorganization problems. It is a simple handheld tote bag with a large main compartment and some slip pockets on the inside that can't do much. It is a very useful bag because I can fit quite a lot of things in there, but in the process, I end up with a jumbled mess.
Keys get lost in the deep recesses of the bag, followed by sunglasses and forget looking for business cards! Half the time, my head would be stuck in my bag rooting around for something or another which can be a hassle and embarrassing, especially when I lose my mobile phone in there.
Introducing the Bag Organizer to save the world from disorganization! When I was at The Curve last weekend, I came upon a stall at the weekend bazaar at Cineleisure (next to The Curve) at Mutiara Damansara, that was selling bag organizers, amongst other things. When I saw it, I immediately yelled "Purseket!" because it was just that! The bag organizer was a purseket and available in RM and at an affordable price of RM29.90 which I proceeded to pay for in RM1 notes thanks to MySimplifieds! 😀 Its usually RM39.90 if purchased online but sold at a special promotion price at The Curve weekend bazaar.
Continue Reading