You might have noticed the new Dior Capture XP R60/80 Nuit products at the counters. Its hard to miss the luxurious looking navy blue Dior Capture XP Overnight Recovery Serum bottle paired with the Dior Capture XP Wrinkle Correction Night Cream.
Dior Capture XP R60/80 Overnight Recovery Serum – RM360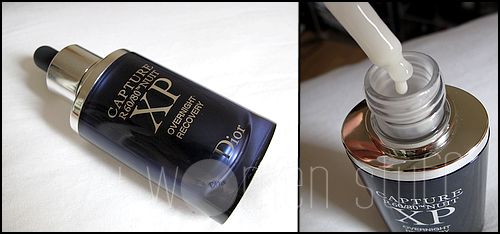 The Dior Overnight Recovery Serum is a thick white liquid dispensed via a pippette. I love all these geeky looking gadgets. Unlike the other anti-aging serums that have revolved around DNA lately, Dior instead harnesses the power of stem cells to renew skin, and this is done overnight when your body is at rest so cell regeneration is twice as intense.
The texture of the serum is thick but applies light on the skin. I like the serum. It makes my skin feel velvety soft after application and somehow makes it look a little bit better.
In the morning, I wake up to skin that I swear looks a little bit better. You are recommended to use this with the new Dior XP Wrinkle Correction Night Cream but I've used it with any number of other night creams and my skin still feels as good. Don't tell Dior I said that! 😉
The price is of course a little prohibitive at RM360/50ml, but then most serums are rather pricey anyway and you don't have to use much, just a few drops for your whole face and just only at night.
Pros: Nice texture, Makes my skin feel soft and looks better, Works with other creams from other ranges/brands

Cons: Expensive