Some reviews, especially anything related to skin care, can't be rushed. And sometimes, two or three is almost certainly better than one. These 2 tenets have held true for me, in trying out these Antipodes products – the Divine Oil, Hosanna Serum and Apostle Serum which I've been playing about in different ways for nearly 3 months.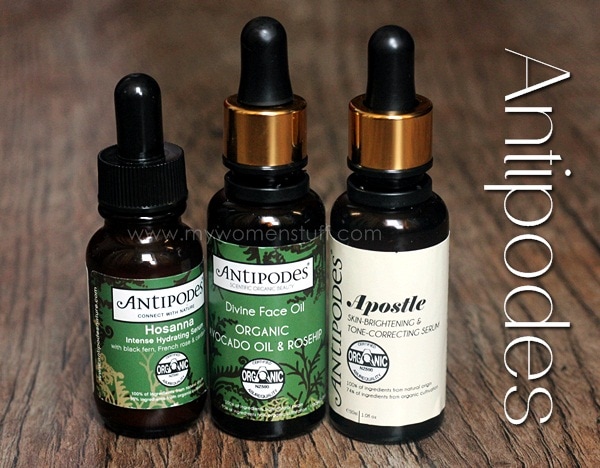 I've tried only one other item from Antipodes, a certified Organic brand from New Zealand, which is the Juliet cleanser. I liked it, and I'm still using it every morning because I like how my skin feels and how non-drying it is. I haven't experienced any change in scent or texture so I'll keep using it till that happens. It says a lot about me if I stick to a product, because I'm one of the most fickle people out there when it comes to skin cleansers 😛
I started out trying the Hosanna Intense Hydrating Serum a few months ago. By way of preliminary opinion then, I thought it really nice. It is non oily, being water based, and absorbs quickly into my skin and it did seem to help keep my skin feeling hydrated. I liked it, but I wasn't in love with it.
But then came the Divine Face Oil and that sort of changed everything. I have been on this skincare combination for a couple of months now, and I love it. I was told that this was the "3 Perfect Potions" and whilst the 3 products work well together, I prefer to only use a combination of 2 items. I'll tell you what I think of each item and then tell you which I like 😉