Previously, I wrote about the Coffret D'or Party palettes released for Christmas. For some reason, I liked how they looked. So, the next time I was at a Kanebo counter, I asked if the Party Palettes were available and lo and behold! They were!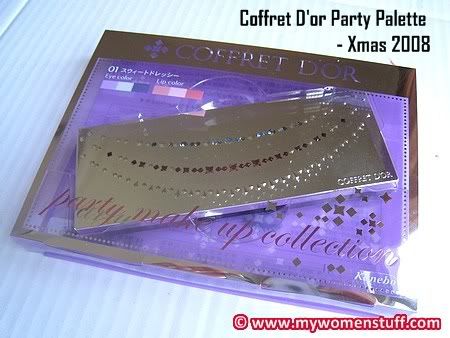 There are 2 shades available in this range – Sweet Dressy (pink/purple with rose toned lipsticks) and Noble Dressy (beige/brown with brown toned lipsticks). Only the Noble Dressy was available as a tester. The Party palettes have 3 eyeshadows and 3 lip products in one slim palette.
Noble Dressy has 3 eye colours – shimmery beige, shimmery gold and dark brown with slight shimmer. The 3 lip colours are a light peach, glitter gloss and darker browned red lipstick. It comes with a dual ended sponge tip applicator for the eyes and a mini brush for the lips. If you want a nice subtle smokey eye, this palette will be for you. That dark shade can be smoked out in a very sexy way and then highlighted with the lighter shades. The lip colors are a lot more sheer than they look. Applied, they have a slight brown tone to them which is nice and compliments the eye colours well.
Those who know me however, will be very surprised at my choice of palette. I bought the Sweet Dressy palette in the pink/purple tones.