Again I find myself writing about a brand that does not usually excite me – The Body Shop. However, the new limited edition Moroccan Rose collection is tempting me with a purchase or two from this new line. Unlike many I was not enamoured with the Cherry Blossom collection – the smell did not attract me.
I am also usually not into Rose scented products, finding them too powdery or too strong but I am surprisingly taken in by the Moroccan Rose collection.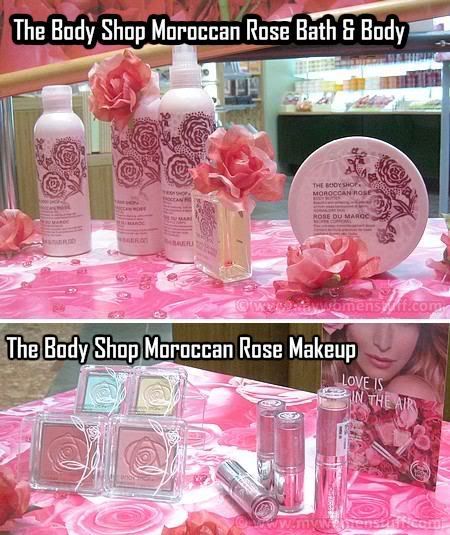 Released just in time for Valentine's Day, the Limited Edition Moroccan Rose collection comes with both bath and body and makeup products with a rose theme.
In the bath and body collection there is:-
Moroccan Rose Eau de Toilette – rose scented perfume which I found reminiscent of the Tea Rose perfume oil carried by The Body Shop.
Moroccan Rose Body Butter (RM75) – light body butter with rose scent
Moroccan Rose Body Lotion – Comes in a spray bottle and spritzes out a light body lotion with a lighter rose scent than the body butter.
Moroccan Rose Shower Gel (RM49) – shower gel with a light rose scent. It actually smells quite refreshing and this is the one item I will definitely get.
Moroccan Rose Bath and Massage Oil – A rose scented oil you can use in a warm bath or for massage – perfect for a Valentine's night in 😉
There is also a Moroccan Rose makeup line (also limited edition) that carries the rose theme. Some swatches are found below.