With the Stila Clearance sale going on in Malaysia (Stila is leaving to return to the USA – no news on what's happening in Stila USA) I thought it would be a good time to highlight some items I like from Stila and if you are lucky you might be able to pick them up at heavily discounted prices – call it a consumer service hehe… 🙂
Stila is not tops on my list of favourite brands but there are some things I like that I will be sad to see go and some things that some people really liked and made Stila the brand it was and still is.
Stila Eyeshadows are velvety smooth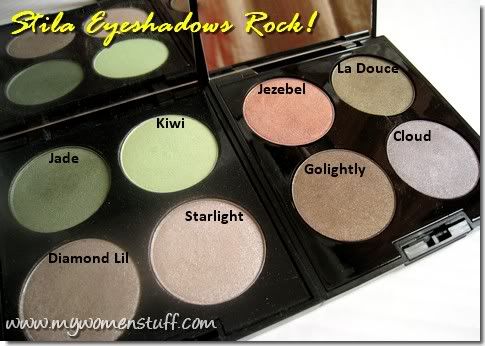 I like Stila shimmer shadows. The matte shadows are a bit meh in my mind but the shimmer ones are lovely and velvety smooth. The picture is from my review on Stila eyeshadows and I know you are wondering why I got Starlight when it appears as if I already have Starlight! The answer is simple – I goofed up the labelling of the colours 😛 Starlight in the picture is actually Cloud and what I called Cloud is a lovely lilac shade that has no name. Starlight is a gorgeous pink-beige with shimmer that makes a beautiful base or highlight shade. Highly recommended. Now don't you all go clean out the counters of this color! 😉
Stila Lip Glaze is sticky but glossy
The Lip Glaze by Stila has to be Stila's most iconic prodct. The clicky pen with brush lipgloss inspired a whole host of similar style lipglosses – more so after it was highlighted that the Stila Lip Glaze was a favourite of Cameron Diaz. I saw a similar Revlon clicky pen with brush lipgloss in Hong Kong that we haven't gotten in yet – possibly soon.
The lip gloss is thick and glossy without too much colour pay off as I previously noted but lots of girls love it. I must admit it gives a lovely sexy shine to the lips 🙂