At the last YSL sale I went to, I picked up the YSL Golden Gloss #4. It was impetuous but I'm happy with my purchase.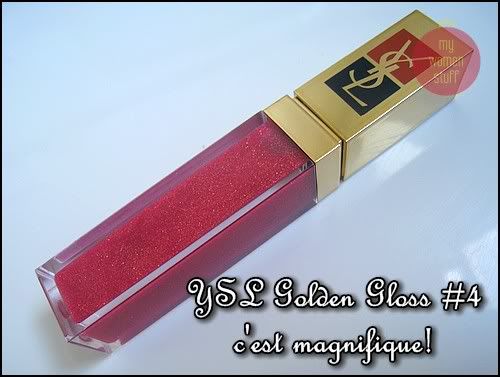 The gloss comes in a square tube – good to prevent it rolling around I guess. Its also quite a small tube in length compared to many other glosses. However, size does not matter, its how it performs … or have you heard that one already? 😛
I like that the applicator is a compact brush that does not splay. All hail brush gloss applicators! This is the reason I love the Guerlain Kiss Kiss glosses too. Brush applicators rock! Ahem…
It took me a while to choose the colour because I only wanted one so I ended up with #4 which is a cool toned rose red with lots of gold glitter. I say glitter because its coarser than shimmer but yet, it isn't chunky glitter so it wasn't too bad. I've got a swatch after the jump.