If ever I had a reader to blame for making me pick up yet another Benefit Creaseless Cream Eyeshadow, it would be you Anis! Thanks to Anis' comment, I ran over to StrawberryNET.com to pick out Birthday Suit for US$13 during the sale that I told you about when I reviewed Strut.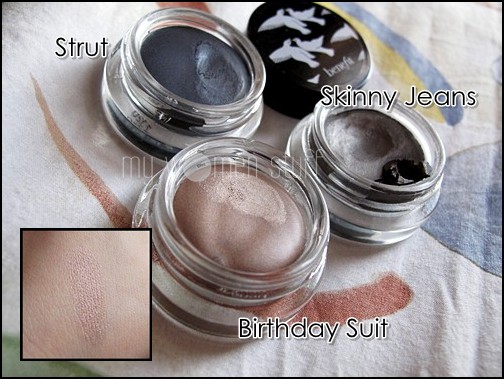 It got here a while ago, but I didn't do anything with it. Part of the reason is because it swatched a little darker than I expected on my skin. However, I liked the subtle shimmer it had. Its like "now you see it, now you don't" which is very pretty.
I experimented one day using just cream shadows for the eyes and wowza! I loved the look! I used the 3 Benefit Creaseless Cream Eyeshadows I own – Strut, Skinny Jeans and Birthday Suit.
Just quickly, Birthday Suit is a neutral cream eyeshadow that swatches a little beige on my skin with very subtle shimmer. Like the other Benefit cream shadows, this one lasts all day long on me without creasing and without making my lids feel dry. It swipes like buttah!
Here's a picture of how I used Birthday Suit with Strut and Skinny Jeans.