When I first started taking care of my brows and enhancing them through the use of brow pencils, I jumped in straight into the deep end. It was the Shu Uemura Hard Pencil 9 that made me appreciate the importance of a good brow, and I never looked back. It was so good, I even reviewed it twice, right here on the blog! A first, even for me.
What I liked about it was the very user-friendly angled point, or as Shu Uemura will have you believe, sword point, that makes pencilling in the brows quite a breeze. The problem however, is that I never got the hang of sharpening it myself. Yes, Shu Uemura boutiques and counters offer this sharpening service for free and I availed of it for years on end. But my last few experiences at the counter left me wanting. My pencils will go in a certain length, and when I return to collect them, inches have been sliced off. I've seen the sharpening at work first hand, and even tried my hand at it and I can safely say that it doesn't take inches off each time, unless it breaks, or you're incompetent like me. So I got pissed off, and decided to look elsewhere.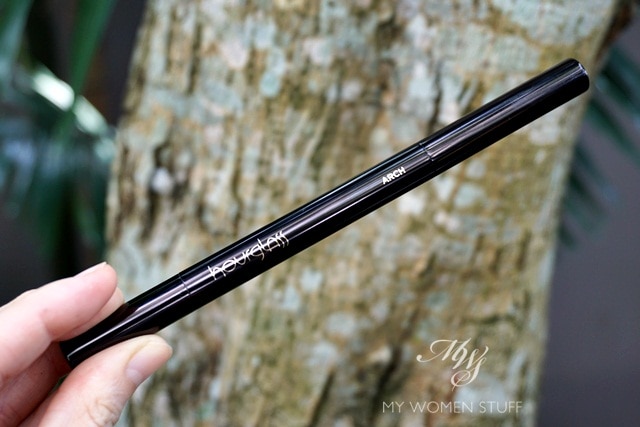 I wanted something with the same angled shape, but that didn't need me to entrust it into the hands of another, whether competent or incompetent, to get it into that shape. I looked around for a bit, tried a few different retractable options here and there but one day, after reading raves of the Hourglass Arch Brow Sculpting Pencil, I decided to have a go at it on one of my Net-a-Porter orders.
I didn't quite know what to expect if I'm to be honest. I also wasn't sure which colour to pick since we don't have an Hourglass counter here and I wasn't even sure of what the colours would look like. Sunny of Mostly Sunny's review helped me with that, but I eventually bit the bullet and went with Soft Brunette.
Ladies and gents, meet my favourite-est brow pencil. Ever. Pricey for us hapless Malaysians and our sh-Ringgit, but so good, I haven't looked or thought about looking elsewhere since I got it almost 10 months ago. It's SO. GOOD! 😀