Its not only the Da Vinci Code or Angels and Demons by Dan Brown that hides secrets in art. There too lies the secret of flawless makeup – step by step makeup built from a good foundation that gives a flawless finish.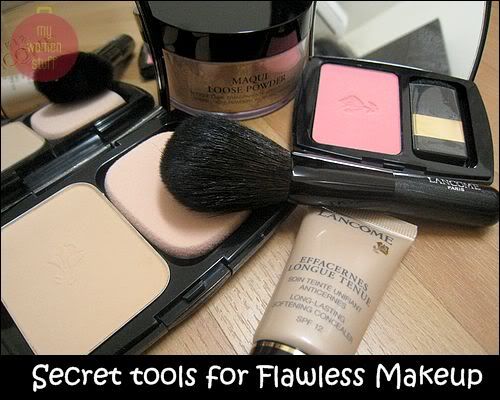 So what's the secret to flawless makeup? Lancome's recent "Secret to Flawless Beauty Workshop" introduced to me the Power of 4 (sounds rather like a superhero series eh? 🙂 )
Foundation
Concealer
Powder
Blush
With just these 4 products on your face you can go out looking flawless and natural – the keywords for today. Zamri Zainol, Lancome's top makeup artist shows us how.
Foundation – match it to your skintone
Do not use foundation as a corrector. If you have yellow or pink tones, do not try to "correct" your tones using foundation. There are products that can help correct or reflect a different tone but foundation is not it. If you over correct or under correct, the results may not be what you expect and can make you look weird – think grey or orange.
You should also know what you want your foundation to do. For me, I like a sheer light natural coverage for everyday so I don't look masky. I don't need something heavy and all I'm looking for is evening out of skin tone. So, the Lancome Maquiliquide UV Infinite is going to be something I'll be checking out. I'm told I can up the coverage by using the Maquicake UV Perfect 2 way foundation powder on top of it. Believe me, the coverage does increase and you will look pretty flawless but its strictly for night/evening looks. So, I'd keep that trick for night looks. This way, I can keep to a light liquid foundation for all times.
Concealer – only where its needed
The job of concealer is to conceal scars or marks so use it only where its needed and blend blend blend! I use concealer for my under eye area to lighten dark circles, and a heavier concealer to cover up pigmentation. Never underestimate the magic of concealer – you'd be surprised at how flawless your skin can look without the need of photoshop!
Continue Reading