I only picked up one item from the new Rimmel counter in Kuala Lumpur and many concerned readers wondered what was wrong with me. Ah the wonders of a reputation eh? 😉 Joking aside, the reason why I bought only one lipstick was because I'd spent the rest of my money buying the Majolica Majorca stuff for the giveaway. So, watch out when I get back to the Rimmel counter!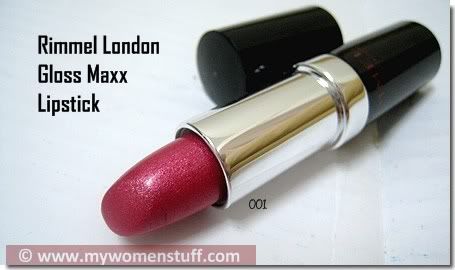 The one lipstick I got was the Rimmel London Gloss Maxx lipstick which I found on the Japan website for Rimmel. It doesn't seem to be available on the other Rimmel sites in the world and part of the label is in Chinese/Japanese so I'd safely say this is a Rimmel Asia Exclusive! And boy! Do I like this one!
The Rimmel Gloss Maxx lipstick is, as the name suggests, a gloss-lipstick. The texture is sheer and shiny like a gloss but wears like a lipstick. I took a couple of swatches of a few colours at the counter before deciding on 001.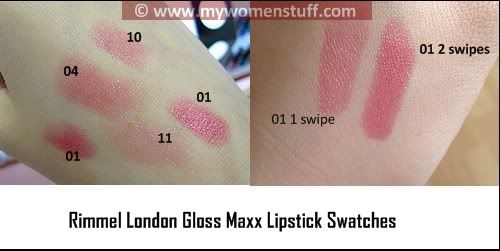 Most of the colours are on the sheer and light side with 001 being one of the darkest shades. Of course, I had to pick the one in the reddest tone. I love red lipstick! #4 was nice too being of a more coral tone. I might need that some day. You can see in the picture on the right what I mean about the lipstick being sheer.
Swiped on once, its quite light. Swipe on a second time and you get a darker variation of colour which is nice. Its like having 2 lipsticks for the price of just one!Continue Reading