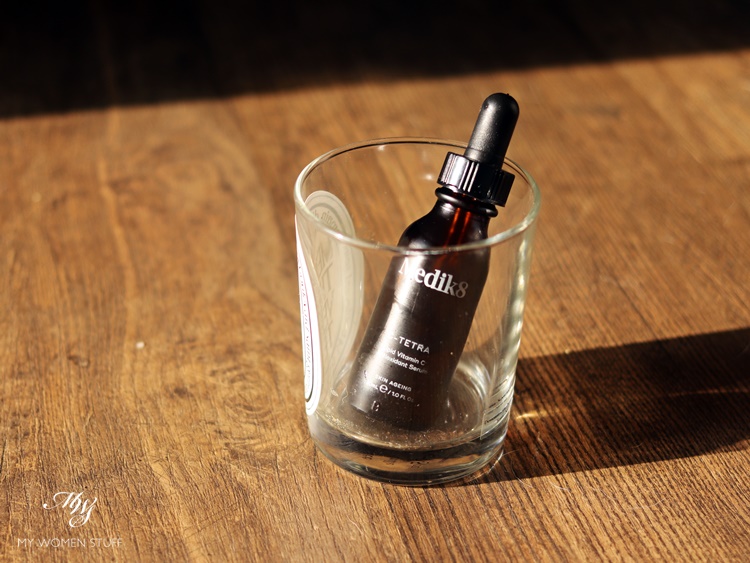 I came across many raves for the Medik8 C-Tetra serum, where people who had tried it swore up and down that this was THE Vitamin C serum they'd be using from now on.
I got curious, because I love me a good Vitamin C serum, but I always had one in rotation, so it took me quite a while before I got around to picking up a bottle and trying it.
I have to say though, that it has been impressive! 🙂
Medik8 C-Tetra Serum
Medik8 (medicate) is a brand from the UK with a very clean aesthetic and a targeted approach to skincare. The products in their brand seem heavily focused on using Vitamin C or Vitamin A (retinol) which is their founder's philosophy.
They say that his anti-aging philosophy is 'vitamin C plus sunscreen by day, and vitamin A by night'. Incidentally, that is also mine so I guess I have been doing something right! 😛
The key ingredient in the Medik8 C-Tetra Serum is Vitamin C (in the form of Tetrahexyldecyl Ascorbate) and Vitamin E. It is well known that both these ingredients play very well together for skin health.
Tetrahexyldecyl Ascorbate is a form of Vitamin C that is more stable in that it does not oxidise as quickly once exposed to the air. While it is less potent than L-Ascorbic Acid, it will not turn yellow over time, which is a problem faced when using other effective serums with L-Ascorbic Acid (like my other favourite Timeless Vitamin C Serum) Medik8 says that the C-Tetra serum will stay fresh and clear even up to 6 months after opening the bottle! Now, try that with an L-Ascorbic Acid serum and what you'd get is a dark orange mess 😛
Tetrahexyldecyl Ascorbate is also supposed to penetrate better into the skin, penetrating the epidermis and dermis, to brighten the complexion, boost collagen production and fight free radicals that can cause fine lines and wrinkles. It is oil-soluble, so you will notice that the serum is slightly oily.
The other property about Tetrahexyldecyl Ascorbate is that it is the least irritating form of Vitamin C, so if you have previously shied away from using Vitamin C because your skin reacts adversely to it (L-Ascorbic Acid is quite harsh and abrasive) then this one would be the one to try.
The serum is formulated with Vitamin E and oils to protect skin throughout the day, deliver the Vitamin C to your skin to inhibit dark spots and brighten the skin, and to stimulate collagen production.
I could not find the percentage of Vitamin C on the website, but a little research states that it is about 7%. Not terribly high by my preferences, but to my surprise, effective!
Clear, lightweight serum with oil texture
The Medik9 C-Tetra Serum is a lipid (oil) based serum, which is very lightweight. While people might be concerned about putting oil on their skin in the day, you shouldn't be, because it sinks in so effortlessly into the skin. If you are a little concerned about any oily feeling, apply it over slightly damp skin.
RELATED READING: Have you tried the moisture sandwich? It's great for adding moisture and helping oily serums penetrate better into the skin READ MORE
It is clear, and this bottle of mine has been opened for a few months now, and you can see that the liquid in the dropper is still clear. This is Tetrahexyldecyl Ascorbate at work right there! No oxidization!
My preference is to use it in the day to protect my skin from external environmental aggressions, but you can also use it at night. I have used it both day and night, only in the day, and only at night. It's all fine and depends on how you do your skincare and what other products you're using 🙂
Only use very little each time
I tend to be a little lavish with my use of serums, because I want to maximise their potential and to ensure that I'm using sufficient product each time.
So, when I checked the directions and saw that it said that I only needed 4 drops of the Medik8 C-Tetra serum each use, I was a little taken aback. You mean I should not be squirting out a whole dropper full of serum? 😛
The dropper has some markings to show you the amount in ml. I think it's just aesthetics, because there is no direction to use any specific ml amount. However, I checked, and 4 drops is about 0.1ml of product. A 30ml bottle can therefore last you about 300 uses, which if you use just once a day, can take you to about 10 months of use.
That's pretty impressive!
I actually did the math while writing this post, to realise this, and it sort of fits in with my timeline of use. I have been using my bottle for about 3 months, and am about halfway through. This is because I started out using both day and night for the first month (as I do when testing a new Vitamin C serum) and am now using it just once a day (or twice if I get a little lazy). I expect my bottle to go for another 2-3 months, so all in all, I'd say that you're getting pretty good value for money.
Brighter, better skin ahead
I started using the Medik8 C-Tetra after not using Vitamin C serums for a while. I'd run out, so this was a good opportunity for me to try it out. I was using the Axis-Y Dark Spot Correcting serum just prior to this, and that was a flop so my skin was primed to receive all the benefits of Vitamin C that I knew it loved!
While it did not perform miracles with my dark spots, I did find that my countenance looking brighter and better in general. With regular sun exposure (and sunscreen that wasn't performing), I was battling dull looking skin for a while, so this quite literally gave my skin a nice kick in the rear to buck up.
Whatever dark spots I have aren't lightened nor have they disappeared, but it is nice to look in the mirror and not notice those imperfections, because your skin looks healthy and even-toned, and glowing overall. I don't go for laser treatments (as yet) so I expect to keep my dark spots and pores around a bit longer, especially at my age 😀
I have mentioned a glow while using Vitamin C in the past (you can read all my other Vitamin C reviews – there's a lot!) and if you have never used it, you will notice it within a few days. Your skin just sheds its dull layer, so it's like drawing off a film from over your skin, to reveal brighter, more naturally glowing, healthy skin.
If you have been using it for a while, then this effect will be less noticeable, because you'd be maintaining that glow. A stronger Vitamin C serum might turn the glow up a notch, but it's not as if you'd look like the sun 😛 But a healthy glow is such a confidence booster, as someone who has experienced dull skin like me can attest. I don't use very much makeup these days, and when I do, it's just little dabs of concealer, or a little foundation where I need it, just to even up things a little more.
Considering that this Medik8 C-Tetra serum has just 7% of Vitamin C, I found the effect to be very impressive. I am used to using products with a much higher percentage, but that can also mean it can be more irritating to the skin. If you are new to a Vitamin C product, or want something that works impressively in a short time, this one's certainly one to look out for.
While I am happy to use this, and may even consider trying the C-Tetra Luxe, which is a step up from this, I am not averse to trying or going back to L-Ascorbic Acid based Vitamin C serums, because I like switching things up for my skin. Besides, I'm such a sucker for any Vitamin C serum because I just know they work, and actually work together with sunscreen to protect our skin better in the day! 🙂
The only little drawback for me with this one is the scent. There is a citrus scent that isn't too strong, but I much prefer Vitamin C serums to not smell of citrus. That's so trite 😛
IN A NUTSHELL

The Medik8 C-Tetra serum is a oil-based Vitamin C with Tetrahexyldecyl Ascorbate and Vitamin E as its key ingredients. Tetrahexyldecyl Ascorbate is an oil-soluble, very stable form of Vitamin C that does not oxidise as quickly as other forms. It also penetrates deeper into the skin to boost collagen production, inhibit dark spots and give skin a glow, and fight free radicals. The texture of the serum is very lightweight and not oily at all (to me). It absorbs very easily and quickly into the skin, and gives skin a healthy even-toned glow. Use it in the day, or day and night if you prefer. Using it twice a day makes it more effective, but using just once a day (in the morning) helps your bottle last longer. You only need 4 drops each time, and a bottle can last a long time! Great value overall!

PROS:
Lightweight oil based texture sinks quickly into skin
Not irritating to skin
Only very little is needed with each use
Product is well packaged in a dark bottle
Does not oxidise easily
Skin looks brighter and more radiant and healthy with regular use

CONS:
A little pricey initially
For those of us in Malaysia it's only available from overseas stores

WHO WILL LIKE THIS: Anyone who is sensitive to L-Ascorbic Acid, Anyone who wants a high performing Vitamin C serum

PRICE: US$48 | £39 | AU$86 for 30ml

WHERE TO BUY: Medik8 website (ships internationally), Lookfantastic, Cult Beauty, Adore Beauty (Australia), Feelunique (I generally will only buy from these websites listed as I cannot vouch for the veracity or freshness of product from other websites in Malaysia, which is key with a Vitamin C product)
For those interested, this is the ingredients list of the Medik8 C-Tetra Serum
Simmondsia Chinensis (Jojoba) Seed Oil, Cyclopentasiloxane, Cyclohexasiloxane, Tetrahexyldecyl Ascorbate, Citrus Grandis (Grapefruit) Peel Oil, Tocopheryl Acetate, PPG-12/SMDI Copolymer, Limonene, Citral, Linalool, Geraniol.
Have you tried this Medik8 C-Tetra serum or any other Medik8 products?
From what I can see, Medik8 seems to specialise in anti-aging products and I'm keen to try one of their retinal serums moving forward. It sometimes feels like I'm discovering so many good and effective products these days, that I'm loathe to switch around my skincare products very much anymore. Might this be the nail in the coffin of my blog reviews? LOL! 😛
Paris B