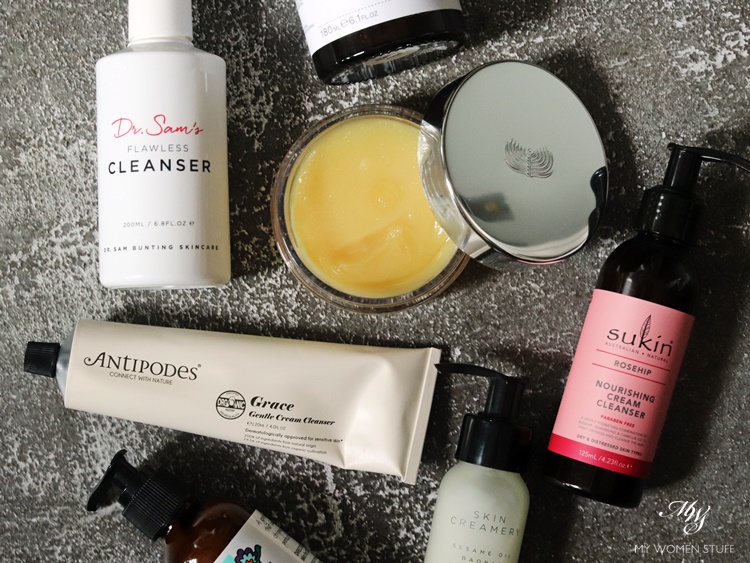 In the past, when I first started having some interest in skincare, I came across a quote by someone that said "Spend on what you leave on and save on what you wash off" It was something of that ilk.
Essentially, the idea was that when we were balancing our budget for skincare, we should spend more on products like serums and creams, to get the best possible quality since we were leaving it on our skin; and we could save on a product like cleansers, because we'd just be washing them off.
I thought it made sense, so it was something I practised for a while. I'd buy cleansers from the pharmacy, and I'd not consider spending too much money on them. Something that was foamy and cleaned my skin was sufficient, never mind what special ingredients might be in it, because I was going to wash it off anyway.
Much later, I realised that I was wrong about this.
Why cleansing is important
I also used to think that cleansing my skin was just something to do as a matter of course. In a way, that was fine when I was younger. My skin could handle a certain amount of abuse and neglect, but as I got older, any neglect would show up.
You see, we tend to think of skincare as the serums and moisturisers that we put on our skin, and to work their magic. But we tend to forget that our skincare routine actually starts in the bathroom, with cleansing.
A good cleanser should clean your skin well, removing dirt, oil and grime, but without over exfoliating or drying out your skin. Many 'deep-cleansing' products leave your skin feeling wonderfully clean, but can be very stripping when used daily. 'Exfoliating' cleansers are similar. Wonderful when used, but if used daily, potentially damaging to your skin barrier.
Cleansing is important, because the rest of your skincare should go on a clean canvas. You want your skin cleaned of makeup, oils, sunscreen and grime, especially at the end of the day. While I know some people choose not to use a cleanser in the morning, I do. It allows me to properly remove any overnight sweat, and also any remnants of the previous night's skincare, before putting on my daytime skincare.
In the evenings, a double cleanse is a must for me. This entails a first cleanse using a cleansing balm or oil which removes oils, grime and importantly, sunscreen; followed by a second cleanse which is usually a gentle gel or cream cleanser just to be sure that my skin canvas is properly cleaned and prepped.
RELATED READING: Wondering whether to use a cleansing balm or cleansing oil? READ MORE
Why I think double-cleansing is important
I think what many people forget when practising double cleansing, is that they think that it isn't necessary to double-cleanse if they don't wear makeup. But anyone who cares about their skin will wear sunscreen (and if you don't, you don't really care – don't come at me for speaking the truth 😛 ) and a good sunscreen will be water-resistant and stick to the skin to resist sliding off when you sweat.
If you've ever applied a good sunscreen to your arms, you will notice how water beads on contact, even after many hours. This means that the water is being repelled by a waterproof barrier, which means that it's not getting to your skin to clean it properly. When you use an oil, balm or a good cleanser to first remove it, you will then notice how the surface tension is gone, and the water runs freely over your skin. Don't believe me? Try it later and see for yourself!
When I first noticed this phenomenon after applying sunscreen on my arms, and noticing how it was gathering in the creases of my elbows and not cleaning off properly, I was quite appalled. First, this meant I had not been cleaning it off my arms properly. Secondly, this meant a single cleanse was not sufficient for my face.
I use highly water resistant sunscreen or mineral-based sunscreen on a daily basis so it is very important for me to ensure that my skin is thoroughly cleaned of all sunscreen before I proceed with my nighttime routine.
How I properly cleanse my skin
In the mornings, I like to use a cream or milk type cleanser. It is more gentle on my dry skin, and helps it retain more moisture. I don't need anything too strong, because my skin doesn't get that dirty overnight.
I usually apply it over my skin, giving a little massage, and then wash it off. Living in the tropics, I don't use warm water on my face in the mornings, so some cool tap water cleanses and refreshes and wakes me up nicely. I know that on winter mornings, an icy blast of water to the face can be quite uncomfortable, so use slightly warm water, never hot.
In the evenings, or after sweaty activities, I always start with a first cleanse of a cleansing oil or balm. I massage it all over my skin, taking care to work it into the crevices around the nose, and chin, where it is usually oiliest. Then, I emulsify and rinse off or wipe off with a face cloth.
I like taking a little time with the first cleanse, because the balm or oil makes a good medium for a nice firm massage, just to make sure that you're getting all the dirt and grime off your skin. It's quite satisfying 😀
I then follow up with a second cleanse of a gently gel or cream cleanser, depending on which I have on hand at the time. I also work it in, and then rinse off with water. I wash my face in the shower, so it's usually quite convenient to make sure I rinse everything off nicely.
When I took a little more care with my cleansing routine, I noticed that my skin broke out less, it felt cleaner, my serums and creams were more effective, and my skin was better as a result. It truly starts from the bathroom, so the next time you think of a cursory splash of water on the skin to justify washing your face, think again. You might be doing your skin a disservice!
8 Cleansers I love and have repurchased over and over
These are 8 (+1) cleansers I love for my dry skin, that I have bought over and over through the years. Some links are affiliate links and I have included discount codes where I have them. You can be sure that I only ever recommend websites and products that I personally use 🙂
Dr. Sam's Flawless Cleanser
For me, Dr. Sam's Flawless Cleanser was a bit of a slow burn, but I've since gone through at least 3 bottles, so I guess it's a keeper. If you are truly truly lazy, it actually does function as a 2-in-1 cleanser to remove oils and grime and cleanse in one step, so it is very useful when travelling. I also like that it works well on wet skin, does not dry out my skin despite being a gel, and removes water-resistant sunscreen (and very light makeup) quite effectively. You can even use it twice, just to be sure, if you're removing makeup, or your skin is particularly oily. I use it as a second cleanse in the evening, and it's really perfect for the purpose. I do find that a little goes quite a long way, and a bottle can last me quite a long time. I like how the bottle is very well designed so water doesn't go into the bottle, even when I keep the bottle in the shower. Little things like this make me a fan, and I will be buying this again and again. It even comes in refill packs now, for better value!
READ FULL REVIEW: Dr. Sam's Flawless Cleanser Review

PRICE: £18 for 200ml

WHERE TO BUY: Dr. Sam's website (ships internationally for free or at an affordable price) Use code PARISBMWS to get 10% off
Antipodes Grace Cream Cleanser
I love the Antipodes Grace Cream Cleanser as a morning cleanse. It comes in a foil tube which can easily be mistaken for a toothpaste tube if one were groggy in the morning LOL! 😀 I love the cream texture that glides on my skin with a lovely lush feel, and rinses off easily without leaving a residue, and yet, leaving skin feeling soft and comfortable. It feels so comforting, and is a lovely way to wake up in the morning.
READ THE FULL REVIEW: Antipodes Grace cream cleanser review

PRICE: £20 for 120ml

WHERE TO BUY: Locally at TNS Skinlab stores or online, Naturisimo
Antipodes Juliet Gel Cleanser
Antipodes Juliet Gel Cleanser is one I use either in the morning or at night, but I prefer it in the evening cleanse as my second cleanse. It is a gel cleanser with low foam, and cleanses skin so gently yet so effectively. I love the earthy scent and how clean and comfortable my skin feels after that. Highly recommend, and I've used up many bottles over the years!
READ THE FULL REVIEW: Antipodes Juliet Gel Cleanser Review

PRICE: RM159 | £25 for 200ml

WHERE TO BUY: Locally at TNS Skinlab stores or online, Naturisimo
Antipodes Hallelujah Lime & Patchouli cream cleanser
Rounding up the Antipodes trifecta of cleansers I love is the Hallelujah Lime & Patchouli cream cleanser. Unlike Grace cream cleanser, this one comes in a glass bottle with a pump, that makes dispensing the product more easy and fuss-free. The texture is lighter than that of Grace, which is more creamy, and I like using Hallelujah in the mornings as well. It feels lovely and rinses off clean without any residue, and leaves skin feeling clean, soft and moisturised.
READ THE FULL REVIEW: Antipodes Hallelujah Lime & Patchouli review

PRICE: RM159 | £25 for 200ml

WHERE TO BUY: Locally at TNS Skinlab stores or online, Naturisimo
Mad Hippie Cream Cleanser
Loved this one from the get-go, and I have a brand new bottle sitting in my cupboard because I know I'll want to use this one again! Like most of my cream cleansers, I like this for use in the morning because I find it more gentle and less stripping on skin that isn't too dirty. It feels lovely, rinses off easily, leaves skin feeling soft and clean without feeling stripped, and really, there isn't much else you'd want from a cleanser!
READ THE FULL REVIEW: Mad Hippie Cream Cleanser review

PRICE: RM89 for 118ml

WHERE TO BUY: Worthee Cosmetics (Use code PARISB for 15% off!)
Elemis Pro-Collagen Cleansing Balm
When it comes to cleansing balms, there are many I love, but the Elemis Pro-Collagen Cleansing Balm takes top spot. I love the original yellow version best as compared to the other variations I've tried from the brand. I love that a little goes a long way, it is such a lovely, luxurious, lush balm that glides over the skin, smells amazing, and importantly, emulsifies and rinses off easily with or without a face cloth! While I do still use a face cloth, I'm often lazy about it, so a cleansing balm that rinses off is very useful for me. I highly recommend the Elemis Pro-Collagen Cleansing Balm to anyone who wants to try a balm, and I'm always on the lookout for the jumbo sizes, so I get better value! 😀
READ THE FULL REVIEW: Elemis Pro-Collagen Cleansing balm review

PRICE: RM280 | US$68 | £46 for 100g

WHERE TO BUY: Elemis Official Store on ShopeeMY, Lookfantastic, Cult Beauty, SpaceNK
Evolve Beauty Gentle Cleansing Melt
I discovered the Evolve Gentle Cleansing Melt by chance, and I absolutely fell in love with it. The texture is very unique, being like a melted balm, with a lovely scent. It glides on skin so smoothly and cleans so well without stripping the skin. I loved how my skin felt so nourished after! It's definitely one of my favourites, and when I saw an extra large size jar available recently, I picked it up. I like rotating my cleansing balms, so this is a perfect rotation for the Elemis one. It feels so much more luxe in so many ways than Elemis, and I love that it's a small organic skincare brand with such lovely products. Do check out their other products too. They've all wowed me so far!
READ THE FULL REVIEW: Evolve Beauty Gentle Cleansing Melt

PRICE: £25 for 120ml

WHERE TO BUY: Evolve Organic Beauty website, Naturisimo
Sukin Rosehip Nourishing Cream Cleanser
Ah, finally an affordable cleanser I hear you say LOL! 😛 When I want something cheap and cheerful, the Sukin Rosehip Nourishing Cream Cleanser is the one I turn to. It is easily available at the pharmacy or online, and it's affordable and does the job well. This one is the one with the pink label, which is lightly thicker and more nourishing than the normal green-beige label ones, and is better for those with dry skin. For me, this is my morning cleanser that rinses off easily and keeps skin soft, and nourished. It doesn't feel quite as lush as the others here, but it is great for the price so no one's really complaining LOL! 😛
READ THE FULL REVIEW: Sukin Rosehip Nourishing Cream CLeanser Review

PRICE: RM50.90 | US$12.99 | £12.95 for 125ml (often on sale)

WHERE TO BUY: Sukin Malaysia on Shopee MY, Sukin on Lazada, iHerb
Bonus: Skin Creamery Oil-Milk Cleanser
An honourable mention is the Skin Creamery Oil-Milk Cleanser which contains one of my favourite ingredients – baobab oil. The texture is more like a milky emulsion that goes on skin silky smooth, and gently cleanses it without stripping. Skin is left feeling soft, clean, smooth and nourished. It is flexible enough that you can use it as a standalone morning cleanse, or as a first cleanse in the evening, as it removes light makeup, and has enough weight to the formula, that it allows you to massage it into your skin to remove oil, sweat and grime.
READ THE FULL REVIEW: Skin Creamery Oil-Milk Cleanser Review

PRICE: RM195 for 200ml

WHERE TO BUY: Savanna Goodness
You may notice how the cleansers I like aren't from many conventional brands (except perhaps Elemis and Sukin). It's just how I roll LOL! But seriously, I struggle to find a good, non-stripping cleanser in most popular skincare brands. I shy away from any foaming or gel cleansers as they are just too drying, and I don't like the formulation of many cleansers in the market. I do prefer cleansers from natural or organic skincare brands as they usually feel more nourishing on my skin, and cleanse well without stripping away all the oils, leaving my face feeling like a tight mask after I wash it.
That is the biggest test for me. If my skin feels tight after I wash it, I bin the cleanser. No second chances because it means my skin is too dried out, and and continuing to use it means I'm going to stripping it day after day, and damaging it further. This old skin can't handle too much abuse anymore LOL 😛
It isn't even about using only expensive facial cleansers. Sukin is as affordable as it gets, and it's very well formulated, and gentle on skin. If a gel cleanser is what you prefer, Sukin makes one too that is also gentle and does not strip the skin. I won't even recommend a cleanser from a luxury brand, because I don't think they stand up to scrutiny. Many still subscribe to the notion that a cleanser must foam up, and that clean skin must feel squeaky clean to the touch. It is for this reason that I find that natural brands tend to understand better that you can clean without stripping your skin of all its oils, leaving it taut and dry.
Do you have any favourite cleansers?
I started out with foaming and gel cleansers like everyone else, and am now most comfortable using a cream cleanser, or a very gentle, well-formulated gel cleanser in my evening second cleanse. Anything less falls far short of my ideals and will end up in the bin 😛
Paris B