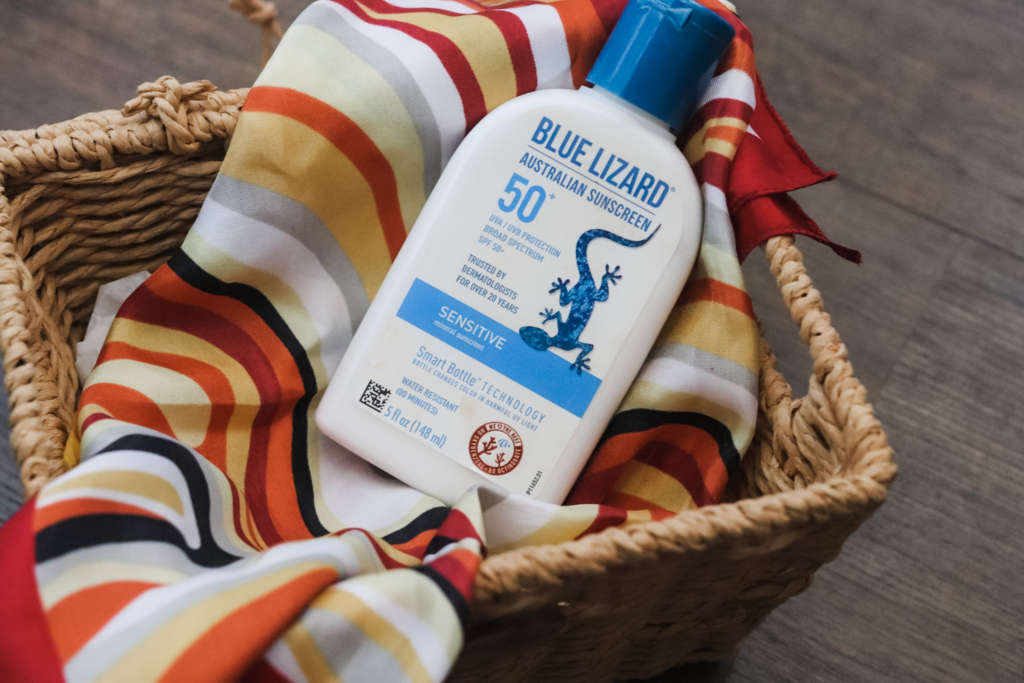 Many years ago, I came across mention of the Blue Lizard sunscreen. It is an Australian brand, and it was touted as one of the best in the market for sun protection. Hey! I'm always looking for the best sunscreen in the market!
Australian-made sunscreens are usually very good. Their regulation is very strict when it comes to SPF, so I have always placed a lot of faith in their sun protection products.
It was however, not easy to source outside of Australia, so over time, I forgot about it. Then, one day while browsing iHerb, I noticed that they had the Blue Lizard sunscreen! So, into my basket it went. The irony of buying an Australian sunscreen from the USA and having it shipped to Malaysia, but there you go! 😀
Naturally, having waited so long to try it, I had to know if it was the best sunscreen in the market!
Blue Lizard Australian Sunscreen
Blue Lizard is a brand originating in Australia that focuses on just sunscreen (I checked their website and they seem to now be based in the USA so I'm not sure if they are still an Australian company). Their sunscreens are mineral – zinc oxide and titanium dioxide based – and they have been dermatologist tested and dermatologist recommended for many years.
The name Blue Lizard is from a chameleon that changes colour to protect itself. Their bottles, when exposed to harmful UV rays, will change colour to remind you that you need a sunscreen top up! This is perfect for when you're having outdoor activities, or on the beach.
I tried to get the colour to change, but because my bottles are always kept indoors, I didn't manage to catch it 😛
Blue Lizard says that they use zinc oxide in their sunscreens, as it sits as a protective layer over your skin, scattering UV rays away from your body. It is also known to be non-reactive to most people especially those with sensitive skin, unlike chemical type UV filters. That said, while I no longer experience problems with zinc oxide as an ingredient, I did many years ago, and recent comments from those who have stumbled on my post do indicate that while rare, your skin can react to zinc oxide.
Blue Lizard is also a reef-friendly sunscreen, in that they do not contain Oxybenzone and Octinoxate (chemical UV filters) in their sunscreens. Apparently, these chemicals can affect corals' reproductive cycle, damage DNA, and worsen the effects of coral bleaching.
If you like going to the beach, diving and snorkeling, then it would be worth paying attention to the type of sunscreen you use.
Sensitive Mineral Sunscreen
While Blue Lizard does carry a decent range of sunscreen, the ones stocked on iHerb weren't many. I opted for the Sensitive Mineral Sunscreen, which comes in a bottle. The body of the botthe (which is white) is supposed to turn blue under harmful UV rays, to remind you to wear your sunscreen.
They further tell you that every Blue Lizard sunscreen protects you from 97% of the sun's rays, which impressed me. Living in the Tropics as I do, having an outdoor lifestyle that exposes me to the burning sun, and our current scorching heatwave means I need all the protection I can get!
The Sensitive Mineral Sunscreen is meant for use on face and body, so that's how I tested it initially.
Thick, white sunscreen texture
I know most people hate textures like this, which is why I had to mention it up front 😀
The texture is liquid, but it is very thick, very white, and it leaves a white cast. There's just no skirting around this fact. This is not a very pleasant sunscreen if you have a medium to dark skin tone. It will show up a white/grey cast and it will not look very nice.
On me, it works, but it must be noted that my tolerance for these textures is high.
The problem with the thick, white texture is that there is a great temptation to use just enough product (just a dab, in fact) to rub into your skin, hoping the colour settles after a while.
You'd be doing a disservice to your skin, unfortunately.
Despite the thick texture, and the white cast, you must still use at least 2 finger's length of sunscreen on your face to ensure there is sufficient protection. That is quite a lot even with the more aesthetically pleasing sunscreens, and with a thick texture like this one, it can be unpleasant.
I personally did not find it oily on the face, and I could make it work. However, I did not quite enjoy using it on the face. My face still felt a little warm after a bout in the sun, and for some reason, it stung my eyes, when sweat gets in. Usually, it is the sunscreens with chemical UV filters that sting the eyes, so I'm not sure why this did, but it did.
There is another version, the Sheer Mineral Sunscreen, that is supposed to go on clear on skin. This might be better for those who experience a significant white cast, but I wouldn't know as I have not seen/tried it.
Excellent sunscreen for body
Whilte this did not work for my face, I found that it was excellent for use on the body. I do usually have my legs fully covered by leggings when out, but my arms are sometimes exposed (when I run out of long-sleeved activewear tops). I used to be rather lax about applying sunscreen on my arms, but soon wised up quickly, when I noticed the sun spots start to appear 🙁
I usually squirt a stripe of sunscreen down each arm, before rubbing it in. With the Blue Lizard sunscreen, I found that I had to really rub it in, in order for the white cast to be less noticeable. My arms are more tanned than my face, so I noticed the white cast more.
But what I will note is that when I rub it in properly, it settles after a while, and is less noticeable. At least, I don't notice it anymore. However, if your skintone is very deep, I don't think it settles all that much so white cast is definitely something you'd struggle with.
Why I love it for use on the body is because my arms don't burn despite me being out in the sun for a couple of hours every morning or evening. They don't even get that warmed feeling from under the skin that is a sure sign of sun exposure.
It isn't sticky, heavy or greasy and I don't even notice that it's there after a while. I think it's great for use on the body.
Sunscreen may stain
An interesting thing I noticed with mineral sunscreens is that they have a tendency to stain. In my case, it stains my long-sleeved tops, and the seat of my car, much to my chagrin. I did manage to remove most of the stain once I noticed it, but it was a wake up call for me.
Very water resistant
If you're headed to the beach, or to the pool, or doing any strenuous activity that will result in you sweating, the Blue Lizard sunscreen is perfect because it is very water resistant.
I notice this in the shower, as the water will bead immediately when it hits my arm. This tells you that there is a layer providing water tension, and that would be the sunscreen.
It isn't terribly hard to remove, but you do have to go over your skin a few times with soap (or an oil cleanser if you want it removed quickly and cleanly) to properly remove every trace of it. You will notice when you do, because the water will flow over your skin instead of beading.
For this reason, I know that it will be a sunscreen I'd happily take with me to the beach or the pool. This, coupled with the colour changing bottle to remind you to wear/reapply your sunscreen is just perfect!
Would I repurchase?
Yes I will. I'm always in the market for a good body sunscreen, and I like this one. I also liked the Ultra Violette body sunscreen I tried in the past, but could not get past the coconut scent (I'm not a fan). The Blue Lizard sunscreen is unscented, which is great for me, and I just like that it is so "sticky" because I take my sunscreen seriously, and apparently, so do they! 🙂
IN A NUTSHELL

The Blue Lizard Sensitive Mineral Sunscreen is a brand from Australia, that is tested and recommended by dermatologists for over 20 years. The bottle will change colour under harmful UV rays to remind you to wear and reapply your sunscreen. The texture is rather thick and white due to the use of zinc oxide and titanium dioxide as the broadspectrum UV blockers. If you have a medium to dark skin tone, you will struggle to use this as it will leave a white cast. I like that it is not fragranced, not sticky or greasy, and protects my skin well from the sun. I prefer to use it on my body (arms) more than on my face, because it stung my eyes, and I did not like how it felt (my skin felt warmed after a while). On my body, it works well. I like that it is highly water resistant, and stays even though you sweat buckets. I do think it's a great sunscreen, and I'm happy to continue using this one.

PROS:
Protects skin well from the sun
Highly water resistant
No greasy residue on skin

CONS:
Thick texture
White cast

WHO WILL LIKE THIS: Anyone who wants a mineral based sunscreen that is highly water resistant and protects skin well from the UV rays

PRICE: RM91 or thereabouts | US$28.99 for 148ml

WHERE TO BUY: iHerb (I bought mine there – see if MPW213 gets you a discount), Shopee, Lazada
For those interested, this is the ingredients list for the Blue Lizard Sensitive Mineral Sunscreen
ACTIVE INGREDIENTS Zinc Oxide 10% , Titanium Dioxide 8% Inactive Ingredients: Alumina, Aluminum Stearate, Beeswax, C12-15 Alkyl Benzoate, Caprylyl Glycol, Cetyl Dimethicone, Cetyl PEG/PPG-10/1 Dimethicone, Chlorphenesin, Dimethicone, Disodium EDTA, Ethylhexyl Palmitate, Ethylhexyl Stearate, Hexyl Laurate, Hydrogenated Castor Oil, Methyl Glucose Dioleate, Octyldodecyl Neopentanoate, PEG-7 Hydrogenated Castor Oil, Phenoxyethanol, Polyglyceryl-4 Isostearate, Polyhydroxystearic Acid, Propanediol, Purified Water, Sorbitan Oleate, Stearic Acid, Tocopheryl Acetate (Vitamin E), Triethoxycaprylylsilane, Trimethylsiloxysilicate, VP Hexadecene Copolymer
Have you tried the Blue Lizard sunscreen yet?
When I shared a photo of this on Instagram, a few people commented about how off-putting the image of the lizard was LOL! It doesn't bug me, but I can see how it can be unpleasant if reptiles scare you 😀 That said, might this be a sunscreen you'll try?
Paris B