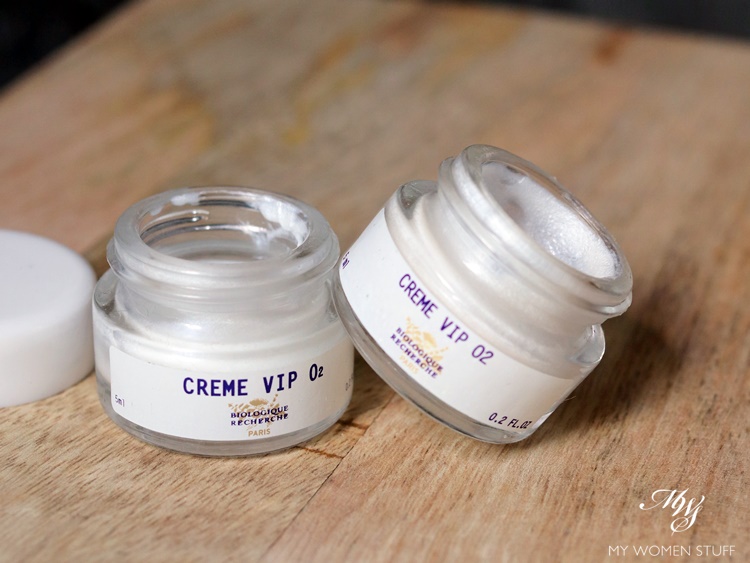 I was clearing out my stash and culling old, expired products and sample packs of skincare, when I chanced upon some recent samples of the Biologique Recherche VIP 02 Creme. I don't usually enjoy testing samples, unless they are generously sized, and these were, in adorable little pots.
Lest you consider me a snob (Yes, I am), the reason is simply because I like to know how well a product will work for me, and 1-2 uses do not cut it. Granted, this will be useful for testing for reactions, but it's impossible to figure out just how good (or bad) a product is for your skin with just a few uses.
I scored 2 little tubs of the cream, so this gave me almost 3 weeks to try and evaluate, and to decide if it was worth the splurge 🙂
Biologique Recherche VIP 02 Creme
I lamented in a previous post about Biologique Recherche about how complicated the products are to a layman. This is reflected in the name of this product – VIP O2 Creme.
The VIP O2 Creme is what they call an oxygenating and anti-pollution cream. It still doesn't tell me very much.
It then goes on to say that Crème VIP O2 is rich in active ingredients that combat pollution damage by capturing the polluting agents on the epidermis. It protects the skin from oxidative stress. This cream restores radiance and brightness to dull complexions, while also regenerating the epidermis.
So, what I gather is that this cream, like most, offer hydration to the skin, offers antioxidant protection, and brightens dull skin. Not a new combination of benefits, but it was interesting to see if this is one of the best facial creams your skin has ever experienced, as some claim.
Interesting pearlescent cream
The first thing I noticed was the pearlescent texture to the cream. It was quite pretty if I'm to be honest. It also felt a little thick to the touch (it holds a fairly solid shape), but was still fairly emollient when spread on skin.
However, I had experienced creams with this look and feel in the past that did not wow me, so I was a little wary.
Sinks in quickly into skin without leaving any residue
While I like that extra layer of moisture or product on my skin, I appreciate that not everyone does. If you like your skin feeling fresh and refreshed after applying your skincare, but without any slight greasy feel, then this cream is for you.
I apply it using the 13 dot technique, which I use for all my serums and creams to ensure optimal coverage and product use.
RELATED READING: What is this 13-dot technique? READ MORE HERE
It applies easily on the skin, and has a nice creamy slip. Yet, it sinks right into the skin so quickly, giving skin that nice little immediate boost of moisture.
If you don't like having any residue on your skin, you will like this cream very much. It is non-oily and just sinks right into the skin, and leaves nothing behind. Your skin just feels lovely and fresh.
I started out using the VIP O2 Creme at night, because I felt that the texture suited a night-time use better. However, I realised that it just wasn't quite enough for me when used at night. My skin did not feel dry or tight, but I do prefer having something a little extra for the night.
So I now use it for the day (it's great, as it doesn't cause skin to oil up), and sometimes at night as well, but not nightly. Using it in the day makes sense, as it's supposed to combat pollution, and you are most exposed to pollution when out and about in the day.
Skin feels moisturised and refreshed
I honestly did not expect miracles, and I was ready to not like it very much, but I was pleasantly surprised.
I do like the Biologique Recherche VIP O2 creme quite a lot! In fact, if it wasn't such an expensive cream, I might even be tempted to buy a full-sized tub.
There wasn't much to notice in the first week of using the cream for me. It was only after the 2nd week and into the 3rd week that I noticed that my skin was feeling very nice and soft and moisturised, and it looked refreshed. The texture seems almost refined, but without being terribly dramatic.
It's just something I notice because I pay attention, and because I'm always testing different skincare products, so I do notice when something different happens.
I think someone with mature skin will benefit most from the Biologique Recherche VIP O2 Creme. Basically someone in my age bracket (40's), or someone who has a highly stressed job or lifestyle or lives in a highly polluted environment. This benefits someone with dry, mature skin best, and it almost seems to soften any fine lines you may have.
I really like how the cream feels, and how my skin feels after that. I just hate how much it costs LOL 😛
IN A NUTSHELL

The Biologique Recherche VIP O2 Creme is a non-oily moisturiser with a pearlescent shine to the cream. It sinks in nicely into the skin and leaves dry skin feeling nicely moisturised and refreshed, without any greasiness or residue on the skin. I don't find it quite as sufficient for night use, as I prefer something a little heavier for night, but as it is supposed to help combat effects of pollution, it might be better suited for day use. With regular use, I do find my skin texture feeling softer and looking a little more refined. Skin feels well moisturised, and looks fresh. It is quite an impressive cream, especially for more matured skin types, with an equally impressive price tag 😛

PROS:
Light non-oily textured cream
Sinks quickly and easily into skin without residue
Skin feels and looks moisturised and fresh
Skin texture looks more refined and bright

CONS:
Hard to get
Expensive

WHO WILL LIKE THIS: Anyone with more matured skin or dry skin, Anyone with a highly stressful lifestyle or who lives in a highly polluted environment

PRICE: US$215 | £205 for 50ml

WHERE TO BUY: Ambassade Biologique Recherche at Starhill Gallery, Kuala Lumpur
This is the ingredients list for the Biologique Recherche VIP O2 Creme.
Water (Aqua), Propylene Glycol, Stearic Acid, Glycerin, Palmitic Acid, Amniotic Fluid, Polysorbate 40, Pentylene Glycol, Cetyl Alcohol, TEA-Stearate, PEG-2 Stearate, Perfluorodecalin, Alcohol Denat, Polyperfluoromethylisopropyl Ether, P-Anisic Acid, Caprylyl Glycol, Poloxamer 188, Niacinamide, Lactic Acid, Phenoxyethanol, Cucumis Sativus (Cucumber) Fruit Extract, Sodium Dehydroacetate, Hydrolyzed Silk, Ammonium Acryloyldimethyltaurate/?VP Copolymer, Yeast Extract (Faex Extract), Sodium Benzoate, Magnesium Chloride, Vinegar (Acetum), Tea-Lactate, Salicylic Acid, Sodium Lactate, Mimosa Tenuiflora Bark Extract, Alcohol, Sorbitol, Hamamelis Virginiana (Witch Hazel) Bark/?Leaf/?Twig Extract, Myrtus Communis Extract, Allium Cepa (Onion) Bulb Extract, Hypericum Perforatum Flower/?Leaf/?Stem Extract, Serine, Urea, Allantoin, Rhizobian Gum, Sodium Hyaluronate, Commiphora Myrrha Resin Extract, Potassium Sorbate, Chlorphenesin, Thiamine Hcl, Pyridoxine Hcl, Sodium Salicylate, Sorbic Acid
Have you tried this Biologique Recherche VIP O2 Creme?
I think that if you regularly use very high end luxury brand creams, like La Mer, Chanel and its ilk, then switching over to Biologique Recherche is a no-brainer. But if those are treats and not the norm, then this would be quite a splurge. I'm no stranger to splurges and even I balk at this one 😛
Paris B