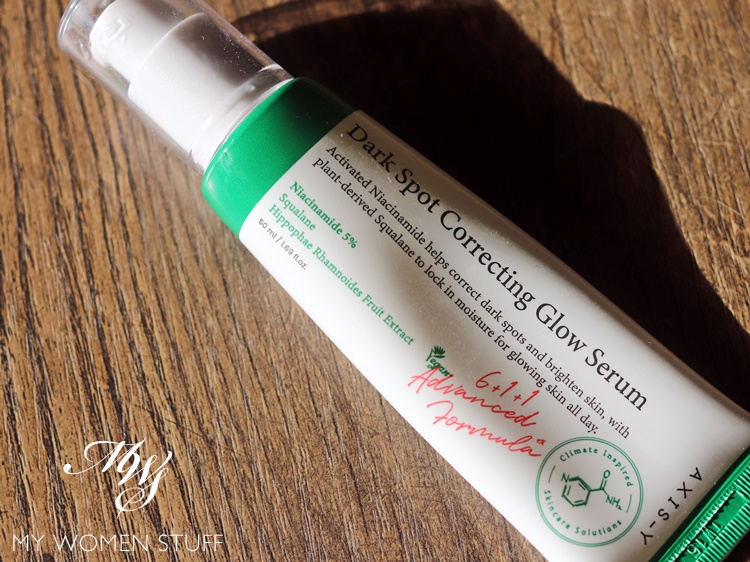 I must confess that I caved in to try the Axis-Y Dark Spot Correcting Glow Serum due to social media hype. Oh yes, it happens to the best of us! 😛
I often see some big influencers waxing lyrical about this serum, and when I found out that it was very affordable, and so effective (as they claimed), I decided to try it. How bad could it be?!
When I read up some reviews, I saw people who actually used the product proclaiming that it was one of the best dark spot correcting serums they'd ever used, and that they saw results in just 2 weeks. It sounded nothing short of a miracle, and with that budget price tag? I had to try it!
Axis-Y – Affordable skincare from Korea
Aixs-Y is a skincare brand from Korea that carries an affordable range of skincare. Their claims are that their products are alcohol-free, have no artificial colour, fragrance or mineral oils and parabens and are cruelty-free. It is very modern in that sense.
I took a look at their website, but there was very little soul to the brand. There was a lot of information on their About Us page, but didn't really tell you very much. I could not tell much about it, save that it comes from Korea.
Their packaging is simple and sleek, and the Dark Spot Correcting Glow Serum is one of their bestsellers.
Axis-Y Dark Spot Correcting Glow Serum
The Dark Spot Correcting Glow Serum is a serum that they say will brighten and moisturise the skin. This is done with 5% niacinamide in the gel-lotion, that reduces inflammation and treats acne, corrects dark spots and improves uneven skin tone. It also contains squalane to moisturise skin.
Axis-Y claims here, that the ingredients in their serum will correct dark spots, improve uneven skin tone, retain moisture, reduce pigmentation, soothe and brighten the skin and deeply moisturise.
From what I'd read and seen, many people wax lyrical about how their post-inflammation hyperpigmentation marks and sun spots had lightened, and that their skin was so smooth and bright and even-toned.
I know niacinamide (Vit. B3) is one of the star ingredients in today's skincare world. It is found in many skincare products, especially those targeted at reducing breakouts, and in skin brightening, as that's what it's best at doing. Niacinamide in an ingredient that boosts collagen production to improve skin texture, which includes skin smoothness, fine lines and wrinkles and helps brighten and fade hyperpigmentation through the regulation of melanosome transfer.
The Axis-Y Dark Spot Correcting Glow Serum claims to contain 5% niacinamide, which is supposedly the optimum percentage of the ingredient to brighten the skin and improve skin tone.
I was excited!
Light gel-lotion texture
The texture is light, with a gel-lotion opacity.
On my dry skin, I find it comfortable. I'm generally comfortable with serums that have a thicker texture. On those with oily or combination type skin, you may feel like it's a little heavy, if you layer with a moisturiser, or you might even think it's sufficient to use on its own.
I'd personally caution against that, as I don't think it's sufficient moisture for skin. That said, I'm no expert, so do as you will 😛
I find that it sinks into my skin and then I have to layer a moisturiser, as it's not sufficient otherwise, and my skin will feel stretched like a mask.
No discernible result after over a month's use
During the time I was using this product, I stopped using Vitamin C serums. Vitamin C serums are my go-to serums for skin brightening, and I'm very happy with the results from that. I had developed a new sun spot thanks to my morning walks, and I was curious to see if this serum might lighten it.
I'm afraid that for me, the Axis-Y Dark Spot Correcting Glow Serum was a bust. While it didn't do anything negative to my skin, it did not seem to make it better, or maintain my skin tone and texture.
I had some breakouts at this time, which left some red marks, and I did not notice any lightening of the marks. I was hoping to, as I used it immediately, but nothing significant happened.
I might perhaps attribute a slight evening of my skin tone to this serum, in that my skin tone did not get any more uneven. But it wasn't as if it made my skin look any better either.
After I was almost done with the tube and had given up on it, I went back to my Vitamin C serum, and my skin noticeably brightened up. That told me all I needed to know.
I won't say the Axis-Y Dark Spot Correcting Serum is crap. Products like this do work differently for different people, and much depends on whether you have used, or are using something similar (or better). Perhaps all those people who waxed lyrical about it aren't already using a Vitamin C serum and retinol regularly, or perhaps their skin just takes better to the product. Perhaps, they just didn't need as much help as I do LOL! 😛
As for myself, my personal view is that if you are already using a good serum or cream with niacinamide or Vitamin C, and are using a retinol product regularly, you could easily just skip this serum and chalk it up to hype. Your skin already has everything it needs, and maybe even more besides.
IN A NUTSHELL

The Axis-Y Dark Spot Correcting Glow Serum promises to lighten dark spots and even out skin tone. The texture is quite nice as it's a cushiony gel-lotion serum texture. But that's where it stops for me. I did not experience any positive results after over a month's use, and in fact, noticed better results once I'd stopped and gone back to my Vitamin C serum instead. It probably isn't a bad product, but it was just too mild for me.

PROS:
Affordable
Optimum content of niacinamide

CONS:
Did nothing for my skin

WHO WILL LIKE THIS: Anyone who wants a budget product for brightening the skin with a quality product, who does not already use a good Vitamin C or niacinamide serum

PRICE: RM43-65 | US$22 for 50ml

WHERE TO BUY: Shopee
For those interested, this is the ingredients list of the Axis-Y Dark Spot Correcting Glow Serum.
Water, Glycerin, Niacinamide, Sodium Hyaluronate, Propanediol, Erythritol, Butylene Glycol, Squalane, Oryza Sativa (Rice) Bran Extract, Calendula Officinalis Flower Extract, Carica Papaya (Papaya) Fruit Extract, Hippophae Rhamnoides Fruit Extract, Malpighia Emarginata(Acerola)Fruit Extract, Polyglyceryl-10 Laurate, Chlorphenesin, Arginine, Ethylhexylglycerin, Carbomer, Glutathione, 1,2-Hexanediol, Hydroxypropyl Cyclodextrin, Disodium EDTA, Hydroxyethylcellulose, Allantoin, Rosmarinus Officinalis (Rosemary) Leaf Oil
Have you used this serum before? Or any other products from Axis-Y?
I think my curiousity is assuaged. I probably won't be using anything else from this brand, as I feel like it might be just too mild for my skin. But if I were in my 20's, I wouldn't mind trying because they seem decent, and are affordable.
Paris B