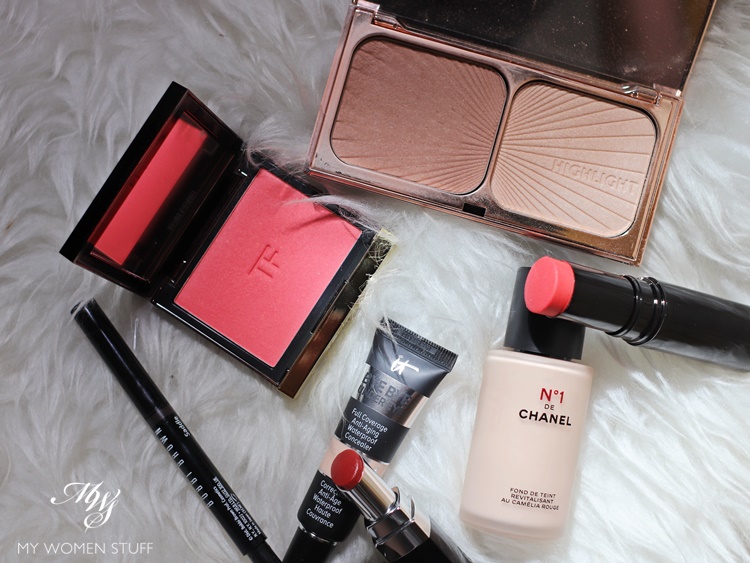 Ever since the beginning of the pandemic, when we were forced to stay indoors, I'd ditched any semblance of wearing makeup. Why bother, when you won't be going out, or wearing a mask. It felt like a waste of time and effort (and in many ways, it was).
When restrictions lifted and life began going back to normal, I still balked at wearing makeup. My lifestyle had changed. I was spending more times outdoors, less time being social, and wearing masks all the time. This hasn't changed in over 3 years, and realistically I don't expect it to change very much going forward.
But over the last few months, I've had the occasion to put on some makeup for social events, and I have to say that I've actually found it fun! 😀
My makeup style has always been quite minimal (as compared to the current trends of trowelling plaster over the skin) but it has gotten even more so now that I realise I can get away with looking decent, with even less makeup than before.
The key to this is of course, having skin that I'm happy to be in.
This does not mean having good or even flawless skin. It simply means a level where I'm comfortable to not cover up too much of what I perceive to be flaws – in my case, hyperpigmentation.
Here's the few items that I have been using, and one that has absolutely blown me away for its ability to multitask like a champ! 😀
IT Cosmetics Bye Bye Undereye Concealer – Excellent multitasker!
I purchased the IT Cosmetics Bye Bye Undereye Concealer quite a while ago but always found it a little fiddly, so it didn't rank very high on my favourite concealer list. I'd dabble with it now and then, and I realised that it had excellent coverage, but I always found it a little too thick.
However, a few months ago, I attended an IT Cosmetics event with a friend, and what I learned there totally changed my view of Bye Bye Undereye Concealer. It's since become my go-to concealer… and even foundation!
Bye Bye Undereye Concealer comes in a small little tube that belies its capabilities. You only need a tiny little amount, as this product is the embodiment of 'a little goes a long way'! 😀 The coverage is very high, and you can spread it over a wide area simply by dabbing.
The best way to use Bye Bye Undereye Concealer, based on my experience, is to squeeze a little dot on the back of my hand, and then use my fingers to spread it out and warm it up, before dabbing it on where I need coverage – undereyes naturally 😛
The trick really, is to ensure that you only pick up a thin layer with your fingers, or you risk it looking patchy due to the high coverage. Then, dab it on the skin where you need it. The warmth of your fingers will help it meld and blend with your skin, and I have found that you can easily cover a wide area.
The effect on skin is pretty impressive, as it effectively neutralizes dark undereye circles, and also covers blemishes and neutralizes redness.
I often use the It Cosmetics Bye Bye Undereye Concealer on its own, dabbing it where I need it. Once I'm done, I just apply a little loose powder or Meteorites finishing powder (bet you didn't think you'd see me mention this star product again! 😀 ) all over, and I'm usually done with my base makeup.
RELATED READING: My in-depth guide to the Guerlain Meteorites pearls and why they are a must-have if you can get hold of them READ HERE
In a pinch, I've also used the Bye Bye Undereye Concealer on wider areas, as a sort of foundation. Again, only a very thin layer, as I've found that it works best due to the opacity of the formula. If you aren't careful, or are too heavy handed, it can look thick, patchy and unnatural on your skin. So remember, less is more, and thin layers, warmed up between your fingers, are key to a natural finish.
If I could keep just 1 base product in my stash for now, this would be it, because I can use it for a myriad of uses, and it will never finish LOL! 😛
PROS:
High coverage
Only very little product is needed each time
Coverage looks natural
Multitasking product can be used as concealer and even as foundation

CONS:
Can be thick and patchy if used incorrectly

PRICE: RM135 | US$29 for 12ml

WHERE TO BUY: Sephora (Malaysia), Shopee Official Store, Cult Beauty, Sephora USA
No. 1 de Chanel Revitalizing Foundation
On days when I need to look a little more polished, out comes the proper foundation LOL For now, my liquid foundation of choice is the No. 1 de Chanel Revitalizing Foundation. I shared my thoughts about it a little while ago when I first bought it, and my opinion remains positive.
RELATED READING: My initial thoughts on the No. 1 de Chanel Revitalizing Foundation READ HERE
I love the medium-light coverage, and how lightly it sits on my skin. It does not sink into my pores, and the gentle luminosity it gives my skin is flattering.
Like the It Cosmetics Bye Bye Undereye Concealer, the No. 1 de Chanel Revitalizing Foundation too applies best with fingers. The heat from the fingers somehow helps the product blend better on skin, and helps it look more natural. It isn't streaky and just makes skin look natural, just better.
It does make me wonder why I still have a whole collection of makeup brushes, when I only seem to function best using my fingers 😛
If you're looking for a foundation to replace all the expired ones in your collection, do have a look at this one. I thoroughly enjoy using it and I think most of you will too! 😀
PRICE: RM320 | US$70 for 30ml

WHERE TO BUY: Chanel beauty stores and counters, Chanel online (MY), Chanel USA, Ulta
Bobbi Brown Perfectly Defined Long Wear Brow Pencil
I will confess that this one is a relic from my makeup-wearing past, as I have not found a need to purchase a new one. However, the Bobbi Brown Perfectly Defined Long Wear Brow Pencil does serve its needs well, and still functions as well as it did before.
This has been one of my go-to brow pencils in the past, and as my recent usage of it has shown, still is.
RELATED READING: Why I love using the Bobbi Brown Perfectly Defined Long Wear Brow Pencil READ HERE
The colour I use (Saddle or Mahogany works for me) looks natural on me, and the pencil is so easy to use, plus it's firm enough so it is easy to draw in the hairs and outline. The spoolie brush at the other end brushes out and diffuses the colour for a more natural outcome, and it's a pencil I've used for so many years that it just comes easily to me – like riding a bicycle. Almost. I haven't ridden a bicycle for many years 😛
I forsee that I'll be using this for many years to come, and I'm happy about it! 😀
PRICE: RM192

WHERE TO BUY: Bobbi Brown counters and stores, Sephora (MY), Lazada Official Store
Blush and Bronzer
I don't have a specific favourite blush or bronzer for now, and certainly nothing new, for I have been using whatever I have in my collection. As someone who was huge on blushes, you can imagine that I have a sizeable collection (I do!)
My preference is for a bright blush up on the apples of my cheeks, as I've found that it brightens my complexion and makes me look more alive. A light dusting of bronzer along the sides of my face helps to draw a little shadow for a little definition. I certainly do not go in for the heavily contoured look that is so favoured. But I have found that a bronzer helps lift my skin tone and makes it look a touch healthier.
RELATED READING: How I use bronzer and why I find that it works – READ HERE
At the moment, I'm using bronzers from Guerlain and Charlotte Tilbury. I usually pick a shade that is just a touch deeper than my skin tone, so the effect isn't so stark, and it makes my blush pop, and makes me look perky and youthful. Really, who doesn't want that eh? 😛
A bright lipstick (optional)
Similarly to blushes and bronzer, I have not had occasion to purchase any new lipstick. The one I'm currently using is the Chanel Rouge Coco Bloom, because I love the lightweight, slightly glossy texture. I personally prefer glossy lips to matte lips, so it works well for me.
RELATED READING: Check out my swatches of the Chanel Rouge Coco Bloom lipstick – READ HERE
Granted, wearing lipstick appears to be a waste of time under a mask, but what I do is wait till I'm at the venue before putting on my lipstick. If I don't forsee myself eating or drinking, I sometimes skip lipstick 😛
This is a far cry from the days of yore, when red lipstick was my signature look. These days, lipstick is an optional makeup item for me and I prefer to focus on skin, blush and brows.
What about eye makeup?
Truth be told, I have skipped eye makeup very often simply because I was lazy 😛 The few times I put on eye makeup, I did a thick liner, or a light, neutral lid colour. I have not felt the need to go all out with eye makeup, simply because I have never been very good at it, and it's less forgiving when you don't have a bright red lip to distract 😛
As life heads back to some sort of pre-pandemic normalcy, I have found myself enjoying putting on face colour again. It reminds me of when times were a little simpler, and when I used to be out and about more often. These days, going out is more of an occasion thing, and I'm more than happy to put my face on, for an occasion 😀
Are you wearing makeup more regularly and has your makeup preferences changed?
Mine used to be minimal before and is even more minimal now. I often just apply some concealer where I need it, brows and blush/bronzer, and a bright lip. I must say, it's been liberating! 😀
Paris B