I'm not the best at remembering to use eye cream, but I've been enjoying the Chanel Sublimage La Creme Yeux Eye Cream in recent times.
Sure, it's a bit of a splurge, as most items under this line are. It is after all their most luxurious range, and targeted at those who need a little something more for the skin.
Is it earth-shattering in its efficacy?
Chanel Sublimage Eye Cream
Like all products in the Chanel Sublimage range, the Chanel Sublimage Eye Cream is built around the vanilla planifolia plant. Created through a specific process developed by Chanel, the ultra-pure extract is 40 times more powerful than the raw material. Together, they say that it helps renew vitality while helping to enhance the look of regeneration, firmness, evenness of skin tone, hydration and radiance.
I'd personally position this for those with dry skin, and those who are experiencing looser skin around the eye area. This is primarily due to the heavier texture of the cream, which I enjoy, but which will not sit well on someone with more oily lids.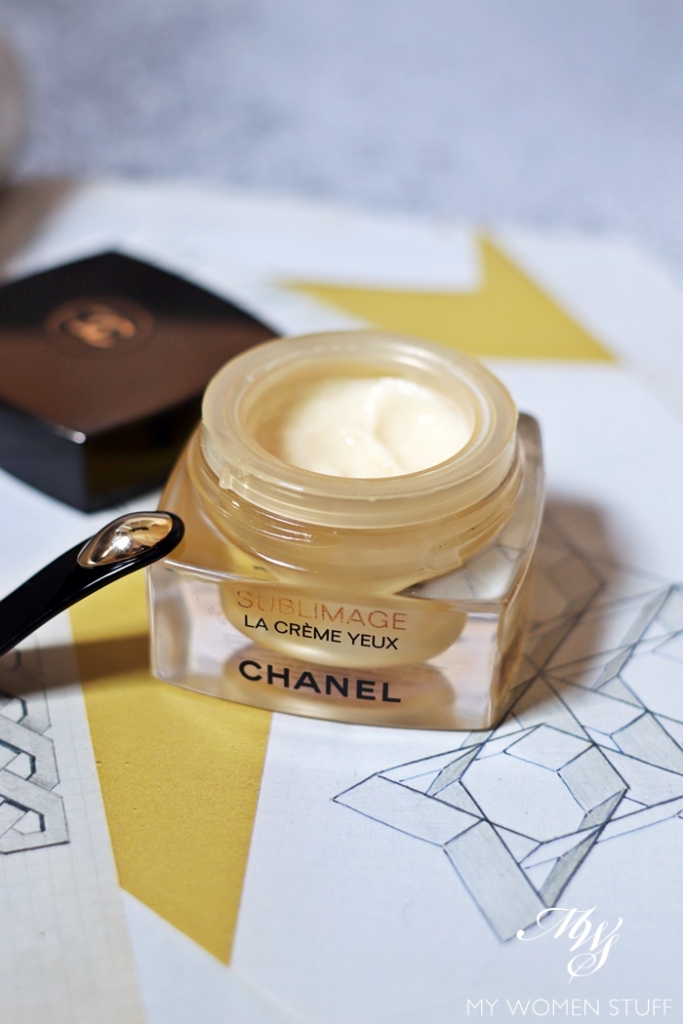 Rich Velvety Texture
I really enjoyed using the Chanel Sublimage Eye Cream because of the lovely lush texture. It is lighter than their face creams, but still significantly heavier than other eye creams I've been using. But I do have dry skin, and it sits well on my skin.
It has a lovely rich, velvety feel, yet it sinks into the skin very comfortably (for me).
What I like the most about using the Chanel Sublimage Eye Cream, is that it makes the skin around my eye area feel so lovely and soft, and moisturised. I am a self-confessed slob when it comes to applying eye cream, as I always (and I mean ALWAYS) forget to use it. It hasn't bothered me very much, but as it happens, age does catch up with you.
Age, lack of quality sleep, and neglect in general, can really mess about with your eye area LOL! Don't be like me kids 😛
SNEAK TIP: Even if you don't use an eye cream, you can use whatever residue of your creams from your fingers, and apply it around the eye area. As long as it's not too thick (e.g. a balm texture), it will work just as well for the most part.
But when you reach your late 40's (ahem!) you do start to notice the lines appear (I'm lucky to not have very significant lines. Thanks genetics!) and it's times like this that vanity kicks in 😛
For me, what I noticed most was a more moisturised eye area. The skin around the eye area just looks less dry, and with that, fewer lines. I cannot say I noticed any significant lifting, but it was enough for me that the skin looked and felt more hydrated and comfortable.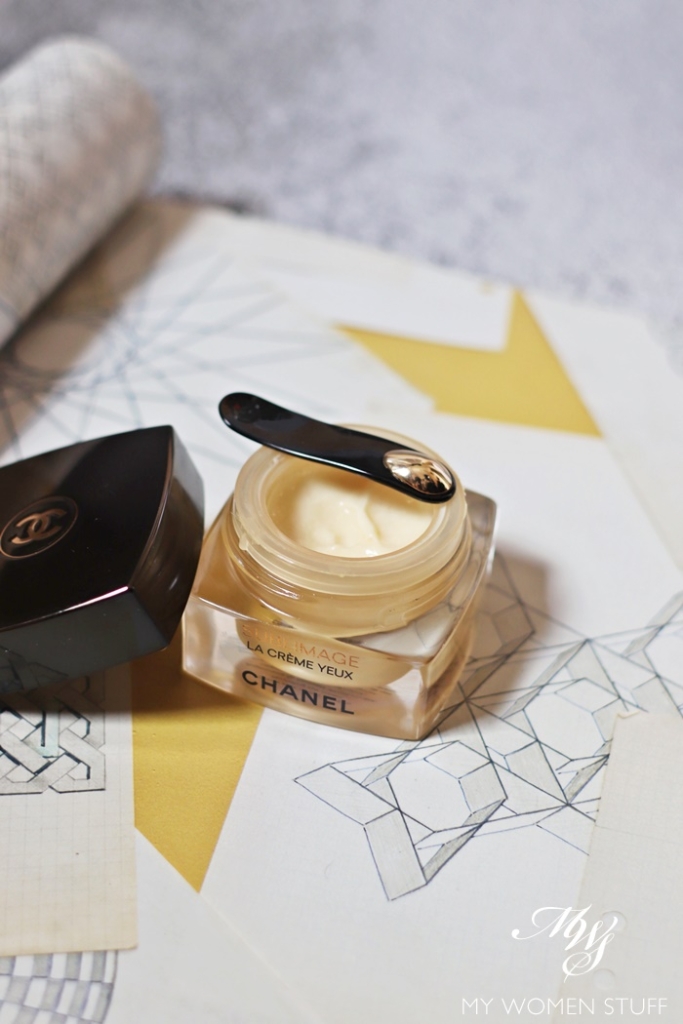 It does come with a rather nifty little spatula, with a metal dome at one end. I tried using it once or twice, to just run the metal bit around the eye area for a little massage. But it just felt a little too fiddly for me, as the spatula is quite small.
If the cream only works if applied with the spatula, I can safely say that I'd have stopped using it, as I do all eye creams. But you can just apply it as you do any eye cream. Just pick up a little product using your 4th finger, rub it to warm up, and then dab and gently spread it around the eye. Don't tug on the skin.
Why use the 4th finger? Because it's your weakest finger and therefore will not tug the skin as much 🙂
Is it a necessity?
If you ask me, I'd say no. Use any eye cream that you are comfortable using, or if you aren't, then don't. Some people show lines more readily and quickly. Some people less quickly.
Will this remove your lines, firm up your skin and make you up a bright-eyed and perky 20 year old again?
We're talking about an eye cream here, not a magic potion 😛 So, measure your expectations accordingly. It's a very nice eye cream, and very luxurious. But as with everything, it isn't the be-all-end-all of eye creams 🙂
IN A NUTSHELL

The Chanel Sublimage Eye Cream is a lovely, rich, velvety textured eye cream, that feels very lush on the skin. It sinks in nicely, and does not leave the skin feeling greasy nor did it feel heavy. However, I will not recommend this for anyone with oily skin. It is strictly for someone with dry skin that needs hydration and moisture. I experienced a noticeable boost in moisture and hydration, and the skin looks and feels comfortable. It's a lovely cream as far as eye creams go. But it is quite a splurge even if a jar will last you ages.

PROS:
Texture of the cream is rich and velvety
Sinks into the skin quickly and comfortably
Very comfortable on skin
Spatula can be used as a massager tool

CONS:
Pricey

WHO WILL LIKE THIS: Anyone with dry skin around the eyes and would like a bit of a splurge

PRICE: RM780 | US$260 for 15ml

WHERE TO BUY: Chanel counters and beauty boutiques, Chanel e-shop (MY), Nordstrom, Chanel website
For those interested, this is the list of ingredients for the Chanel Sublimage Eye Cream
AQUA (WATER) | GLYCERIN | SQUALANE | BUTYROSPERMUM PARKII (SHEA) BUTTER | CETEARYL ALCOHOL | PENTYLENE GLYCOL | CANOLA OIL | PEG-8 BEESWAX | BEHENETH-25 | CETYL ALCOHOL | CETEARYL GLUCOSIDE | ALBIZIA JULIBRISSIN BARK EXTRACT | VANILLA PLANIFOLIA FRUIT OIL | VANILLA PLANIFOLIA FRUIT EXTRACT | VANILLA PLANIFOLIA FLOWER EXTRACT | GLYCYRRHIZA GLABRA (LICORICE) ROOT EXTRACT | SIEGESBECKIA ORIENTALIS EXTRACT | PHYTOSTERYL CANOLA GLYCERIDES | AMMONIUM ACRYLOYLDIMETHYLTAURATE/VP COPOLYMER | DIMETHICONE | HYDROGENATED LECITHIN | PALMITIC ACID | SODIUM METHYLPARABEN | SYNTHETIC FLUORPHLOGOPITE | PROPANEDIOL | PHOSPHOLIPIDS | XANTHAN GUM | BUTYLENE GLYCOL | HESPERIDIN METHYL CHALCONE | ESCIN | STEARETH-20 | DIPROPYLENE GLYCOL | BETA-SITOSTEROL | POLYQUATERNIUM-51 | TETRASODIUM EDTA | ADENOSINE | CITRIC ACID | PHENOXYETHANOL | CHLORHEXIDINE DIGLUCONATE | SODIUM BENZOATE | TIN OXIDE | DIPEPTIDE-2 | POTASSIUM SORBATE | PALMITOYL TETRAPEPTIDE-7 | ASCORBYL PALMITATE | BIOTIN | CI 77891 (TITANIUM DIOXIDE) | IL05B
Have you found your perfect eye cream?
I'm just bad at remembering to apply, but these days, I try to make more of an effort to. After all, I tell myself I'm not getting any younger! LOL! 😛
Paris B
Disclosure: Featured service was a media trial by the brand for consideration. Our commitment is to honesty and fairness. For review guidelines please read the disclaimer.