I think the beauty market is ripe for something new and exciting, and Chanel's No. 1 range hopes to be that 'something'. It's a little capsule collection sitting within the greater Chanel beauty collection, and I'd shared a little overview earlier.
One of the items that caught my eye was the No. 1 de Chanel L'Eau Rouge fragrance mist. It's been a while since I've come across a new scent from Chanel, so it was interesting to see what they would come up with.
As it turns out, the L'Eau Rouge is quite easily, one of my favourite items from the No. 1 de Chanel collection! 😀
No. 1 de Chanel L'Eau Rouge fragrance mist
The No. 1 de Chanel collection is focused on 2 things – the red camellia, and the eco-conscious. Not unsurprisingly, L'Eau Rouge is inspired by the red camellia flower, which is soft and delicate, yet very strong and resilient, blooming in the dead of winter.
L'Eau Rouge is a fragrance mist, which is a formulation that is much lighter than your usual colognes and perfumes. It is at once fresh, with a sparkle in the air, and also soft and delicate.
I like how the scent opens up with your first spritz, with a burst of citrus and tart berries. Not your usual fruity berry scent, this one smells fresh and sharp, like how when you bury your nose in a bowl of raspberries.
The fresh opening dries down quickly, to a light floral heart. Chanel describes it as a jasmine-rose heart, which is quite accurate. It is heady and floral, but because it's not made to be a strong fragrance, it doesn't sit heavily on the nose. It's light, and sweet.
While the L'Eau Rouge fragrance mist isn't the longest lasting scent in the market, I like it, because it allows me to wear a sweet, floral scent easily, without suffocating me. I also like how wearing it feels like a little secret.
It's not a scent that you wear to make an entrance. It is not a scent that precedes you.
What it is, is a delicate scent, that hints of its presence, aware to you, as you catch a little whiff of it on your skin or on your hair. What it also is, is a scent that is only discernible to someone you allow to get close enough to have a little whiff.
In this age of social distancing manners, you don't really want anyone getting too close. So, someone who does manage to, is privileged to share in the light scent of L'Eau Rouge 😉
Chanel says that L'Eau Rouge contains 97% naturally derived ingredients, and the packaging reflects an eco-conscious design and materials that reduces their carbon footprint. It contains water from the camellia japonica flower, which is refreshing on skin, and on hair.
Oh yes, I love using this on my hair! 😀 It makes it smell light and lovely, and it doesn't dry it out at all.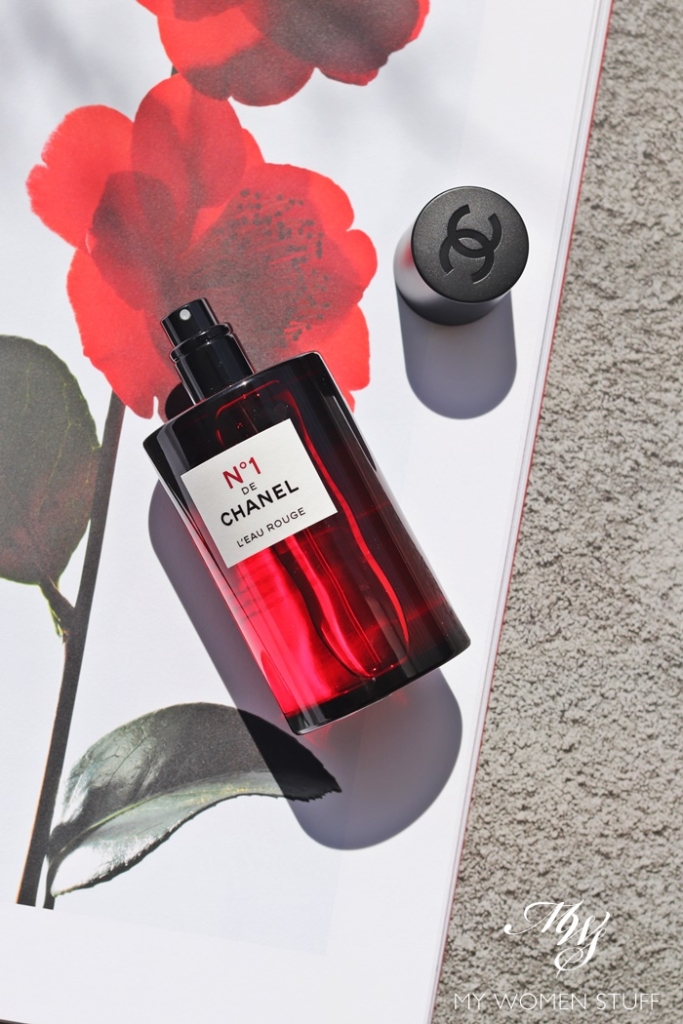 In an ideal world, I'd have a bottle of the No. 1 de Chanel L'Eau Rouge fragrance mist in every bag I own – in my dog walking bag, to refresh after dealing with the mutts, in my bag when I'm out and about, to revive myself after having to be masked, and after a meal, to refresh the hair.
Chanel says you can also use this as a layering product – layer it over or under your favourite Chanel scents, to refresh and lift it. It works very well with No. 5 to be fair.
But for me, at this stage, when I rarely wear scent much (I don't want to irritate my pup's nose too much) and rarely am out and about enough to justify a long-wearing scent, I love the lightness of being that is the No. 1 de Chanel L'Eau Rouge fragrance mist.
It gives me just enough scent to feel and smell nice, but isn't overpowering in any sense of the word. It's perfect for me to spritz on just before I run out for an errand, or a quick lunch. I like that for my current lifestyle – simple, light and just enough so only I can anyone close enough can enjoy the scent 😉
I also like how for me, it symbolises something new, for it came about just as we are reopening after the pandemic, and having a sense of normalcy. Prior to this, there was no reason to wear fragrances, because we'd just be staying indoors. But now that we're going out again (masked, mostly), and living a semblance of a social life, I'm wearing L'Eau Rouge, and enjoying that little whiff of a secret scent when I remove my mask 🙂
PRICE: RM490 for 100ml

WHERE TO BUY: Chanel beauty boutiques and the Chanel e-shop (Malaysia)
Have you taken a sniff at the No. 1 de Chanel L'Eau Rouge fragrance mist?
I love it, but I imagine many people will find it a little too light and too fleeting. While the price is rather offputting for something so ephemeral, it is one of those things that you could treat yourself to, if you want something from Chanel but don't enjoy the other scents on offer. I could see myself springing for this once I run out, simply because it's just something that resonates with me right now. After all, isn't that what perfumes are about? 🙂
Paris B