Ever since being introduced to Natura, I have been quite a big fan of the brand, especially their hair and body products. The Natura Murumuru Shampoo and Conditioner is amazing for dry, frizzy hair!
But I wanted to tell you of one of the nicest body products I've used in recent times – the Natura Castanha Body Lotion and Castanha Nourishing Hand Cream. LOVE!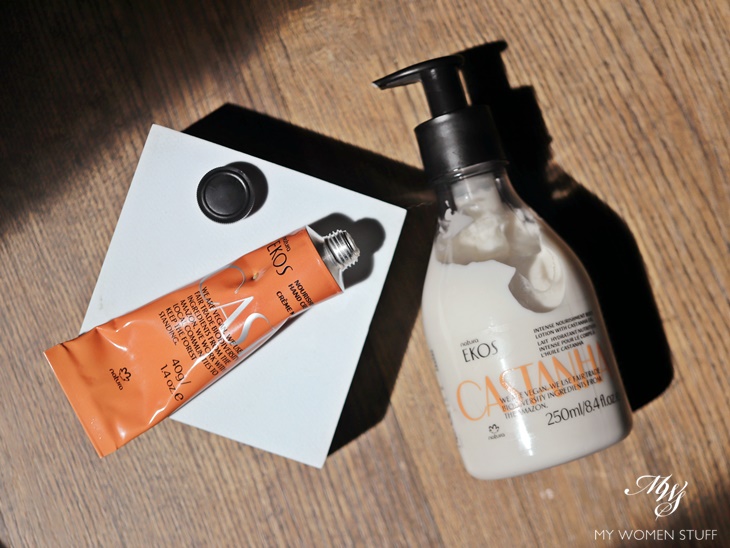 I've never been one to use a body lotion or hand cream very much. But since getting a little older, and exposing myself more to the sun, I've realised that you can't just treat your face and neglect the rest of you. If you want to look good, and age gracefully, you need to care for your arms and hands too.
And in our hot and humid tropical weather, you want something that isn't sticky or greasy.
Natura Castanha Body Lotion and Nourishing Hand Cream
Natura is a brand that hails from Brazil, and you know what's great about that? Brazil sits around the equator too, which means they understand hot and humid weather well! The products are therefore quite suited to those of us living in the Tropics.
Castanha is what's commonly known as the 'Brazil Nut'. The nuts are harvested from deep in the Amazon forests and processed by women in the local communities to extract the milk, which is then used in the Natura Castanha range of bath and body products. Castanha oil is nourishing and moisturizing and rich in Omega 6 and 9.
What I really love about these products though, is how they feel on my skin, and how my skin feels after.
Natura Castanha Nourishing Hand Cream
I'm not one for hand creams at the best of times. But spending more time in the kitchen and cleaning, and washing hands in this pandemic has caused me to re-evaluate my life choices shunning hand creams LOL! 😛
When it comes to hand creams, I like them deeply nourishing, but non-greasy. There is nothing I detest more than to have my hands feeling dirty after applying a hand cream, or leaving greasy hand-prints everywhere I go. I also like my hand creams to smell fairly neutral – no flowers or dessert scents please!
Happily. the Natura Castanha Nourishing Hand Cream fits my requirements 🙂
The Castanha Nourishing Hand Cream comes in 2 sizes – 40g and 75g. The 40g one is portable, while you can leave the 75g one on your desk or by your bedside table.
I find that you don't need very much to nourish and soften your hands. I usually just squeeze out a little on my palms, and rub it in, all over, working it into my nails and cuticles as well. It keeps it nicely nourished and moisturised.
At night, before bed, I use a more generous amount and work it in. It always leaves me with lovely soft hands when I wake up. Best of all, the feeling lasts!
The scent is rather earthy and natural, so I'm not terribly fussed by it. It dissipates quickly. After a little while, my hands feel lovely and soft and moisturised. And it stays that way till the next morning!
I have found also that it softens very dry skin on your hands like nothing else. If you have very dry cuticles, rub some of the cream into your nail-beds, and watch them be transformed. It really is very very nice!
I used to use the L'Occitane Shea Butter hand cream, which is a great little product as well. But I do prefer how the Natura Castanha Nourishing Hand Cream leaves my hands feeling softer for longer. For now, this is my hand cream of choice.
I got this as a free gift when I bought some stuff off their website. They have really good deals on their website sometimes, or gifts with purchase, and I like stalking the website for these deals 😉 Just a hat-tip for anyone wanting to try something new and good and getting a deal! 😉
Ingredients: AQUA / WATER / EAU, GLYCERIN, CETEARYL ALCOHOL, PROPANEDIOL, DICAPRYLYL ETHER, GLYCERYL STEARATE, BERTHOLLETIA EXCELSA SEED OIL / BERTHOLLETIA EXCELSA (CASTANHA) SEED OIL, PANTHENOL, OLUS OIL, MYRISTYL THEOBROMA GRANDIFLORUM SEEDATE / MYRISTYL THEOBROMA GRANDIFLORUM (CUPUAÇU) SEEDATE, PEG-100 STEARATE, GLYCERYL DIPALMITATE, GLYCERYL PALMITATE, PARFUM / FRAGRANCE, HYDROXYACETOPHENONE, ASTROCARYUM MURUMURU SEED BUTTER, CAPRYLIC/CAPRIC TRIGLYCERIDE, GLYCERYL DISTEARATE, ACRYLATES/C10-30 ALKYL ACRYLATE CROSSPOLYMER, AMMONIUM ACRYLOYLDIMETHYLTAURATE/VP COPOLYMER, TOCOPHEROL, SODIUM GLUCONATE, SODIUM HYDROXIDE, TRILAURETH-4 PHOSPHATE, POLYGLYCERYL-2 SESQUIISOSTEARATE, SODIUM CARBONATE, SODIUM, CHLORIDE, SODIUM SULFATE, LINALOOL, D-LIMONENE, BENZYL SALICYLATE, BUTYLPHENYL METHYLPROPIONAL, COUMARIN, ALPHA-ISOMETHYL IONONE, CITRAL, CI 19140 / YELLOW 5, CI 17200 / RED 33, CI 42090 / BLUE 1.
PRICE: RM49 (30g) and RM79 (70g)

WHERE TO BUY: Natura website or stores
Natura Castanha Nourishing Body Lotion
Thing about me is that I never liked using a body lotion. I always found it too greasy and sticky and heavy for our weather. My preference was body oils, which seems counter-productive, except it isn't. It is actually much better on the skin than most body creams or butters that I've tried!
But I ran out recently, and I needed something to tide me over till I find another body oil that I like (that isn't bank-breaking) so when I spotted a deal on the Natura website, I decided to try the Castanha Nourishing Body Lotion.
I already enjoyed using the hand cream, so I figured that the body lotion would serve me well.
I was not disappointed!
A note about the packaging. I love how sturdy the Castanha Nourishing Body Lotion packaging is. The bottle is short and squat, which makes for a stable base, and the pump is large and sturdy. What this means for me, is that I can use my palm to pump out the product, without fearing I'd break it or topple the bottle over! Little things like this makes me happy.
Also, the sturdiness of the plastic means that the bottle will last you beyond 1 use. That's a good thing, because Natura sells refills of their bestselling products (that includes the Castanha Nourishing Body Lotion!), at a really great value! So, don't throw your bottles after you're done – get a refill and save some money (and the environment!).
The texture of the body lotion is lighter than that of the hand cream, which allows for it to be pumped out easily. It also spreads easily on skin, and actually feels quite light.
It sinks in nicely and quickly without a greasy after-feel, and it actually feels impressively comfortable. I do only apply it at night however, and it doesn't stain my sheets. There is a scent, which is a little sweet and a little strong at first, but dissipates quickly and doesn't irritate me.
I used this Castanha Nourishing Body Lotion when I noticed that my skin was looking dry and crepey after a lot of sun exposure, and it went a long way towards helping restore some of the moisture in my skin. With regular use, my skin no longer looks dry and crepey, and it feels and looks lovely and smooth now. Really nice stuff!
We don't get the Castanha Body Butter here, but truthfully, I think the Body Lotion is enough to nourish and revitalise the skin, especially if you have dry skin or have been neglecting body care (like me 😛 )
Ingredients: AQUA/WATER/EAU, CAPRYLIC/CAPRIC TRIGLYCERIDE, THEOBROMA GRANDIFLORUM (CUPUACU) SEED BUTTER, GLYCERIN, BERTHOLLETIA EXCELSA (CASTANHA) SEED OIL, CETYL ALCOHOL, PROPANEDIOL, GLYCERYL STEARATE CITRATE, PARFUM / FRAGRANCE, HYDROXYACETOPHENONE, SODIUM POLYACRYLATE, TOCOPHEROL, SODIUM GLUCONATE, POLYGLYCERYL-3 CAPRYLATE, STEARYL ALCOHOL, MYRISTYL ALCOHOL, LINALOOL, BENZYL SALICYLATE, LIMONENE, COUMARIN, ALPHA-ISOMETHYL IONONE, EUGENOL, CITRAL, HYDROXYCITRONELLAL.
PRICE: RM109 (250ml) or RM95 (400ml)
WHERE TO BUY: Natura website or stores
Natura products are vegan and formulated without parabens, phthalates, propylene glycol, mineral oil, PABA, petrolatum, triclosan, DEA and animal ingredients. While I'm not personally terribly fussed, I know some people are, so it's nice to have a brand of products that is effective, actually good for the skin, and also kind to everything else.
Personally, I just like using a product that comes from Brazil, because it's all terribly exotic and different from all the other brands out there! I know, that's terribly shallow of me, but they are a huge brand in Brazil, and contribute to the local community there while being sustainable, and using products from renewable sources. Besides, I've been quite happy with what I've used so far!
If I try any other their body products, I'd be sure to share! 😀
Have you tried the Natura Castanha Nourishing Hand Cream and Body Lotion?
I'd love for them to come out with a body oil that I could pair with the body lotion. I like a combination of oils and lotions, as it seems to work better with my skin, and has a nicer tactile feel too 🙂
Paris B