Oh hello! It's *ahem* been a while I know. Not sure if anyone's noticed the silence around here, but it's one of those things that happen from time to time.
I toyed with the idea of taking a break till the new year, before starting afresh, but decided that there really is no better time than the present, if you want to do something. Newton's First Law dictates that a body at rest will remain at rest, and I feared that might be what'll happen. I might just forget my login altogether! LOL!
Regardless of my reasons and foibles, I decided to pop back in, and restart with something a little easy – a cleanser.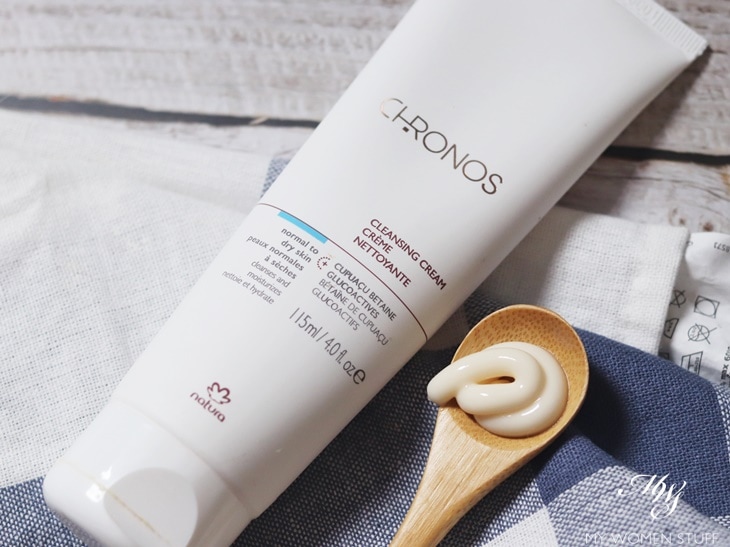 I've been working through my skincare cupboard for a while now, and am happy to report that there is progress (albeit slowly) and one little gem I discovered was the Natura Chronos Cleansing Cream. It is targeted at those with normal to dry skin, which suits me to a T! 🙂
Natura Chronos Cleansing Cream
Natura, if you aren't familiar with the brand, is a brand of beauty products from Brazil. I can safely say that I've been mildly impressed by almost every product I've tried from the brand thus far. Almost, because I don't believe in giving full marks for anything haha! 😛
The facial skincare range under Natura is known as Chronos. Rather apt, as it is a reference to 'time', and the effect that has on our skin. I picked up the Chronos Cleansing Cream one day in store, as I was running out of cleansers (I never thought that day would come!) and I wanted something that was not drying or stripping to my skin.
The key ingredient in the Chronos Cleansing Cream is cupuaçu betaine, derived from a native Amazon forest fruit. It is supposed to remove impurities gently while controlling oiliness. Natura uses many ingredients derived from the Amazon, many of which I'm unfamiliar with, so I won't even try to pretend I understand what it does. All I'll share is what I think of the product after putting it through its paces 🙂
Natura does say that their products are formulated without parabens, phthalates, propylene glycol, mineral oil, PABA, petrolatum, triclosan, DEA and animal ingredients. While I'm not personally terribly fussed, I know people who are, so this soothes their minds.
Not drying especially on dry skin
In the description, it says that the Natura Chronos Cleansing Cream is a mild cream cleanser that gently lathers up to cleanse the skin. I find that it doesn't lather up very much, if at all.
But that's fine with me. I much prefer my cleansers to not lather, because one that lathers usually leaves my skin feeling drier and tighter than it should.
Instead, I find that the Chronos Cleansing Cream is a lovely thick cream that spreads easily on damp skin, and quite easy to apply all over. There are tiny little bubbles, but nothing I'd call lather.
What I appreciate is how my dry skin does not feel any drier nor more taut after using it. I usually use this in the shower as my second cleanse in the evening, and my skin feels quite lovely and soft.
I must note that if you are used to your skin feeling squeaky clean after washing (It shouldn't, by the way) then you may feel like there's some 'residue' but there isn't really. Your skin will not feel squeaky clean. It will feel clean and moist and comfortable.
A little goes a long way
I also find that while it does not lather up, a little product does go quite a long way in the cleansing department. It spreads quite nicely and easily, and leaves my skin feeling clean, even though I don't use very much.
For this reason, a 115ml tube does go a fairly long way. I'm easily 3 months in, and using it once a day, there's still lots in the tube.
All things considered, there is only so much you can say about a tube of cleansing cream LOL! 😀
I'm happy I got this. It's a nice (more affordable) alternative to my favourite Antipodes Hallelujah cream cleanser, and it doesn't pinch the wallet. I do prefer how Antipodes Hallelujah smells, but for value (if you have dry skin too) I'd go with this one.
IN A NUTSHELL

The Natura Chronos Cleansing Cream is formulated for normal to dry skin. It is a fairly thick cream in a tube, that spreads easily on damp skin, but does not lather very much. It washes off clean, and leaves skin feeling clean and soft but not dry and tight. There is no residue either, and it feels very comfortable. I like how a little goes a long way, so one tube does end up being quite value for the money.

PROS:
Affordable
Not drying nor stripping to skin
Rinses off cleanly without residue
A little goes a long way

CONS:
There is a light sweet floral fragrance I'm not crazy about

WHO WILL LIKE THIS: Anyone with dry skin who wants a cream type cleanser that does not dry out the skin

PRICE: RM69 | US$23 for 115g

WHERE TO BUY: Natura stores or online
For those interested, this is the ingredients list for the Natura Chronos Cleansing Cream.
Aqua / Water/ Eau, Glycerin, Canola Oil, Sodium Trideceth Sulfate, Astrocaryum Murumuru Seed Butter, Potassium Cocoyl Glycinate, Sorbitan Caprylate, Sodium Lauroamphoacetate, Glyceryl Oleate, Coco-Glucoside, Xanthan Gum, Cocamide Mea, Potassium Cocoate, Parfum / Fragrance, Cupuassuamidopropyl Betaine, Acrylates/C10-30 Alkyl Acrylate Crosspolymer, Propanediol, Benzoic Acid, Sodium Chloride, Sodium Hydroxide, Citric Acid, Saccharide Isomerate, Disodium Edta, Pentaerythrityl Tetra-Di-T-Butyl Hydroxyhydrocinnamate, Dmdm Hydantoin, Sodium Citrate, Conobea Scoparioides Leaf Oil, Sodium Carbonate, Magnesium Nitrate, Magnesium Chloride, Methylchloroisothiazolinone, Methylisothiazolinone, Butylphenyl Methylpropional, Citronellol, Alpha-Isomethyl Ionone.
Have you tried this Chronos Cleansing Cream or any other Natural skincare products?
I like the Chronos Aqua Gel Hydrator too – let me tell you about it another day, now that I'm back in the swing of things. Almost 😀
Paris B