I'm diligent about using daily sunscreen for the face. But truth be told, I'm crap when it comes to the body. Body sunscreen? Meh. That's how it used to be.
It never bothered me much before, because I was always indoors, out of direct sun. Working in an office for long hours does somewhat turn you into a vampire – I hardly ever saw the sun, and my skin reflected that.
All that changed in the past year. I suddenly found myself with a rambunctious pup on my hands, and a need for him (and I) to be outdoors. I noticed the skin on my arms begin to deteriorate.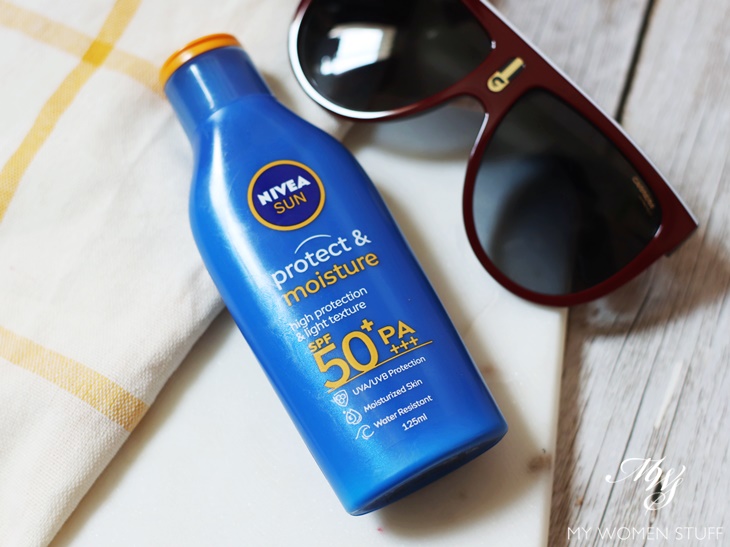 I'm much more tanned than I used to be, but aside from that, I noticed also the appearance of freckles on my arms, and the skin looking and feeling incredibly dry.
By the time I realised that I had been too lax about not wearing body sunscreen, it was pretty much too late. All I could do now, is to prevent further damage.
I was using some facial sunscreen on my arms, but I found them too drying. I don't notice the drying effect on my face, as I wear moisturiser, but on my arms, I noticed it. My skin was being protected, but it was drying out.
When I was browsing an online pharmacy recently, looking to replenish my usual facial sunscreen, I decided to take a look at other sunscreens on offer. My criteria was quite basic. I wanted a sunscreen for the body, that was affordable (I use a lot daily), offered high protection (SPF50+ minimum) and moisturising.
I noticed the Nivea Sun Protect & Moisture SPF50+ PA+++ and it intrigued me.
Nivea Sun Protect & Moisture SPF50+ PA+++
The most eye-catching thing about the Nivea Sun Protect & Moisture SPF50+ PA+++ sunscreen is the price. It just crosses the RM40/125ml mark, and as it's found at pharmacies, will go on sale at some point, making it even more affordable. This was important for me, as I didn't want to skimp on sunscreen for the body.
From what I can tell, the Nivea Sun Protect & Moisture SPF50+ sunscreen is a chemical sunscreen. This means that they use chemical filters to filter the UV rays. While not ideal for me (I prefer a sunscreen with physical blockers or containing physical blockers alongside) it is a personal preference.
For my face, I presently use a mineral sunscreen with physical blockers only, as it protects my skin best from direct sun exposure. For my arms, I am a little less particular.
The Nivea Sun Protect & Moisture SPF50+ sunscreen boasts SPF50+ UVB protection, and PA+++ UVA protection. I find that high enough for me, again for my arms.
It also contains Vitamin E for skin protection and moisture, and is water-resistant, which means you can wear it to the beach.
Texture is quite thick and creamy
The texture of the product is a rather thick cream. While it is quite light once rubbed into the skin, it squirts out of the flip-top bottle, as a thick cream.
I personally find the texture quite comfortable. It sinks into the skin quite easily with a little rubbing, and my skin feels more moisturised. In the past 2 weeks that I've been using the Nivea Sun Protect & Moisture SPF50+ sunscreen, I have noticed that my arms look less dry (fewer lines), which is nice.
Skin feels protected from the sun
Truthfully, I wouldn't know how to gauge the efficacy of a sunscreen, except by 'feel'. In my case, this means my not burning despite being out in the sun (for up to an hour some days) and not developing further freckles or sun-spots on my arms.
Thus far, in the 2 weeks that I've been using the Nivea Sun Protect & Moisture SPF50+ sunscreen, I have not experienced any burning. I am now a more tanned than I used to be, and a sunscreen does not stop you from tanning anyway. What's important for me is that I do not burn.
My skin also does not feel unduly warmed despite being out in the sun, so by my gauge, that is my sunscreen working for me.
I haven't been swimming for a while, so I cannot say if it is water-resistant. I do notice that water does bead on my arm, so that does lend some credence to the claim of water-resistance.
Not for the face
While it doesn't say specifically if it can be used on the face, I personally will not. The texture is rather thick, and might feel uncomfortable on most. I am fairly tolerant, so I can probably work with this, but there's another reason I wouldn't use it on my face – scent.
The lotion is quite perfumed, which spoils it somewhat. Because I use it on my arms only, it doesn't bother me half as much, as if I were to slather it over my face. It's so strong that my pup sneezes every morning when I apply it! LOL! He then runs far away from me 😀
Ideally, I'd prefer it to be unscented, but I appreciate that not everyone does.
All in all, I'd say that this is a body sunscreen I'd be happy to use long term, unless I find another one that's better or more affordable. At the price of just over RM40 for 125ml, it can't be beat for value, for something that you can and should be generous with. That it works pretty well is a plus point too! 😀
IN A NUTSHELL

The Nivea Sun Protect & Moisture SPF50+ PA+++ sunscreen is an affordable, creamy sunscreen lotion with high sun protection. I like that it keeps the skin of my arms moisturised even while I'm out in the sun, baking, and has helped eradicate the appearance of fine lines on my arms. My skin looks more supple now! It also has a high UVA and UVB protection, which is excellent if you're out in the sun a lot. I spent a couple of hours in the sun everyday, and it can take a toll on your skin! I'm happy to report that I have not experienced any burning since using this. There is no white cast either, and my skin feels moist and comfotable. It is also affordable, which encourages you to be more generous with its use, and that means better protection for your skin. The only downside is that it is a chemical based sunscreen (which I don't prefer but will accept) and that it is highly perfumed. But seeing as I use it only on my body, I'm fine with it.

PROS:
Affordable
Moisturising
High UVA and UVB protection
Not sticky or greasy on skin

CONS:
Perfumed

WHO WILL LIKE THIS: Anyone who wants an affordable, moisturisng sunscreen for the body

PRICE: RM40.90 for 125ml (will go on sale occasionally)

WHERE TO BUY: Watson's, Guardian , or anywhere that Nivea Sun is carried
For those interested, this is the ingredient list for the Nivea Sun Protect & Moisturie SPF50+ sunscreen
Aqua, Homosalate, Glycerin, Alcohol Denat. 6.45% v/v, Butyl Methoxydibenzoylmethane, Bis-Ethylhexyloxyphenol Methoxyphenyl Triazine, Ethylhexyl Salicylate, Dibutyl Adipate, Ethylhexyl Triazone, Copernicia Cerifera Cera, Panthenol, VP/Hexadecene Copolymer, Tocopheryl Acetate, Microcrystalline Cellulose, Sucrose Polystearate, Cellulose Gum, Butylene Glycol Dicaprylate/Dicaprate, Tetrasodium Iminodisuccinate, Phenylbenzimidazole Sulfonic Acid, Hydrogenated Polyisobutene, Polyglyceryl-4 Diisostearate/Polyhydroxystearate/ Sebacate, Sodium Stearoyl Glutamate, Acrylates/C10-30 Alkyl Acrylate Crosspolymer, Pantolactone, Xanthan Gum, Trisodium EDTA, Phenoxyethanol, Ethylhexylglycerin, Sodium Hydroxide, Citric Acid, Sodium Chloride, Linalool, Limonene, Benzyl Alcohol, Alpha-Isomethyl Ionone, Citronellol, Geraniol, Parfum
A point to note is that I noticed that the packaging of a similarly named product sold in the UK and Australia is slightly different. In Australia, it even comes in a 400ml bottle, which I would love to have! Saves me the hassle of stocking up.
However, I notice that the ingredients list of the products vary slightly from country to country. I noticed that the UK and Australia formula contain Titanium Dioxide as one of their ingredients (which I personally prefer to see in a sunscreen product). That said, even the UK and Australian formula differs slightly in their active ingredients, and it's quite different from ours here in Malaysia (Made in Thailand).
I couldn't not find a similar one in the USA market, so I can't say for certain if it's available there. I did see an SPF30 version, but not SPF50.
Have you tried the Nivea Sun Protect & Moisture SPF50+ sunscreen? Any other sunscreen for the body that you like?
I run through sunscreens like water these days. I'm always out in the mornings with a big hat, long sleeves and long leggings! Quite a sight, but heck, anything to protect the skin LOL! 😀
Paris B