I will not deny that I purchased the Glow Recipe Avocado Melt Retinol Sleeping Mask purely out of curiousity. Most sleeping masks usually target hydration problems, and I was curious as to how the retinol in it might work (or not) and more importantly, if it would sting, as products with retinol are wont to do.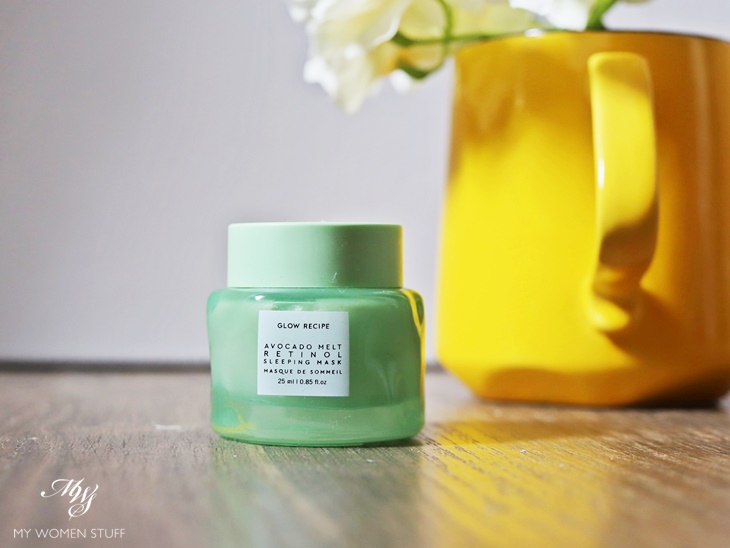 Glow Recipe makes these cute little products that are aesthetically pleasing, but few of them, if any, have caught my eye. I believe that they are inspired by the whole Korean skincare trend, and took their own spin on things by using fruits as the basis of their ingredients. But I guess pastel coloured lotions and gels just didn't appeal to my senses.
However, I was curious enough to try their new Avocado Melt Retinol Sleeping Mask! 😀
Honestly though, I'd save your money and time LOL! 😛
Glow Recipe Avocado Melt Retinol Sleeping Mask
Glow Recipe says that their "Avocado Melt Retinol Sleeping Mask is a creamy, nourishing mask formulated with antioxidant-rich avocado, exfoliating PHA, and the most gentle form of retinol, encapsulated retinol."
Avocado oil is soothing and rich in antioxidants, as we well know. I have no doubt that the richness would infuse into your skin. After all, people mash up avocado and put it on their faces as a mask. It also contains encapsulated retinol, which they say is a safe and gentle form of retinol, which is less irritating to the skin. The other key ingredient is PHA, polyhydroxy acid, a type of hydroxy fruit acid, which provides some exfoliation.
I confess to being a little confused that it contains both an exfoliating acid (albeit mild), and a retinol (albeit mild). Usually, when using a retinol product, we are advised to not use it together with an exfoliating product, as it can be too harsh on the skin.
What they promise it will do is deliver smoother, hydrated skin. Well, who doesn't want that, eh?
Cute but rather ridiculous sized packaging
The packaging is cute, that much I have to admit. It comes in a 25ml jar, which I thought was a trial size, but I can't seem to find the full sized products anymore. I'm puzzled.
25ml is very little. You may not realise it from the photos here, but it's TINY! And we run into a problem with tiny bottles, because the opening is very small. Getting a finger in there is a tight squeeze in itself.
Even if masks are products you don't use daily, it's something you have to use regularly enough to see any effects on your skin. This, especially more so with a product containing retinol.
So the tiny little 25ml tub puzzles me.
Creamy texture like mashed avocado
The texture is just like that of mashed avocado, and even looks like it.
Spreading it on the skin isn't hard to do as it's rather creamy. But I find that it applies patchily. It doesn't glide on smoothly on skin. When I realised that the ingredients list contains kaolin clay, it made sense.
Does it leave skin smoother, firmer and more radiant?
Honestly, I don't see any results using this, which made this a very expensive splurge 😛
I didn't realise it contained kaolin until I was writing this post, or I would not have bought it. (I don't peep at ingredients when I buy products – I'm not that fussy 😛 ) I have dry skin, so a clay mask, especially one that is meant to be left on overnight (sleeping mask!) does not work well with my skin.
Needless to say therefore, I experienced very little hydration while using this mask. I'd wake up the next morning wondering why my skin feels drier, when I'd just put on a sleeping mask the night before!
Does it feel smoother? Not in my view.
I just did not notice any significant improvements to my skin at all. It was just blah and more blah.
The lack of results, coupled with my incredulity each time I pick up the tiny little jar from the dresser, and the joyless product within, convinces me that this is a product that absolutely sucks for someone with drier skin.
Perhaps if you had young, oily skin, it might feel better. But I'd personally just avoid it altogether, and spend the money on a proper retinol serum and a hydrating serum. You can get good ones in the market that actually deliver results, for the same price as this tiny jar, and more often than not, with more product too.
Needless to say, I'm quite put off by my experience with Glow Recipe. Sure, it's all cute and pastel and pretty, but if this Avocado Melt Retinol Sleeping Mask is anything to go by, I'd save my money for a less pretty product, but more effective one.
IN A NUTSHELL

The Glow Recipe Avocado Melt Retinol Sleeping Mask is a leave-on mask that promises hydration and smoother, more supple and more radiant skin. I personally found that it doesn't deliver on any of the counts. I found it drying, and there were no discernible results to the texture of my skin. It might work for someone with younger, more oily skin. But for older folks with drier skin, save your money for a proper retinol serum and skip this gimmicky product.

PROS:
Cute but nothing else

CONS:
Drying
No results on drier skin types
Tiny amount for a very expensive price tag

WHO WILL LIKE THIS: Perhaps someone with oily skin but otherwise don't bother with it

PRICE: £23 | US$25 for 25ml

WHERE TO BUY: Cult Beauty
Here's the ingredients list for the Glow Recipe Avocado Melt Retinol Sleeping Mask.
Aqua/Water/Eau, Propanediol, Glycerin, Cetearyl Alcohol, Glyceryl Stearate, C9-12 Alkane, Caprylic/Capric Triglyceride, Kaolin, Persea Gratissima (Avocado) Oil, Polyisobutene, Sodium Lauroyl Glutamate, Stearic Acid, C13-15 Alkane, Platonia Insignis Seed Butter, Persea Gratissima (Avocado) Fruit Extract, Hyaluronic Acid, Sodium Hyaluronate, Squalane, Chamomilla Recutita (Matricaria) Flower Extract, Camellia Sinensis Leaf Extract, Saccharide Isomerate, Hexylresorcinol, Zingiber Officinale (Ginger) Root Extract, Oryza Sativa (Rice) Extract, Tocopheryl Acetate, Gluconolactone, Aloe Barbadensis Leaf Juice, Malachite Extract, Ethylhexyl Palmitate, Butylene Glycol, Sodium Chloride, Sodium Hydroxypropylsulfonate Laurylglucoside Crosspolymer, Maltodextrin, Hydrated Silica, Curcumin, Ethylhexylglycerin, PPG-3 Benzyl Ether Myristate, Maltooligosyl Glucoside, Hydrogenated Starch Hydrolysate, Retinol, Spirulina Maxima Extract, Sodium Phosphate, PEI-10, Citric Acid, Sodium Citrate, Sodium Dilauramidoglutamide Lysine, Potassium Phosphate, Potassium Chloride, Silica Dimethyl Silylate, Arginine, Sodium Hydroxide, Caprylyl Glycol, Tocopherol, Rosmarinus Officinalis (Rosemary) Leaf Extract, Lavandula Angustifolia (Lavender) Flower/Leaf/Stem Extract, Hexylene Glycol, Acrylates/C10-30 Alkyl Acrylate Crosspolymer, Potassium Sorbate, Carthamus Tinctorius (Safflower) Seed Extract, Flavor/Aroma*, PVP, Sodium Benzoate, Phenoxyethanol. *Natural Fragrance
Have you tried anything from Glow Recipe?
I'm not sure I will ever try any of the other items. It just feels so gimmicky and young and irrelevant to me 😛
Paris B