I'm currently the most out-of-touch beauty blogger in the entire universe of beauty blogging. I'm still only starting to use products that were 'newly launched' a year ago, and I'm not even doing full-on routines for a while now. I think the whole pandemic has gotten to most of us in one way or another, hasn't it? At least, that's my excuse.
But recently, I was gifted with a new product, the L'Occitane Immortelle Reset Triphase Essence, and I was intrigued enough to slot it straight into my routine.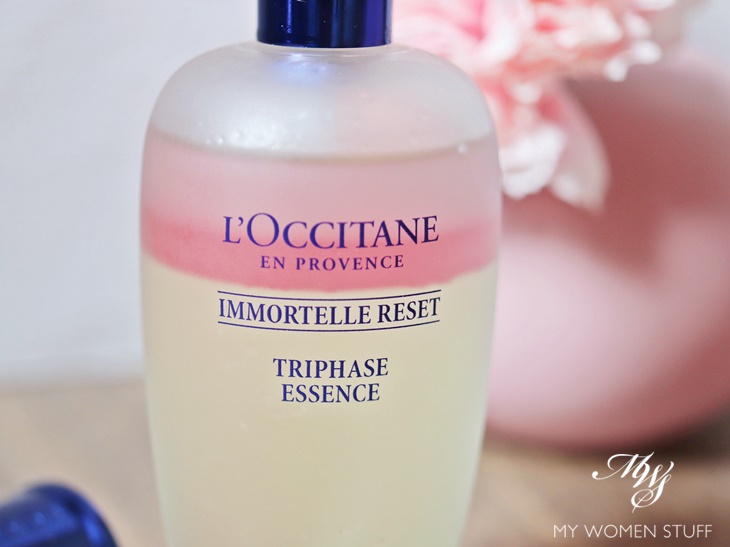 Incidentally, there was a lot of interest in this, when I shared about it on Instagram, so here it is 🙂 Incidentally, it's one I suggest that you use as suggested, instead of being too clever about it and using it in a different manner, as I usually do 😛
L'Occitane Immortelle Reset Triphase Essence – What is it?
The first question is, what exactly is the L'Occitane Immortelle Reset Triphase Essence?
As the name implies, the product comes in 3 phases in the bottle – 2 layers of oil floating on a water-base in a 30:70 oil to water ratio. The product contains ingredients like castor oil, rapeseed oil, beetroot prebiotics, Acmella Oleracea and immortelle essential oil. It is therefore an oil-in-water formula, which reminded me of the Skin Creamery Skin Tonic that I incidentally love.
This triphase essence helps maintain skin balance and strengthen the skin barrier for visibly improved skin quality and a healthy-looking glow. It balances with beetroot prebiotics and is meant to help strengthen the good bacteria on your skin's outer layer for a healthier & stronger skin barrier.
L'Occitane tells us that after 28 days, skin will be less irritated, less inflamed, less sensitive, and less dehydrated!
Now, all that sounds terribly promising, from such an innocuous product 😀
How to use
To use, shake up the bottle to mix up the oil-water phases. It will look a little milky like this, but it will separate quite quickly once you let it rest so I recommend that you use it immediately upon shaking it up.
It comes in a lovely hefty glass bottle and a spray that is quite comfortable in hand, and it would seem that the most logical way to use it is to spray on your skin. The mist is quite fine, so it is quite nice. But I also found that it was a little more wasteful when used this way.
Instead, the way recommended by L'Occitane on the box is the way I use, and what I found to deliver the best results.
Shake it up, pump about 3 sprays into the palm of your hand, and press to cleansed skin.
When I used it this way, I found that my skin seemed to absorb and take to it better. When I spray it on, I had to use 4-5 spritzes, and it seemed to just sit on my skin or just dissipate into the air so it felt more wasteful.
What I liked about the L'Occitane Triphase Essence
By way of background, I have been battling maskne for a while. The skin around my chin and jawline was clogged and very dry. I have to double cleanse twice a day, to remove the sunscreen after my morning activities, and again in the evening, at the end of the day. The result is skin that is a little more stripped, and a little more dry than I like. Add to this being a bit of a slacker with my skincare routine, and well, suffice to say my skin hasn't been at its best 😛
So the most immediate thing I noticed upon introducing the L'Occitane Immortelle Reset Triphase Essence into my routine, is that after a few days, my skin was noticeably softer and stayed more hydrated.
I also found that using the 'press on skin' method vs the 'spray on' method left my skin feeling better, and more absorbent than if I spray it on. Serums that I apply following the Triphase Essence seem to go on better too. When you spray it on, it can feel a little sticky on the skin. But when it's pressed in, I don't feel that stickiness.
After about 2 weeks, I can safely say that the L'Occitane Immortelle Reset Triphase Essence has helped my skin return to a softer, more comfortable texture. It feels better even though the clogged pores are still there. It doesn't feel as dry, and seems to be rebalanced.
As I said, I only noticed this because I had let the condition of my skin slide. Even acid toners weren't helping and neither was using hydration products. It just felt like the Triphase Essence helped soften the dry skin and then strengthen the skin barrier, so it could work better to protect and keep hydration in so my skin feels softer.
There is a scent that is faintly floral, but doesn't bug me very much.
It is a product that is very nice, that seems to reset your skin especially if it's off kilter. The drawback however, is the price tag, which is rather high. Not that high, if you think of it as an essence, but high, if you're using it as a facial mist. For this reason also, using it as recommended by L'Occitane makes more sense.
IN A NUTSHELL

The L'Occitane Immortelle Reset Triphase Essence is a skincare essence lotion that comes in a spray bottle. It is an oil-water formula, with 3 layers of product prettily shown in the bottle. It works to strengthen the skin barrier, soothe skin and make it less sensitive and less dehydrated. I found that my skin which was dry and irritated, felt softer and smoother with twice a day use for about 2 weeks. It does feel nicer, which is great when you're battling maskne as well.

PROS:
Softens skin and makes it feel more hydrated
Skin feels and looks softer and smoother
Skin feels less irritated

CONS:
Pricey
May feel sticky

WHO WILL LIKE THIS: Anyone with dry or irritated skin that needs an extra boost to rebalance and soften

PRICE: RM127 for 50ml, RM275 | US$94 for 150ml

WHERE TO BUY: L'Occitane stores or Online
For those interested, this is the ingredients list for the L'Occitane Immortelle Reset Triphase Essence.
AQUA/WATER – C15-19 ALKANE – RICINUS COMMUNIS (CASTOR) SEED OIL – BRASSICA CAMPESTRIS SEED OIL/ BRASSICA CAMPESTRIS (RAPESEED) SEED OIL – GLYCERIN – PENTYLENE GLYCOL – PROPANEDIOL – SODIUM CHLORIDE – ACMELLA OLERACEA EXTRACT – HELICHRYSUM ITALICUM EXTRACT – BETA VULGARIS (BEET) ROOT EXTRACT – HELICHRYSUM ITALICUM FLOWER OIL – HELIANTHUS ANNUUS (SUNFLOWER) SEED OIL – POLYGONUM TINCTORIUM LEAF EXTRACT – ADENOSINE – LACTIC ACID – FRUCTOOLIGOSACCHARIDES – BISABOLOL – LEVULINIC ACID – SODIUM LEVULINATE – FRUCTOSE – SODIUM HYDROXIDE – SODIUM GLUCONATE – TOCOPHEROL – POTASSIUM LACTATE – PARFUM/FRAGRANCE – CI 19140/YELLOW 5 – CI 60725/VIOLET 2 – CI 17200/RED 33
Incidentally, while stocks last, you can redeem a sample of this Triphase Essence alongside the Reset routine products in a 5-piece kit absolutely free, if you happen to be out getting groceries and see a L'Occitane store. Absolutely NO purchase necessary, so don't believe it when people tell you that it's a gift with purchase or worse, make you buy it from Shopee!
Is this L'Occitane Immortelle Reset Triphase Essence a product that intrigues you?
I must admit I wasn't too sure about it before trying, but it did impress me. Perhaps it's because my skin has been too irritated lately, it needed something to calm it down, and this was it! 🙂
Paris B
Disclosure: Featured service was a media trial by the brand for consideration. Our commitment is to honesty and fairness. For review guidelines please read the disclaimer.