It's been so long since I put a lipstick to my lips, I'd almost forgotten how it feels. The past 1.5 years of wearing a mask when out (and not wearing makeup when at home) has consigned most of my lipsticks to the bin.
And I had some really nice ones too!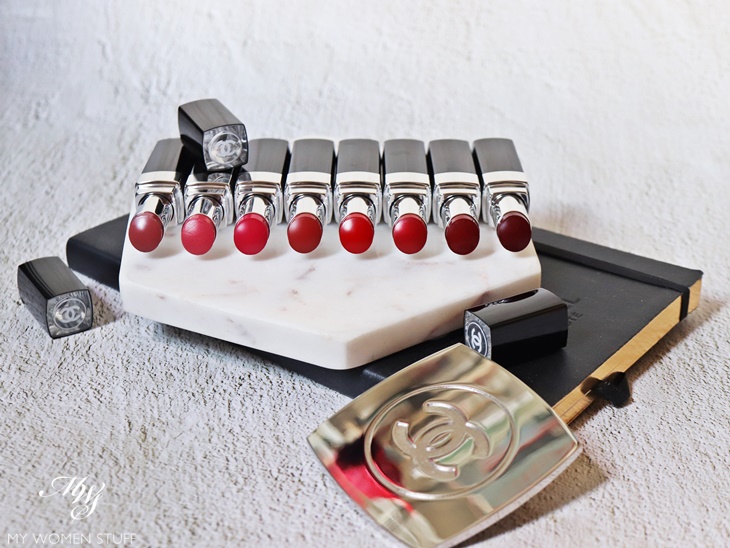 Perhaps, as a hope of renewal in 2021, and not without a healthy dose of optimism, Chanel decided to launch a new range of lipsticks – Chanel Rouge Coco Bloom.
Promising a hydrating plumping formula and intense shine, these new lipsticks promise to be a treat on lips. And I do like them!
Chanel Rouge Coco Bloom – Hydrating, plumping, intense shine
Realistically, a matte lipstick transfers less than a shiny one. So, with all of us still constrained to wear masks and not be out and about socialising and having/attending parties or events, wearing lipstick seems to be pretty much a waste of time.
Yet, sometimes, it's nice to feel all nice and 'made-up' even under the mask, right? 🙂
The Chanel Rouge Coco Bloom lipsticks remind me of the Rouge Coco Flash lipsticks. They have a similar packaging, being slim with a transparent logo cap.
The formula promises to be hydrating and plumping, and to deliver intense shine. I must say that it delivers on all counts!
What I like best about the Chanel Rouge Coco Bloom lipsticks is the texture. It slides on like butter, yet feels weightless on the lips. The colour is easily imparted on lips, which is great for when you want just a slick of colour, without layering it on.
It does feel hydrating, which makes for a very comfortable lipstick. I am always partial to lipsticks with a bit of shine to it, so a formula like this sits well with me.
The other thing I like is the intensity of colour.
For a lipstick that is glossy, the colour payoff is quite something! You get good colour with just one swipe on lips, which again is great when wearing it under a mask. You don't really want a very heavy textured lipstick on, when you're already suffocating under the mask.
And again, for this reason, I'm glad to note that it is unscented.
The texture is like a slightly shiny satin. I hesitate to use the words 'intense shine' too quickly, as I did not find the shine on lips to be particularly intense. It isn't so glossy that your lips take on a 'wet look', which isn't something I like.
It is more of a satin shine, that is ramped up just a little, so it doesn't look too vampy nor too young. It looks just right. What I found also is that it did not transfer as much when worn under a mask, so if it does, it doesn't mark other parts of your skin. Helps you not look like the Joker once you remove your face mask 😛
These are the swatches of the Rouge Coco Bloom colours I have. What's interesting is that the bottom half – 138 Vitalite, 140 Alive, 144 Unexpected and 148 Surprise – look very dark in the tube, almost a deep plum. It's very intimidating in tube.
But on skin, I was pleasantly surprised to see that the shades are a very wearable deep red-plum that is pleasant on the eye and flattering especially on those with a deeper skin tone.
However, despite my preference for bright reds (which are my signature lip colours before this), this time, I found that I enjoyed the more neutral, rosy shades better. 118 Radiant, 124 Merveille, 126 Season and 134 Sunlight are more neutral, lighter shades that I just found easier to wear, when I did wear lipstick.
Perhaps all these months of mask-wearing and not having anywhere to wear a nice lipstick to has dampened my ardour for the bright colours. Here's hoping that I go back to wearing them soon! 🙂
What about longevity you ask?
Who really cares these days?! LOL! You'd wipe them off before or after wearing your mask anyway. What you should be happy about is that the formula sits well on the lips, looks pretty when seen and keeps lips feeling comfortable and hydrated. Anything else is really extra 😛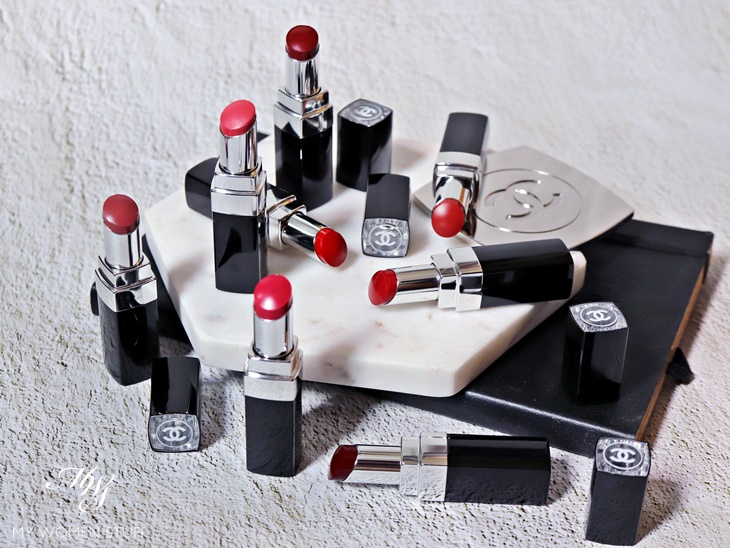 My apologies for not providing a full face swatch with all the colours, as I usually do. I'm just not much in the mood to put on makeup, and I'm nursing a bad bout of maskne 😛
IN A NUTSHELL

The Chanel Rouge Coco Bloom lipsticks are a new range of hydrating lipsticks with a shine. The colours are intense and bright, but a little less intense and deep on skin as compared to the colour in the tube. I find that it slicks on easily in one swipe, and feels hydrating and comfortable. It has more of a satin texture, with a hint of a shine, which makes it look more flattering. It doesn't look like you just took a mouthful of oily curry noodles. It just looks like a healthy shine on lips with beautiful colours and a lovely lightweight texture. A nice way to reintroduce ourselves to wearing lipsticks again.

PROS:
Lightweight and comfortable on lips
Satin texture with a nice gentle shine
Hydrating formula and comfortable to wear
Unscented formula

CONS:
Can mark masks, but does not smear as much

WHO WILL LIKE THIS: Anyone who likes lipsticks with a bit of shine and slip, Anyone who wants a lightweight, hydrating lip colour that packs a punch of colour

PRICE: RM150 | US$40

WHERE TO BUY: Chanel counters and beauty boutiques (at this time, Chanel boutiques in Malaysia will be offering delivery services throughout Malaysia. Do call to find out more)
Does the texture of Rouge Coco Bloom catch your fancy?
This is right up my alley, which is why I enjoy wearing it so much 🙂
Paris B
Disclosure: Featured service was a media trial by the brand for consideration. Our commitment is to honesty and fairness. For review guidelines please read the disclaimer.