Les Beiges is the only makeup collection I look forward to each year, without fail. While it's not the most exciting of makeup products, it suits me – simple, basic, neutral. Yet, there is often nothing very simple, basic or neutral about it. Often, the products impress me, even when they don't impress others. I suppose it comes down to personal preferences.
This is true of Chanel Les Beiges Healthy Glow Foundation. Launched in 2016 (where I tried and reviewed it), and then quietly disappearing, only be relaunched last year in the middle of a pandemic when most people were in lockdown and not leaving houses, ergo, not putting on makeup.
I still don't go out very much, and I don't do video calls, so putting on makeup has been something that I haven't gotten down to doing.
But when I did deign to wear any makeup at all, I gave the new Chanel Les Beiges Healthy Glow Foundation Hydration and Longwear a try, and I was blown away. This was even better than its predecessor!
Chanel Les Beiges Healthy Glow Foundation Hydration and Longwear – Revamped and Rejuvenated
The Chanel Les Beiges makeup collection usually emphasizes a fresh, natural appearance, and the Healthy Glow Foundation Hydration and Longwear gives you all that.
The texture of the foundation is now light and liquid, not as thick and clumpy as what it used to be. It is far more hydrating and feels lighter on the skin than what it used to.
I have a preference for very light coverage (my favourite base is the Les Beiges Water-Fresh Tint!) and this foundation is a step up from the Les Beiges Water-Fresh Tint. It offers a little more coverage, but without compromising on hydration.
Yet, as the name implies, it is fairly longwearing. I did not test it for hours on end, as I used to before when I worked in an office. But for most of us, it will serve its purpose. It lasts long enough, without drying out your skin to a husk.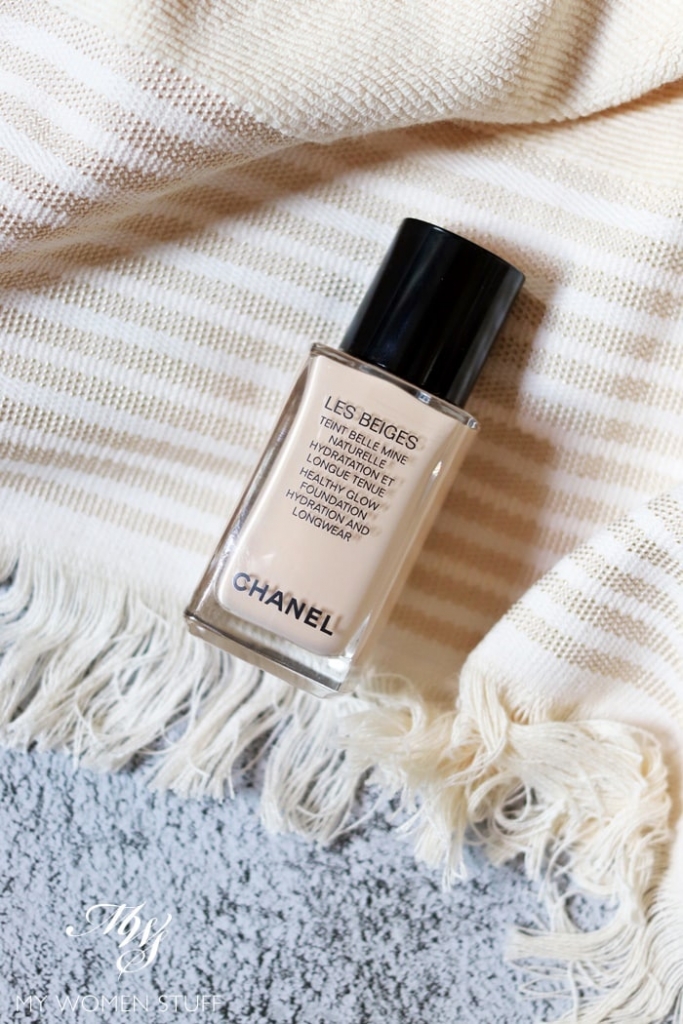 Sits well on dry skin without caking
I have dry skin, and what I love about the Chanel Les Beiges Healthy Glow Foundation Hydration and Longwear is how it does not settle into lines and pores, and sits well on my skin without caking.
I do use very little. Just a little dollop, which I then blend out with a dense, round brush. I like that sort of diffused effect better than piling it on. What it gives me then, is a soft, glowy finish. Not oily. Not greasy. Not dry and cakey.
It just quite literally looks like my skin, but just a smidge better, hiding shadows under the eyes, and patches of redness.
I kept it simple in these side-by-side photos. The difference in photos isn't that remarkable. This isn't a foundation that will magically transform your skin to an impossibly smooth, flat visage. What it does do, in person, is just make you look a touch better and more pulled together. Once you apply concealer where you need it, and a touch of colour on your cheeks, you'd look natural.
Personally, I love foundations like this.
You can layer it on – it doesn't feel heavy at all. You will then get better coverage. It is easy to layer on, just where you need it. It will rub off on face masks, but then which foundation doesn't? The good thing is that even though it does, it doesn't look disturbed on my skin.
I personally do not set it at all. A touch of powder will of course, help it last longer, and maybe even help with coverage. But I prefer the natural glow that comes when the product settles onto the skin and mixes with your skin oils. It makes you look fresh-faced yet natural. No one will believe you have makeup on – and that's how it should be! 😉
No more SPF in the foundation
Besides the change and overhaul of the formula, Chanel has also done away with the SPF25 in the previous version of this Healthy Glow foundation. Personally, it doesn't bug me.
Sunscreen is for me, skincare and I keep it separate, always ensuring I wear sufficient sunscreen before doing my makeup. It shouldn't bother you either 😛
I haven't looked around at the new foundations on offer these days, but I have no hesitancy recommending the Chanel Les Beiges Healthy Glow Foundation Hydration and Longwear. It feels so lovely on the skin, like you're wearing nothing at all. Yet, when people tell you that you're glowing, and looking better, you can smile and say 'thank you' but secretly, you're thanking the magic that is Chanel Les Beiges Healthy Glow Foundation Hydration and Longwear 😉
IN A NUTSHELL

The Chanel Les Beiges Healthy Glow Foundation Hydration and Longwear is a revamped version of the original Healthy Glow Foundation. It is much lighter in texture, and sits more comfortably on skin. It feels very lightweight and hydrating, yet lasts long enough if you don't plan to wear it for very long hours. The coverage is light-medium depending on how much product you use. The pigment however, is high enough that even when you use just a little, it can cover up redness and imperfections, so your natural skin texture comes through. It gives your skin a nice healthy glow, and when it's settled and mixed with your skin oils and warmth, it looks natural – like your skin, but better. And that's how all foundation should be! It now comes in 25 shades, which is great for everyone 🙂

PROS:
Lightweight texture
Hydrating on skin
Light-medium coverage makes skin look very natural and healthy
Does not settle into lines or pores
Blurs imperfections and makes skin look natural and glowy

CONS:
Pricey

WHO WILL LIKE THIS: Anyone who enjoys a lightweight light-medium coverage foundation that adds a gentle healthy glow to the skin without looking cakey

PRICE: RM240 | US$60 for 30ml

WHERE TO BUY: Chanel counters and boutiques
Have you tried this new version of the Chanel Les Beiges Healthy Glow Foundation Hydration and Longwear?
While I didn't have a lot of problem with the previous version, I am much happier with this new version. It's perfect for times like this, when you don't really want or need to wear makeup very much, but when you do, want something lightweight, comfortable and looks natural. Ticks all the boxes! 😀
Paris B
Disclosure: Featured service was a media trial by the brand for consideration. Our commitment is to honesty and fairness. For review guidelines please read the disclaimer.