I first tried the Drunk Elephant Virgin Marula Luxury Facial Oil in a trial pack duo I purchased online one Christmas (back in the day before it was available here). They still do those little kits sets, which is a good (and more affordable) way to try products from this cult status brand.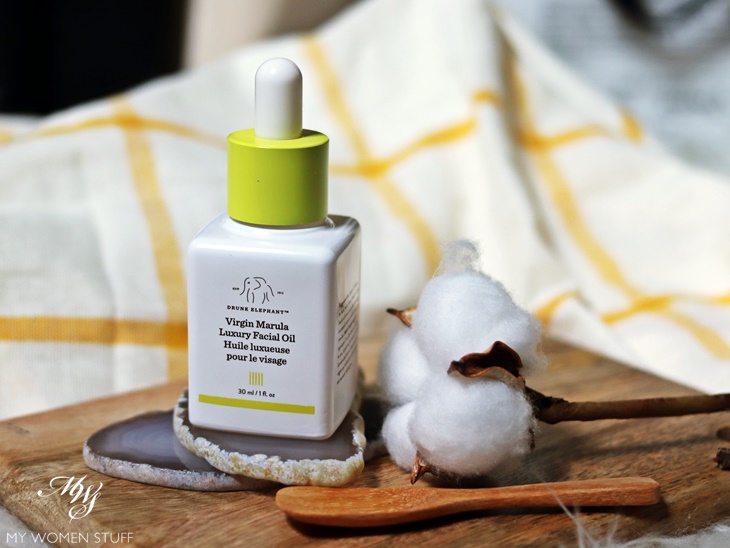 I later received a full-sized bottle of the Virgin Marula Luxury Facial Oil in a press kit, and was able to try it for a little longer.
And I'm going to tell you that this is a very nice little bottle of oil!
What is Marula oil?
Marula oil is extracted from the fruit of the Marula tree, which is native to southern Africa. The fermented fruit of the marula tree was also thought to intoxicate elephants, which is what inspired the name of the brand Drunk Elephant!
Marula oil is extracted from its kernals and is rich in protein, fatty acids, amino acids and antioxidants. It's one of those oils that you can use all over your body, not only your face.
Drunk Elephant Virgin Marula Luxury Facial Oil – light but heavy
I've never tried a Marula oil, so I wasn't sure what to expect when I first tried it.
It is a very lightweight oil, yet it is very moisturizing. I'm not sure if it'll sit well on oily-combination skin to be honest. It feels 'heavy' and my drier skin loves it. However, on oily-combination skin, it might feel too heavy, so if you do want to try, I'd recommend just a drop or two – literally!
I am fairly liberal with my use of the Drunk Elephant Virgin Marula Luxury Facial Oil. I use 3-4 drops, and sometimes, even a whole dropper full. I can be extra that way 😛
Straight on skin or mix with a cream
I like using it straight on damp skin. It's how I use all my facial oils.
RELATED READING: Your facial oil doesn't absorb well? You may be using it wrong READ HERE
Oils absorb better on damp skin, so give your skin a light mist, or slap on some watery lotion/toner, and then apply your oil on top. You'll be surprised at how quickly it'll sink right in.
The other way you can use it is to mix a few drops in with your moisturizer. It makes it less oily, and boosts the moisturising power of your moisturizer. So, if you have a cream that just feels like it's sitting on your face doing nothing, use this oil (or any oil really!) to give it a good kick up its arse 😛
Skin feels softer and more moisturized – but is it special?
To be fair, most facial oils give me softer, more moisturized skin. It's why I'm such a big fan of them!
RELATED READING: What facial oils have you tried? Here's a whole lot I got through and tell you which I enjoyed most READ HERE
However, is the Drunk Elephant Virgin Marula Luxury Facial Oil so special?
I mean, it costs a pretty penny.
For me, it was nice, and I liked how it made my skin feel. I do layer a cream over at night, and it keeps my skin feeling soft and supple till the next day.
Will I buy the full sized bottle?
I hesitate to say I will. I liked it in the deluxe sample bottle I tried, but I would not have purchased a full sized bottle, simply because it felt a little too basic for my skin.
I personally see more immediate results from the Pai Bioregenerate Rosehip Oil, which I have purchased and repurchased countless times over, and it doesn't cost as much.
RELATED READING: What's so great about the Pai Rosehip Oil you ask? READ HERE
I also find that the Pai Rosehip oil is rich and nourishing enough that I can use it as an overnight mask, but I can't do the same with this Drunk Elephant Marula Oil.
As the Drunk Elephant Virgin Marula Luxury Facial Oil is essentially a single-ingredient facial oil, I personally think the options out there are and will be just as good for the skin.
I have not personally tried any other marula oil, but the reports are that the Marula Oil by The Ordinary is just as good, if not better simply because it is so much more affordable for essentially the same thing.
Marula vs Argan oil
Personally speaking, I have never been much of a fan of argan oil used on its own. It does not work well with my skin and has a tendency to be not moisturising enough, or break me out – no in-between 😛
As a key ingredient in skincare products, my skin tolerates argan oil. Just not on its own.
For me therefore, if I were to look at a single-ingredient oil to use on my face, I'd go with marula oil (of a more affordable brand). It feels better on my skin and helps it improve, instead of breaking me out.
The bottom line to this is that I have enjoyed using the Drunk Elephant Virgin Marula Luxury Facial Oil, but it isn't something I'd repurchase. However, I will be trying other more affordable marula oil brands 😀
IN A NUTSHELL

The Drunk Elephant Virgin Marula Luxury Facial Oil is a single ingredient facial oil that feels lightweight going on skin, yet nourises and moisturizes deep into the skin. Used on damp skin, my drier skin feels soft and plumped when used as part of my night routine. It is a very nice facial oil, and my skin loves it. However, I do find it too expensive to repurchase, even if it will last quite a while as you don't have to use too much. There are other brands with single ingredient marula oil, and I'd likely try them instead.

PROS:
Lightweight on skin yet moisturizing
No scent
Skin feels more moisturized and soft

CONS:
Pricey compared to other brands

WHO WILL LIKE THIS: Anyone with drier skin who wants a facial oil that isn't too oily yet is moisturizing

PRICE: RM313 | US$72 | £61 for 30ml

WHERE TO BUY: Sephora MY, Sephora USA, Cult Beauty, SpaceNK
Here's the ingredients list of the Drunk Elephant Virgin Marula Oil Luxury Facial Oil for those interested.
Ingredients: Sclerocarya Birrea Seed Oil
Have you tried this Drunk Elephant Marula Oil? Have you compared to other marula oils?
I'm quite keen to have a go at the Marula oil from The Ordinary. It comes highly recommended by most people. But I'll wait till I get through some other skincare first LOL! 😀
Paris B
Disclosure: Featured service was a media trial by the brand for consideration. Our commitment is to honesty and fairness. For review guidelines please read the disclaimer.