A few months ago, just before we went into lockdown, I received a generous package from Drunk Elephant. Lockdown started out a little confusing on all our parts, so I left the package for a while, while I got my head around not leaving the house.
When I settled down, the first item I reached for in the pack was the Drunk Elephant A-Passioni Retinol Cream. There was a good reason for this!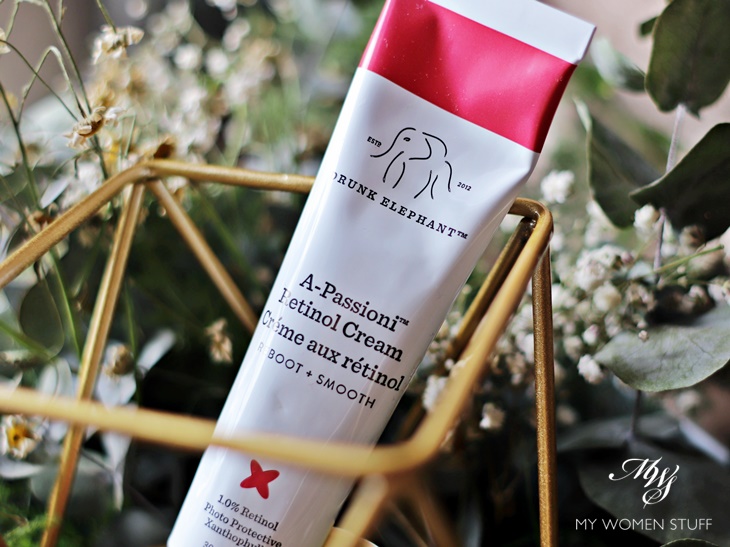 When A-Passioni Retinol Cream was first launched, I came across many mixed reviews for it. Those who loved it, loved how effective it was.
But there was a big section of reviewers who complained that it left them with dry, flaky, peeling skin – a common side-effect of using retinol, especially in high doses. And A-Passioni Retinol Cream has a whopping 1.0% Retinol concentration.
I was curious therefore, how I'd take to the product. Would I love it, or would it leave my skin a mess? Curious minds had to know! 😀
Drunk Elephant A-Passioni Retinol Cream
Drunk Elephant says that their 1% Retinol concentration is that of a 'vegan retinol'. Personally, I don't quite understand what a 'vegan retinol' is, for retinol is chemically derived, and by that token, is vegan. A nice play to the vegan crowd, marketing wise.
Otherwise, here's the other thing you need to know about 1.0% Retinol – It is very very strong. VERY. STRONG. Proceed with caution.
While Drunk Elephant has added a host of other ingredients into the cream that help with buffering the retinol, it is still a strong retinol, and not one for beginners.
Proceed with caution!
For this reason, I do not personally recommend the Drunk Elephant A-Passioni Retinol Cream for beginners. I'd peg this as one for someone who is familiar with using retinol, comfortable with it, and who understands their skin.
To anyone wanting to try this, I say you MUST start out by buffering it, preferably by mixing it with a moisturizer, and by sandwiching it with moisturizing products, so your skin is kept comfortable.
I was aware of the many complaints about how strong it was, so when I started using the Drunk Elephant A-Passioni Retinol Cream, I started out very slowly, and I made sure I applied all the tips I knew about using retinol!
RELATED READING: New to using retinol? Read these tips so your face doesn't fall off! READ HERE
Lightweight cream texture
The texture of the product is a lightweight cream that is bright yellow. The tube is an aluminium tube, and for some reason, I find the pressure very strong, so you can't really stop the cream from extruding out from the hole. It's quite disconcerting, because it ends up being a little messy, and there is wastage.
Personally, I feel that a tube with a pointed dispensing nozzle might be a better option with this product.
The texture of the cream is very comfortable, for me, and it sinks right into my skin when I apply. I usually squeeze out just a little bit (a pea size will do) and then apply it using the 13-dot technique.
RELATED READING: Don't know the 13-dot technique? Use it for all your serums and creams! READ HERE
Did my face fall off after using the A-Passioni Retinol Cream?
I knew that being in lockdown and being forced to stay at home, was the best time to trial a product that might potentially make my face fall off. If it did, at least I did not have to face anyone! 😛
Due to the strength of the product, I started out very slowly.
Let me preface this by saying that I am no stranger to using retinol serums. I have used them in varying strengths, and I am comfortable using a retinol, and I am very much in tune with my skin. I know when something isn't right, and when to dial back, or when to just throw caution to the wind, and whack it on.
If you are new to using retinol, I will suggest you build your tolerance up slowly with a product of a lower dosage, and not jump straight into the deep end. But that is your choice 🙂
I started using the Drunk Elephant A-Passioni Retinol Cream first mixed with B-Hydra Intensive Hydration Serum. This was to buffer the retinol, so it was not too harsh on my skin. I also used a facial oil every night, and a nice moisturizing cream on top to seal it off.
I only used the Drunk Elephant A-Passioni Retinol Cream 2-3 times a week, at night only, for the first 2 weeks. I was being very cautious!
I did not experience anything negative. No dryness, no breakouts, no flakiness. My skin was comfortable, and after about 2 weeks (with a Vitamin C serum in the day), I noticed that my skin was noticeably smoother to the touch.
After the first 2 weeks, I removed B-Hydra Intensive Hydration Serum as a cocktail mix, and used the Drunk Elephant A-Passioni Retinol Cream neat on my skin. I upped it to 3 times a week use.
On nights when I use the Drunk Elephant A-Passioni Retinol Cream, I'd make sure I use a good, moisturizing facial oil. I also applied my retinol cream first on dry, clean skin, then gave it a minute to absorb, before applying the rest of my skincare.
After the first month, I noticed that my skin did look better. It was smoother to the touch, and visibly the texture was better. My fine lines were less noticeable, and my pigmentation looked lighter. On the last point however, I will discount it a little, for it was a benefit of being forced to stay indoors for about 2.5 months, with little sun exposure.
Now that my lifestyle is back to normal, with more outdoor activities, my pigmentation is back! 😛
About halfway through the 2nd month, I started using Drunk Elephant A-Passioni Retinol Cream every other night, still neat. I continued reaping the benefits of using it, and my skin looked good. I was impressed, and I continue to be impressed.
In a nutshell therefore, my face did not fall off 😛 I was one of those who found
What do I attribute it to?
Very careful usage of what is potentially a very strong product that can irritate the skin. I did not slap it on, as I usually do with a new product, and I was careful to take it slow and steady.
Because I was so careful with how I used it, I find that 1 tube can go a long long way! These photos were taken just yesterday, and the tube looks barely used.
I did try using the Drunk Elephant A-Passioni Retinol Cream daily, and I did experience a little irritation. My skin felt a little rough to the touch after about 3 days, so I stopped using it for a few days, before resuming it on alternate days.
For me, this is the sweet spot.
Using it on alternate days keeps my skin smooth, clearer, and it almost feels firmer too. However, I now live a more active, perhaps even a healthier lifestyle, so an improved skin texture can also be attributed to that 🙂
A good product but not for newbies nor the impatient
I will personally say that the Drunk Elephant A-Passioni Retinol Cream is a good product. It is expensive, but it does work well, if you are prepared to accept that it will take time to show results, and work with it slowly and steadily.
However, if you have never used a retinol cream or serum before this, I won't recommend jumping straight into the deep-end with the Drunk Elephant A-Passioni Retinol Cream. Start off with something lighter to get your skin accustomed to it, before going up the scale.
Also, understand that this isn't something you apply on your skin and forget about it. You must be in tune with your skin, so you notice when something goes wrong, or when it goes right. And at the end of the day, patience is key 🙂
IN A NUTSHELL

The Drunk Elephant A-Passioni Retinol Cream is a retinol cream with a high 1.0% retinol concentration. This can be abrasive and irritating to those with sensitive skin. Always start slowly, and buffer with moisturizing products. I personally did not experience any down time nor down side to using the cream. I started off very slowly with a buffer the first week, before using it neat on my skin thereafter. I also only used it 2-3 times a week for the first month, before slowly increasing the frequency. I now use this on alternate days, always with a good top-up of facial oil and moisturizer, and it's treating my skin well. My skin is texturally finer, smoother, and fine lines are noticeably reduced. I did notice a fading of some sun spots, but that was coupled with being indoors for most of 2.5 months, so it is hard to say what worked. A good product, but not for the impatient or for those new to using retinol.

PROS:
Lightweight texture absorbs easily into skin
A little goes a long way
With regular and controlled use, skin is smoother, lines are lightened, and skin feels firmer
May also help fade UV sun spots/pigmentation on skin and acne scars/marks

CONS:
Abrasive on sensitive skin
Pricey
Can cause skin to peel, flake and be very dry if not properly used

WHO WILL LIKE THIS: Anyone who wants a strong retinol serum to lighten fine lines, smoothen skin and help fade sun spots, Anyone already familiar with how to use a retinol

PRICE: RM323 | US$74 | £62 for 30ml

WHERE TO BUY: Sephora MY, Sephora USA, Cult Beauty, SpaceNK
For those interested, this is the ingredient list for the Drunk Elephant A-Passioni Retinol Cream.
Ingredients: Water/Aqua/Eau, Glycerin, Coco-Caprylate, Stearic Acid, Coconut Alkanes, Glyceryl Stearate, Niacinamide, Caprylic/Capric Triglyceride, Cetearyl Alcohol, Pentylene Glycol, Passiflora Edulis Seed Oil, Retinol, Simmondsia Chinensis (Jojoba) Seed Oil, Sclerocarya Birrea Seed Oil, Prunus Armeniaca (Apricot) Kernel Oil, Cetyl Ethylhexanoate, Palmitoyl Tripeptide-1, Palmitoyl Tetrapeptide-7, Brassica Oleracea Acephala Leaf Extract, Brassica Oleracea Italica (Broccoli) Extract, Tetrahexyldecyl Ascorbate, Chrysin, Persea Gratissima (Avocado) Oil, Linoleic Acid, Linolenic Acid, Ceramide NP, Xanthophylls, Phytosphingosine, Phytosterols, Jojoba Esters, Physalis Pubescens Fruit Juice, Stearyl Glycyrrhetinate, Oryza Sativa (Rice Bran) Extract, Glycine Soja (Soybean) Oil, Carthamus Tinctorium (Safflower) Seed Oil, Palmitoyl Hexapeptide-12, Cetyl Palmitate, Trehalose, Lauric Acid, Sodium Hyaluronate Crosspolymer, Olea Europaea (Olive) Fruit Oil, Glucosamine HCL, Tocopheryl Acetate, Coco-Caprylate/Caprate, Pisum Sativum (Pea) Extract, Tocopherol, Bambusa Vulgaris Leaf/Stem Extract, Phenoxyethanol, Caprylyl Glycol, Carbomer, Trideceth-6 Phosphate, N-Hydroxysuccinimide, Ceteareth-20, Sodium Hydroxide, Laureth-23, Steareth-20, Propanediol, Chlorhexidine Digluconate, Polysorbate 20, Trisodium Ethylenediamine Disuccinate, Chlorphenesin, Potassium Sorbate, Ethylhexylglycerin.
Do note that despite any suggestion otherwise, you should not use a retinol with acids, nor in the day as it can cause your skin to be sensitive to the sun. Always use a good high SPF sunscreen when using a retinol. But then, you already do, don't you? 😛
Have you tried the Drunk Elephant A-Passioni Retinol Cream?
I admit I was quite apprehensive when I first tried it, but it worked out well for me. It must be said however, I'm no novice, so your mileage will vary when using this – as with all skincare products 🙂
Paris B
Disclosure: Featured service was a media trial by the brand for consideration. Our commitment is to honesty and fairness. For review guidelines please read the disclaimer.