An on-going joke that's arisen from this period that we're in lockdown is that once it's lifted, we'd finally see everyone's natural hair colour, lashes, nails and brows again LOL!
The beauty service industry is a very personal one, and the order to physically distance ourselves from each other has taken its toll, both on the providers and the end-users.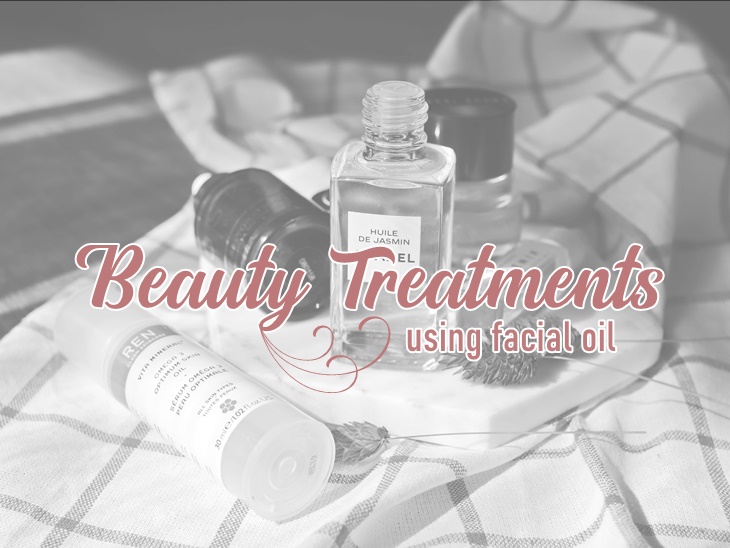 I, for example, am missing my hairdresser like crazy! I've been overdue for a haircut, and not having the business open has taken its toll, not only on my hairdresser and his business, but the state and condition of my hair too. I'm going to come out of this with the longest my hair has ever been, for the past 5 years LOL 😛
If you are facing some issues with grooming and beauty treatments, I have some tips for you, that might help tide you over till we're able to hit the salons again. The best part is that it involves you multi-purposing what you may already use – your facial oils 🙂
Tame and condition your hair with your facial oil
Look on the bright side.
Not being able to go out and get your hair professionally coloured or treated simply means that you're giving your hair a break. Perhaps, a much needed one.
Staying at home also means (usually), not using so much air-conditioning which can dry out your hair and skin, and not exposing your hair to external pollution.
You could view this as a time for you to treat your hair a little, and maybe make it stronger. What better time to nurse it back to health?
I don't do hair treatments at the salon, and I don't colour my hair, so I don't really miss anything besides a good haircut. That is one thing I'm not yet ready to DIY 😛
However, what I have taken to doing recently, is to run a little oil through the ends of my hair after my shower, to condition it. I now shower 2-3 times in a day (It's so hot!) and it can be drying on the hair to keep washing it.
You can use any light oil you have in your kitchen e.g. olive oil or coconut oil, or more easily, your facial oil. In my view, you don't really need to use an oil made specifically for your hair. When you have applied your facial oil on your skin, run the remnants through your hair to condition and soften it.
Another lovely benefit you enjoy, is a nice scent on your hair.
I have been using the Chanel Huile de Jasmin on my hair, and while I don't particularly love it for my skin, it has been lovely for my hair, because it is so light and doesn't make my hair heavy or oily. The light jasmine fragrance also adds a nice lift to my day 🙂
RELATED READING: My take on the Chanel Huile de Jasmin – a facial oil to celebrate 90 years of Chanel skincare READ HERE
Moisturize and intensively condition your hands, nails and cuticles with a drop of oil
I similarly do not go for manicures or pedicures, but I know many who do. You can quite easily do your own manicure treatments at home, or colour your nails.
Or you could give them a break too!
I've personally found that I have been doing a lot of cooking and cleaning during this time, so my hands and nails have become drier. Aside from keeping them moisturized, you could give them a little treatment at night, just before you go to bed.
Drop a little facial oil in your palm and massage it through your hands and rub it into your cuticles. You can do this just after applying to your skin, so it doesn't have to be a separate step.
Many of us are also suffering the after-effects of handwashing and hand sanitizers, so a little facial oil on your hands, or mixed with your hand cream helps your skin stay moisturized better and longer.
RELATED READING: Need some recommendations for hand cream? READ HERE
Give yourself an intensive overnight oil mask
This is something I've been doing even before this lockdown began. I haven't been going for regular facial treatments for a while, because I haven't found one I'm willing to commit to. The last one I used to go to regularly has moved and I just wasn't too keen to visit as often.
RELATED READING: My last regular facials were at La Mer – lovely treatments! READ HERE
What I do, is give my skin a little intensive treat now and then, right in the comfort of my own home, using facial oil. It was something I discovered quite by chance, and works well for all skin types, depending on the oil you choose.
To give your skin a treat, here's what you have to do:
Cleanse skin as normal.
Apply an acid toner, or regular toner all over your skin.
Spritz your face generously with a facial mist
Take a generous amount of facial oil (5-6 drops) and massage it all over your face. Leave on overnight.
RELATED READING: For a more detailed explanation of how this works, read my handy but effective lazy night routine READ HERE
From my personal experience, when I had breakouts and a more combination-oily type skincare, a facial oil like the Clarins Lotus Face Treatment Oil helped rebalance my skin. When my skin got drier, this no longer fit the bill and I went for other types.
These days, I do this quick and intensive overnight mask with any facial oil I own. It does not work well with dry and very light oils e.g. Clarins Huile de Jasmin. It works better with heavier 'oily' type oils and my personal favourite is the Pai Rosehip Bioregenerate Oil. For some reason, it works exceptionally well, leaving my skin lovely and soft and moisturized the next morning. Try it for yourself if you don't believe me! 😀
Tame brows and lashes with a dab of oil
For those who might be used to wearing lash extensions, now's a good time to give your poor lashes a break! Before they break 😛
For brows and lashes, you can condition them with a light oil like castor oil or marula oil. Marula Oil is now quite commonly used as a facial oil, with brands like Drunk Elephant and The Ordinary carrying it for this purpose.
Just use a cotton bud to lightly run some oil over your brows and lashes just before you go to bed to keep them healthy and strong.
Why use your facial oil?
Because it's on hand! 😛 I'm not about to tell you to spend your money on something new right now, am I? After all, it's time to be spending a little more prudently.
Besides, the skin on your hands could benefit from the oils as much as the skin on your face. Your hair and nails don't quite care what oil it is, as long as it's an oil. They are porous in any event.
For those of you who may have facial oils lying around that you can't use on your face for whatever reasons, now's a good time to take them out and pamper the rest of your body, so they don't go to waste.
If you're new to using facial oil, or aren't sure why you might need to include a facial oil into your skincare routine, you might want to read my post on why I use it, and which oils I enjoy using 🙂
RELATED READING: The What, Why and How of using Facial oils READ HERE and also the 3Ms of using a facial oil for best benefits READ HERE
Are you a fan of using facial oil? What beauty treatments are you missing the most?
I always have facial oil on hand, various ones in fact. Some are staple favourites, others I'm quite ambivalent about. But my hair seems to really enjoy having the odd bit of oil run through it. Feels so soft now! 😀
Paris B