There are facial mists, and then there is the Chanel Sublimage La Brume Intense Revitalizing Mist.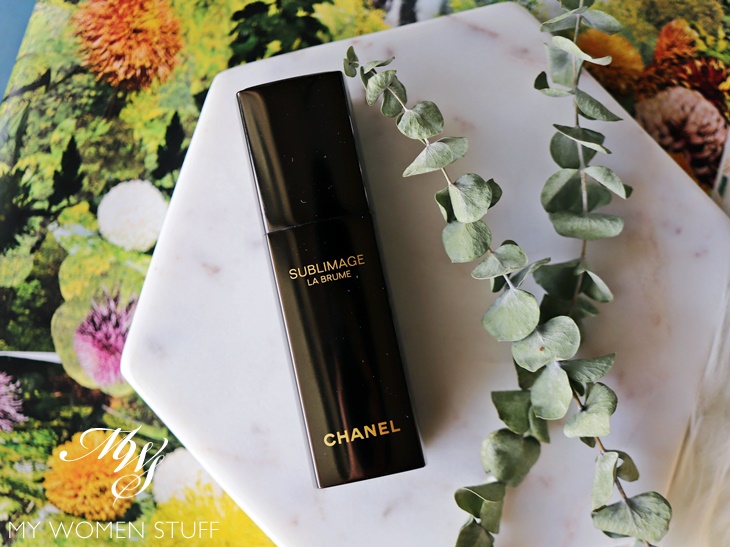 Anyone who knows me will know by now, that I am a big fan of facial mists. They not only refresh, but help boost skin hydration and perks up your complexion and mood as well, especially on hot days.
So, when the opportunity arose for me to try the Sublimage La Brume Intese Revitalizing Mist, I just could not say no! 😀
Chanel Sublimage La Brume Intense Revitalizing Mist – Luxury in a bottle!
The singular ingredient running through the Chanel Sublimage skincare range is the Vanilla Planifolia plant. Sublimage sits at the pinnacle of Chanel skincare, so it is without question, a luxury product, with a price that reflects it.
In the La Brume Intense Revitalizing Mist, the key ingredient is water extract of Vanilla Planifolia, with its antioxidant properties, Silk Tree Extract to reduce the signs of fatigue, and hyaluronic acid, to hydrate and plump up the skin.
It, in essence, promises what almost any facial mist promises – to plump up and hydrate skin and keep it hydrated.
Portable packaging
What makes the Sublimage La Brume unique in my eyes, is its packaging.
As you can see from the picture, it comes in a very small packaging, that fits right in the palm of my hand.
In fact, it is about the same size as the Chanel travel perfumes! And with reason, because what this does, is make the mist very portable.
If you've ever wished that you could carry your favourite facial mist in your handbag to refresh yourself through the day, but demurred because it's just too bulky or inconvenient, then this one's made for you.
You twist up the top to expose the cap and nozzle. Twist it back, and it retracts to a sleek little tube that fits into the pocket of your jeans!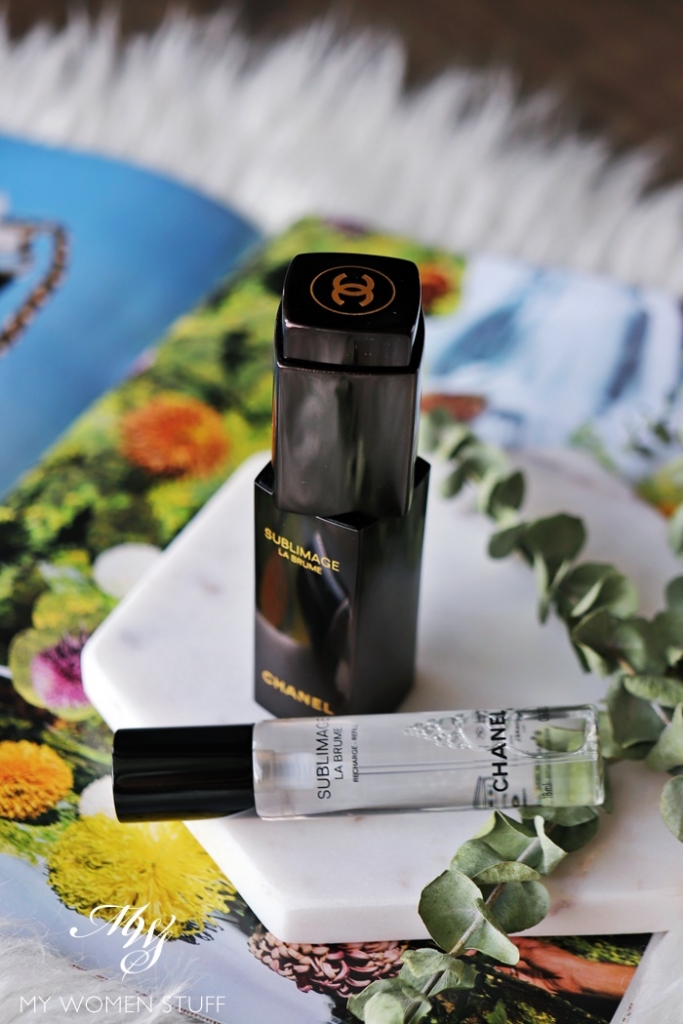 For this reason, the tube is only 18ml. However, 3 refill tubes are included in each box, bringing it to a total of 72ml of product.
For all intents and purposes, the bottle reminds me a lot of a travel perfume, and I think it interesting that Chanel had drawn inspiration from their perfumes, because it is rather clever!
Nozzle sprays a fine mist
Special mention must be made for the nozzle, which sprays out a fine mist all over skin. It does not leave your skin sopping wet, which makes it perfect for spritzing over makeup, or even to set makeup.
Because the mist is so fine however, I find it not as handy to use for the 'moisture sandwich' technique.
RELATED READING: Do you already practice the moisture sandwich technique? READ HERE
The reason is simply because it does not dampen the skin sufficiently, to sandwich product. It isn't to say however, that it is a bad thing.
What makes it very good for, is as a makeup finisher, or a portable touch-up mist that refreshes your skin through the day.
The very fine mist sits on your skin just like a sip of cool water, without causing your makeup to shift or melt. It works beautifully for this purpose, and the portable packaging adds to its allure.
Revitalizing and Luxurious mist
What I like is how the Sublimage La Brume refreshes and revitalizes my skin throughout the day, especially on hot days.
It isn't the most hydrating of facial mists, nor the most cooling on skin. But there was something nice about spraying the fine mist on my skin and enjoying the slight boost in hydration. Perfect when you're out and about.
That said however, I do have a quibble with the scent. It isn't unpleasant, having the slightly earthy vanilla scent that is prevalent throughout the whole Sublimage skincare range. But it is present.
I quite like it. But the practical part of me laughs at me for enjoying it, because the price point is quite prohibitive. I will caution that the Sublimage La Brume is not a product for everyone. It is just too expensive.
But if your pockets run deep, then this might be a nice little treat 🙂
IN A NUTSHELL

The Chanel Sublimage La Brume Intensive Revitalizing Mist is a travel-sized facial mist that comes with 3 refills. The key ingredient of Vanilla Planifolia water hydrates and provides skin with antioxidant benefits, while helping boost hydration. The mist is very fine, and feels just like a puff of air on skin, which makes it perfect for setting makeup, or for using on the go, so you don't disturb your makeup. It is however, expensive, which makes it prohibitive for most to enjoy.

PROS:
Very portable size
Well constructed with a fine nozzle spray
Refreshes skin without drenching it
Skin receives a hydration boost

CONS:
Fragranced
Expensive
Contains alcohol which can be drying/irritating to some

WHO WILL LIKE THIS: Anyone who wants a facial mist with a very fine spray and a portable size that fits in most handbags

PRICE: RM925 | US$200 for 18ml x 4 bottles

WHERE TO BUY: Chanel beauty boutiques
For those interested, this is the ingredient list for the Chanel Sublimage La Brume Intensive Revitalizing Mist.
Ingredients: Aqua (Water), Glycerin, Vanilla Planifolia Fruit Water, Alcohol, Butylene Glycol, Albizia Julibrissin Bark Extract, Faex (Yeast Extract), Phenoxyethanol, Magnesium Sulfate, PEG-40 Hydrogenated Castor Oil, Chlorphenesin, Decyl Glucoside, Parfum (Fragrance), Sodium Hyaluronate, Adenosine, Sodium Benzoate, Ethylhexylglycerin
RELATED READING: Are there other facial mists I can recommend or entice you to try? Of course! READ HERE
Are you curious about this Sublimage La Brume mist?
Or are you still looking for your jaw after you saw the price? LOL! 😀
Paris B
Disclosure: Featured service was a media trial by the brand for consideration. Our commitment is to honesty and fairness. For review guidelines please read the disclaimer.