Last year, Jo Malone London released one of their most beautiful, most eye-catching Brit collections ever – English Fields.
Evoking the sights and smells of the English countryside, and traditional baked goods, the perfumes were unique, friendly to the nose, and beautifully packaged. There was one that I predicted (quite correctly) to be the crowd favourite – Poppy & Barley.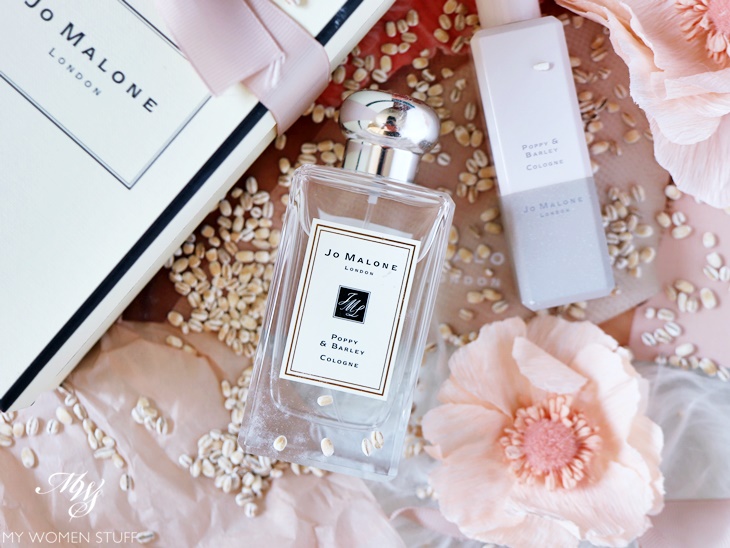 Fast forward a year, and look what we have here! A permanent version of the Jo Malone Poppy & Barley cologne! 😀
Jo Malone Poppy & Barley Cologne
Poppies are an iconic flower of England, not only because they are found across the meadows and countryside, but because of the significance attached to them.
The poppy signifies rememberance, and is used to commemorate the military personnel who died in the war, and is often worn by war veterans in the UK.
It is a pretty flower, and has medicinal uses as well. The most popular use is to create a drug to alleviate pain and help people sleep – but can also be addictive – Opium.
The poppy is therefore a complex flower. And interestingly, possesses no real scent.
I was quite honest when I first smelled it in the English Fields collection, and said that it wasn't my favourite scent out of the 5 available. However, I predicted that it would be a crowd favourite, because the scent is very easily accepted.
RELATED READING: Call me Nostradamus for predicting Poppy & Barley as a crowd favourite! Or see what else should have been brought back from English Fields READ HERE
A Clean Fresh Floral Scent
Poppy & Barley is a blend of violet and rose, to evoke the rich red poppy, and blended with fig, for a slightly tart, juicy twist. Once you get past the top burst of floral notes, a slight earthiness comes through, bringing to mind the rich earthiness of grain that is barley.
It is fresh and clean and vibrant. It does bring to mind walking in a field of flowers, in the bright sunshine. The sweet floral scent wafting up as your skirt brushes the flowers.
The smell of the earth that your feet step on, as you walk or run past, throwing a tinkle of laughter behind you.
Jo Malone Poppy & Barley cologne is, to me, not a terribly unique scent if I'm to be honest. It isn't generic, but I'd struggle to smell it on someone and identify it right away. It is rather like the colour-scheme they've picked for this one – a pastel peach. Not quite pink, not quite peach, a little light, a little insipid, but very pretty 🙂
It doesn't quite last on me, and I found it tricky to layer. This however, is because I am not one for floral scents, which this one is.
It was recommended that Poppy & Barley be layered with Wood Sage & Sea Salt, for a fresh, mineral scent. But you know, I didn't think that works very well for my nose. I couldn't smell anything 😛
I quite liked Poppy & Barley layered over Amber & Lavender. Amber & Lavender is a rather stronger shower-fresh scent that I particularly enjoy wearing. Poppy & Barley adds a hint of floral to the freshness, and that works better for me.
If I want something heavier or more grounding, I layer it over 154 (my favourite Jo Malone scent!). It adds a hint of femininity to an otherwise more spicy, masculine note.
If there's one thing I wish they'd done, is to retain the beautiful ceramic look of the original Poppy & Barley cologne. I personally think it's what really sold the collection, and this scent.
Yet, because the Jo Malone Poppy & Barley Cologne is now made permanent, I can understand why the packaging must conform to the rest, coming in the regular clear, square bottles. Still, one can wish 🙂
Did you enjoy Jo Malone Poppy & Barley or did you miss it?
I know some people are very pleased about the return of Poppy & Barley, as they missed out before this. English Fields sold out so quickly! Were you one of them? 🙂
Paris B
PRICE: RM280 (30ml), RM520 (100ml), RM218 (Body & Hand Wash 250ml)

WHERE TO BUY: Jo Malone boutiques
Disclosure: Featured product was a gift from a media launch. Our commitment is to honesty and fairness. For review guidelines please read the disclaimer.