One of the first skincare items I'd ever tried from Bobbi Brown back in my early days of blogging, was a sample of their Cleansing Oil. I remember back then (10 years ago!), that I was quite happy with it.
It was a time when I was using cleansing oils, so I was quite familiar with comparing and contrasting the different cleansing oils in the market then.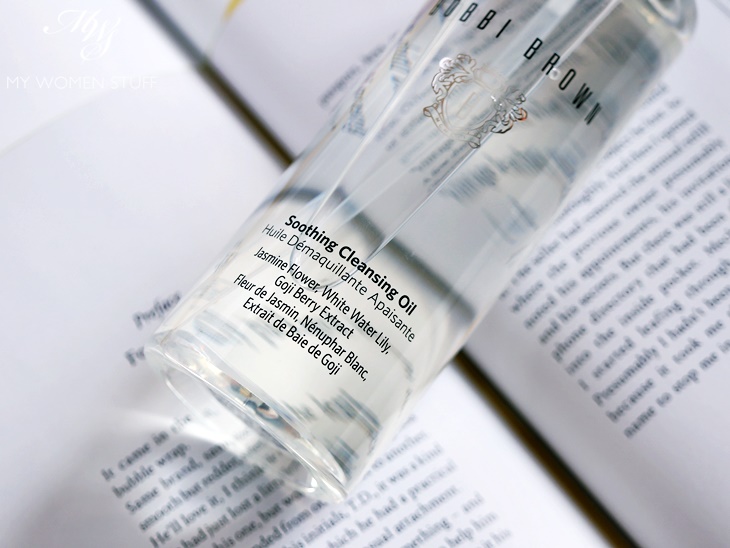 When I recently received a bottle of the Bobbi Brown Soothing Cleansing Oil, I was a little surprised. Why were they sending me this again, when it's one of the Bobbi Brown skincare stalwarts? Was it a reminder?
Ah, as it turned out, the formula has been tweaked and upgraded. I don't generally use cleansing oils anymore, preferring cleansing balms instead, but I was curious enough to have another go.
Bobbi Brown Soothing Cleansing Oil – new upgraded formula
It has been years since I used the Bobbi Brown cleansing oil, so I was curious to see what has changed. As it turns out, it's the formula.
In the past, the Soothing Cleansing Oil uses kukui nut and sunflower oils and jasmine flower extract as their key ingredients. Now, this has changed.
The key ingredients, as emblazoned on the front of the bottle are jasmine flower extract to nourish the skin, and white water lily and goji berry to soothe skin. The latter I find interesting, as it's known to be an antioxidant and superfood. I use goji berries (also known as wolfberries) a lot when boiling nourishing Chinese herbal soups!
The botanical oils used are kukui seed oil, jojoba seed oil, and sunflower seed oil.
There is still a lavender scent to the oil, which some may find soothing. From memory, the scent seems lighter than it was before, which for someone like me, is a good thing. I don't take kindly to very strong scents in my skincare products.
Cleansing Oil for an all in one first cleanse
The oil is very light, and not thick or viscous at all which I find comfortable. But this also means I find myself pumping out more product. You would easily need 4-5 pumps of oil in the palm of your hand, for it to be of any real use.
Remember, you must use enough product. I have realized that using insufficient cleansing oil can sometimes cause clogged pores because you may not cleanse it off as effectively. So, use at least 4 pumps of any cleansing oil you may be using. If it seems like it's too expensive to do so, switch to a cheaper cleansing oil.
You'd use this as your first cleanse, and I can safely vouch for it as an effective makeup remover. I tested the removal of some pretty heavy makeup, and it did a good job. Do bear in mind however, that my version of 'heavy makeup' isn't quite stage makeup, nor do I use many waterproof or longlasting products. So, manage your expectations accordingly!
To be honest, this is what makes a cleansing oil so appealing – that it can function as an all-in-one first cleanse. It removes makeup and the grime from your skin quite effectively in one easy step.
How to use the Bobbi Brown Soothing Cleansing Oil
By now, most of us would be familiar with how to use a cleansing oil. If you aren't, I've shared tips in the past on how to properly use it, so you don't experience breakouts.
RELATED READING: Do you know how to use a cleansing oil effectively? READ HERE
From my experience, while the ingredients or formula of cleansing oils can cause you to break out, it is often also the improper cleansing that can cause skin to be clogged.
The key here, is to ensure that you EMULSIFY THE OIL PROPERLY before rinsing. So many people skip this most important step, thinking they can just rinse it off as you would a foaming cleanser. Don't.
You have another alternative to taking time to emulsify – use a face flannel.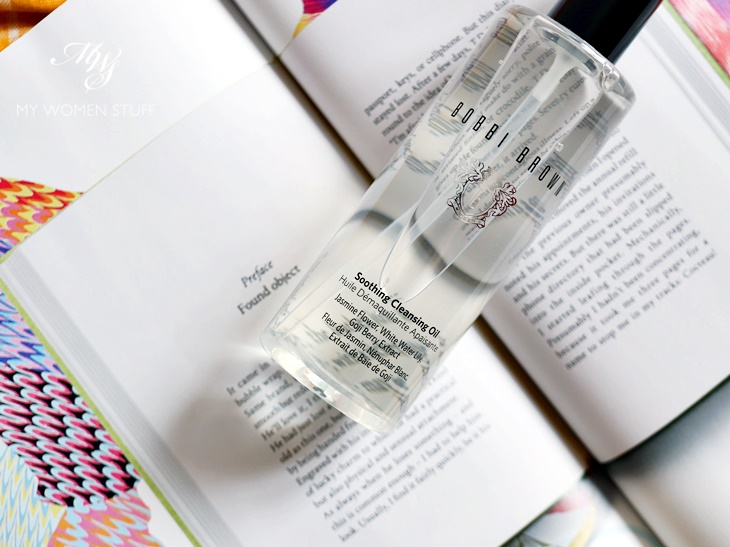 In a nutshell, here's how you would use the Bobbi Brown Soothing Cleansing Oil.
Pump 4-5 pumps of Soothing Cleansing Oil in the palm of your dry hand.
Apply the oil to dry skin.
Massage it into your skin with your fingers for a few minutes, making sure you cover every inch of your face. This is especially if you use it to remove makeup. You should feel your fingers glide over your skin, not feel any tugging. If you feel any tugging, you have used too little product.
When ready, wet your hands with warm water, then apply wet hands to your face, and repeat the massaging motion. Repeat until you see the oil turn milky.
Continue with wetting your hands, and massaging to emulsify, until you feel the oily feeling reduce and disappear.
When it no longer feels oily, rinse with warm water until clean.
Follow up with a second cleanse if preferred
Cleanses without drying skin
I stopped using cleansing oils because my dry skin found them too harsh and drying on my skin. This is a tip I have for anyone who may find their skin feeling uncomfortably dry – switch from a cleansing oil to a cleansing balm, and your skin will feel much happier!
However, I do find that occasional use of the Bobbi Brown Soothing Cleansing Oil is quite comfortable for my skin. I keep it by my sink for days when I wear more makeup, and want something that gets it all off easily. Or for days when I'm feeling a bit lazy, and want something that rinses off in the shower, instead of using a flannel, as I usually do.
I do also find that it may leave a little residue on the skin. My skin does not feel squeaky clean or tight after cleansing off. However, I do double cleanse thereafter with a milk, cream or gentle gel cleanser, so it doesn't feel uncomfortable for me. I do recommend this to be used as a first cleanse, not second and not the only cleanser either.
If I use it for a week straight, as I did upon first testing it recently, I do find it a little drying on my skin. Not terribly so, but noticeable. When I use it occasionally, it's fine.
All in all, I'd say that the Bobbi Brown Soothing Cleansing Oil is a pretty decent product. It is mineral oil free, and I don't notice it clogging my pores or breaking me out. It's easy to use, removes makeup and serves as an effective first cleanse in a double-cleansing skincare routine. I don't have much else to complain about it! 🙂
IN A NUTSHELL

The Bobbi Brown Soothing Cleansing Oil has been reformulated and upgraded in 2019, with the addition of new ingredients. The texture of the oil is light, but viscous enough for a comfortable slip when massaging your skin. I find 4-5 pumps of product necessary for optimum use. Be sure to massage it into your skin to remove impurities and makeup, before properly emulsifying and then rinsing off. It does emulsify quite easily, but you must be careful to use it with dry hands and dry face or it will not work. I do notice a slight residue, but I use this a first cleanse and then double cleanse, do it's fine with me. It isn't very drying, but can be on my dry skin, if I use it for too many days at a stretch.

PROS:
Light textured oil feels comfortable on skin
Emulsifies easily with warm water
Convenient packaging
Cleans and removes makeup very easily and effectively
Does not sting the eyes

CONS:
Pricey
Leaves a residue on skin that some people may find uncomfortable

WHO WILL LIKE THIS: Anyone who is familiar with using cleansing oils and want to try something new

PRICE: RM185 | US$50 | £35 for 200ml

WHERE TO BUY: Bobbi Brown counters and stores and website, Sephora, Lookfantastic
For those interested, this is the ingredient list for the Bobbi Brown Soothing Cleansing Oil.
Ingredients: Isopropyl Palmitate , Pentaerythrityl Tetraethylhexanoate , Peg-20 Glyceryl Triisostearate , Isohexadecane , Triisostearin , Triethylhexanoin , Peg-8 Diisostearate , Isododecane , Peg-12 Diisostearate , Aleurites Moluccana (Kukui) Seed Oil , Bisabolol , Simmondsia Chinensis (Jojoba) Seed Oil , Dipentaerythrityl Tri-Polyhydroxystearate , Helianthus Annuus (Sunflower) Seed Oil , Lavandula Angustifolia (Lavender) Oil , Vaccinium Angustifolium (Blueberry) Fruit Extract , Vaccinium Macrocarpon (Cranberry) Fruit Extract , Lycium Chinense (Wolfberry) Fruit Extract , Opuntia Tuna Extract , Sodium Palmitoyl Proline , Methyldihydrojasmonate , Zingiber Officinale (Ginger) Root Extract , Glycerin , Butylene Glycol , Nymphaea Alba (Water Lily) Flower Extract , Tocopherol , Spilanthes Acmella Flower Extract , Bixa Orellana Seed Extract , Jasminum Officinale (Jasmine) Flower Wax , Yeast Extract\Faex\Extrait De Levure , Glyceryl Laurate , Olea Europaea (Olive) Fruit Oil , Tocopheryl Acetate , Pentylene Glycol , Caprylic/Capric Triglyceride , Dipropylene Glycol , Water\Aqua\Eau , Linalool
Have you tried the Bobbi Brown Soothing Cleansing Oil? Do you still use cleansing oil?
I use cleansing oil very sparingly these days, preferring to use a cleansing balm (some tips on which to pick). But I cannot deny that it can be more convenient than using a balm! What's your preference? 🙂
Paris B
Disclosure: Featured service was a media trial by the brand for consideration. Our commitment is to honesty and fairness. For review guidelines please read the disclaimer.