I had an interesting discussion with a friend recently about the act of putting on skincare during your skincare routine, and whether it was something that people do, or are wont to do, in private.
It amused me enough, that I thought it would be interesting to see what YOU might think! 😀 After all, if you're reading this post, and therefore my blog, you would be doing your skincare routine at least twice a day.
Do you prefer keeping that aspect of your life private, doing it in the bathroom, before emerging, like a caterpillar from its cocoon; or are you comfortable doing your skincare routine in front of someone else, be it a friend or significant other? Let me know! 🙂
Do you keep it private?
I found it amusing, because my friend was of the opinion that putting on skincare, or doing your skincare routine, is a rather intimate act, and therefore, something that people might feel more comfortable doing in private.
Perhaps, it is to do with the act itself, if you take the time to appreciate and massage your products into your skin. The act of massage is in and of itself something that can be deemed or perceived to be a sensual act. That, coupled with the textures and scents of your lotions and creams, as you slowly work them into your skin, might be perceived to be alluring.
For some therefore, they may perceive that the act of doing their skincare routine, taking time to massage products into the skin and to layer it on, maybe something better done in private, at least away from a significant other. Perhaps, even as a form of self-pampering 'me-time'.
There are some people also, that I know perceive the act of putting on their skincare to be a private thing, because they are uncomfortable allowing other people to see them with bare skin.
It might come down to an issue of low self-confidence, or perceived imperfections on their skin, or just how they look without some makeup on, that they feel uncomfortable showing. We can only put our skincare on, on bare skin, so this is something some people might prefer to do in private.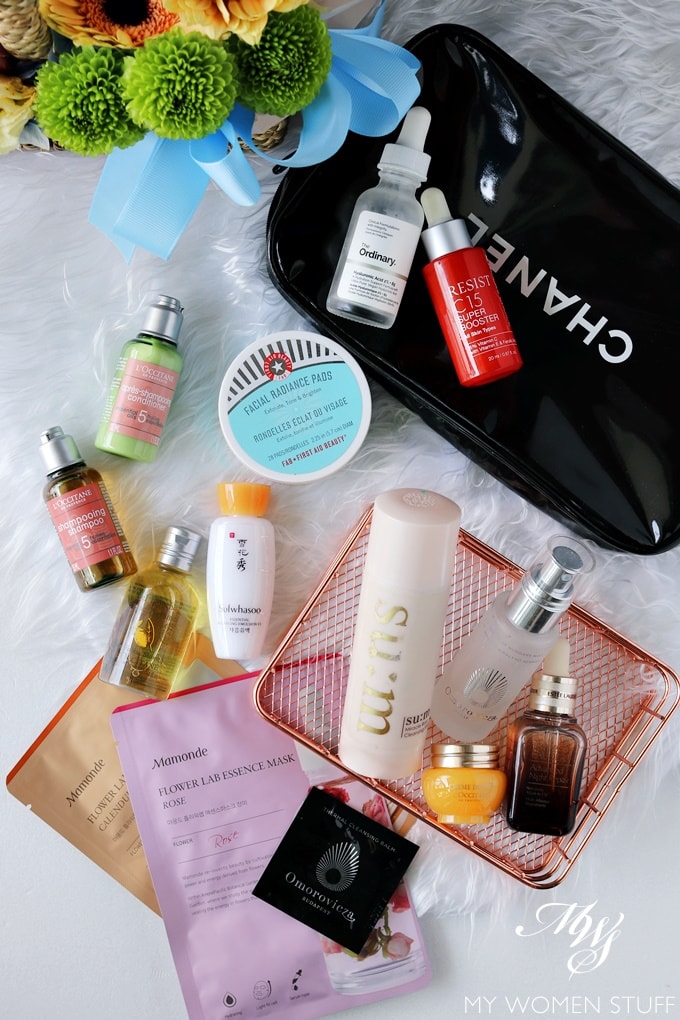 Are you comfortable doing your routine in front of someone else?
On the other hand, you have me, for whom none of these thoughts ever crossed my mind! LOL! 😛
I've always viewed my skincare routine as that – a daily routine. Something I do daily, that is so much a part of my day and of me, that I find it almost mechanical in my approach.
How I do it isn't mechanical. I enjoy the process, and luxuriate in the pampering. But I view it clinically, as something process-driven. I'd never thought of it any other way!
Part of it I think is due to the fact that I keep my skincare products outside my bathroom. For this reason, barring cleansing, everything else takes place outside the bathroom.
RELATED READING: Do you keep your skincare products in your bathroom? Should you? READ HERE
Perhaps, it is also to do with what I do i.e. I blog, and I have not been afraid to put up bare-faced photos on my blog. I also periodically share how I do my skincare routine on Instagram Stories. In that sense, having, for want of a better phrase, 'lived in the public eye', I did not view the act of putting on skincare or doing a skincare routine, as something very private.
While I won't be out there doing it in public either (except for IG stories 😛 ) I suppose I don't shy away from doing my skincare routine in front of strangers, or family and friends.
So this leads me to my question as to what you think.
Do you view the act of putting on your skincare or doing your skincare routine as something you'd much rather do in private? Or is it something you are comfortable doing in front of someone else?
I'd be curious to hear what you think! And if you find this as amusing as I do 😀
Paris B