Laura Mercier has been busy revamping themselves recently, first with a new logo, then a new foundation, and now, a new lipstick! While I have struggled to appreciate the brand's lipsticks in the past, I have to say, I really like the new Laura Mercier Rouge Essential Silky Crème Lipstick!
It's no secret that my lipstick preference tends towards glossy, creamy and satin finishes. I struggle to work with matte-finish lipsticks. So, when a slew of new lip products were released this year by various brands, marking a shift away from matte textures, I sat up to take notice, after slouching in my seat, willing away the dry, heavy, matte-textured lip looks of the recent past.
And one that was interesting enough was this new offering from Laura Mercier.
Laura Mercier Rouge Essential Silky Crème Lipstick – Lightweight but Impactful
The Laura Mercier Rouge Essential Silky Crème Lipstick is described as a weightless, statement-making lipstick with high impact colour and a satin finish.
The colour is bold and saturated, enough to satisfy anyone who wants a bold lip colour. It glides on like cream, yet does not have too much of a slip to it, so it should satisfy anyone who doesn't want anything too glossy.
Yet, if a lighter, less impactful colour is your preference, you can easily lighten it by using less, and sheering it out more on your lips. Or you can apply a little, then go over with a gloss or a balm, for a just-bitten look.
It settles on lips to a satin finish, without too much shine, yet with just enough shine that you have a lovely pout. Above all, it is lightweight.
It is so light on lips, that it feels like you have nothing on. For a lipstick that delivers the sort of saturated, bold, intense colour that the Laura Mercier Rouge Essential Silky Creme lipstick delivers, this is impressive!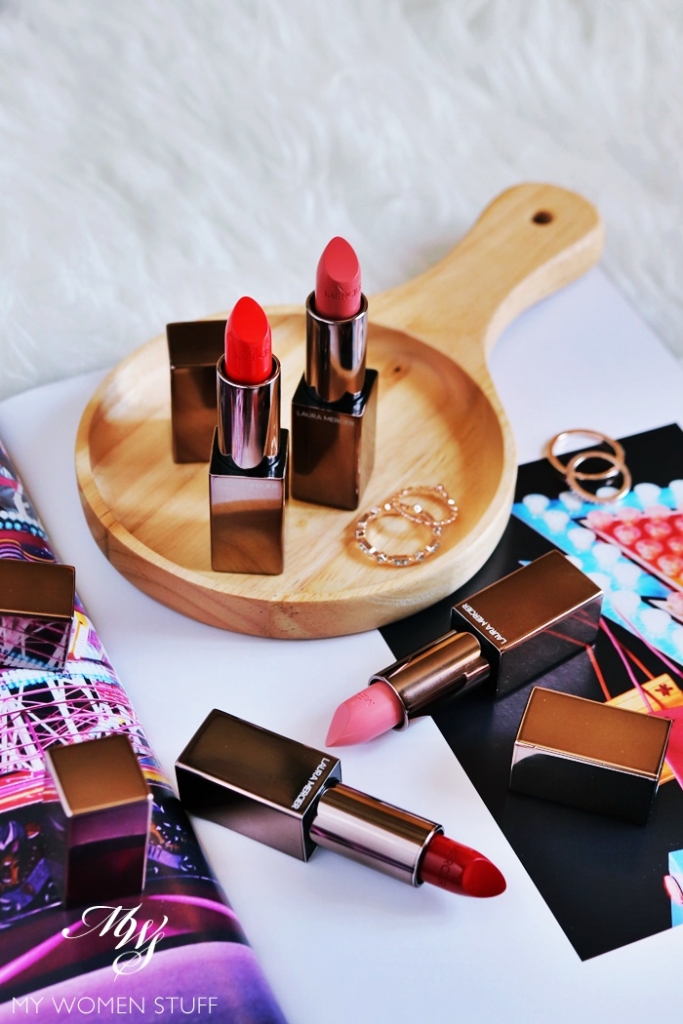 5 colour families, multiple undertones to suit most skin tones
As part of the initial launch, we have 30 shades, split into 5 colour families – nude, pink, mauve, coral and red. Within each colour family, you will find that the shades have slight tonal differences, to suit different skin tones.
Each shade swatches beautifully, as the swatches of 4 shades below will show you.
Nude Naturel – Categorized as a 'nude' shade, this one is distinctly a pale pink that I personally run screaming from. It has that baby pink vibe that I cannot carry off, and which washes me out. But I know of people who carry it off with aplomb.
Nu Prefere – Also a 'nude' shade, this one's got more browned-pink tones in it. In tube, it looks like a flat browned pink. But when worn on lips, I think it works for me. It gives my lips that 'my lips but better' look, which can come in useful for when you don't really want to stand out.
Coral Vif – Categorized as a 'coral', I find this to be less of a coral shade, and more of a warm-toned, bright red with orange undertones. Coral Vif is very bright. VERY bright! LOL! It is a colour that looks beautiful in the warm sun of summer, but might look garish once the days shorten and it gets dark earlier. Not that I have a problem here in the tropics!
Rouge Ultime – This is, I believe, a true red. It has a noticeable cool tone, which I find flattering for me, and it is bold, yet not too bright to be garish. It is elegant and turns heads. It is a red to consider, if you want to try a red lipstick, and want to make an impact. It isn't for the faint-hearted, but it will pay dividends when you see the admiring looks thrown your way. Trust me on this one! 😉
Each of the swatches above were made using just one pass from the bullet on my skin. The colours are intense and vibrant and impactful, which is very impressive.
Yet, they sit on your lips, light as a feather. You barely know it's there. I was wearing Rouge Ultime for a few hours, and I barely felt it. Yet, whenever I looked into a convenient reflective surface, there it was, in its full bold, opaque glory.
While I hesitate to say that it is long-lasting (I don't look for longevity in my lipsticks – I just reapply, and enjoy the process) it does last on lips a fairly long time. Yet, it can and will kiss-off, and mark your cups. So, if you are conscious about it, do take note.
The bullet shape is a little awkward
I do have a little gripe about the shape of the bullet.
It has a rather old-fashioned shape, I feel. The slanted side is slightly concave, so it hugs your lips as you apply, but yet, it doesn't fit as well as it should.
When working with opaque textures and bold colours, this can sometimes mean going slightly out of line. You do have to be a little more careful when applying from a new bullet, until you wear it down to something that fits your lips better.
The sharp end works in theory, to give you a more defined outline for your lips. But what this translates to in real life, is that you will find bits breaking off the first time you use it, as it is fairly creamy. This loses the edge, and can similarly cause you to go out of line.
Packaging is luxe
While Laura Mercier has kept to their bronze-brown colour scheme, they have upgraded the packaging so it now feels more luxe, with a metallic finish.
The cap now secures with a magnet, so it closes with a satisfying click. This also gives the lipstick more heft, and a luxe factor previously not present. I have a soft spot for lipsticks with a magnetic closure, so perhaps that makes me a little biased 😛
To give you an idea of what the 4 shades I swatched look like on me, here are the swatches on lips, in a full face shot.
My personal favourites of the 4 are Nu Prefere, which was a pleasant surprise, and Rouge Ultime, which wasn't LOL! 😀
I knew right off that Rouge Ultime would be a colour I'd pick, because I wear reds like this. But Nu Prefere is that everyday lip colour that I'd slick on, to complete a look, if not necessarily to impress. For that reason, it's a colour that I know will get more use on a daily basis.
Let's not even talk about Nude Naturel LOL! It doesn't work for me.
IN A NUTSHELL

The Laura Mercier Rouge Essential Silky Creme lipsticks are absolutely worth checking out, if you enjoy creamy lipsticks with bold, opaque colours and a satin finish. The texture is so light on lips, you can barely feel it. I don't find it drying, and I like how it stays put. The colours are bold, vibrant, and there is a good colour range to suit most skin tones. Personally, I don't have much problems with this one. It is a lovely lipstick range that I think deserves more accolades.

PROS:
Luxe packaging
Very lightweight texture on lips
Bold, opaque, vibrant colour in one swipe
Longlasting colour on lips
Not drying (but not moisturizing)
Nice selection of colours to suit most skin tones and preferences

CONS:
The bullet can feel and look a little old-fashioned
A little pricey

WHO WILL LIKE THIS: Anyone who enjoys wearing creamy, satin-textured lipsticks

PRICE: RM105 | US$32 | £26

WHERE TO BUY: Laura Mercier counters, Sephora, Cult Beauty, Asos, Nordstrom, Feelunique
Have you checked out these Laura Mercier Rouge Essential lipsticks?
I do feel like these are a little underrated, and I'd love to see them get more love. I love Laura Mercier caviar stick eyeshadows, and now, these Rouge Essential lipsticks meet my exacting lipstick requirements too! 😀
Paris B
Disclosure: Featured products were press gifts from a launch event. Our commitment is to honesty and fairness. For review guidelines please read the disclaimer.